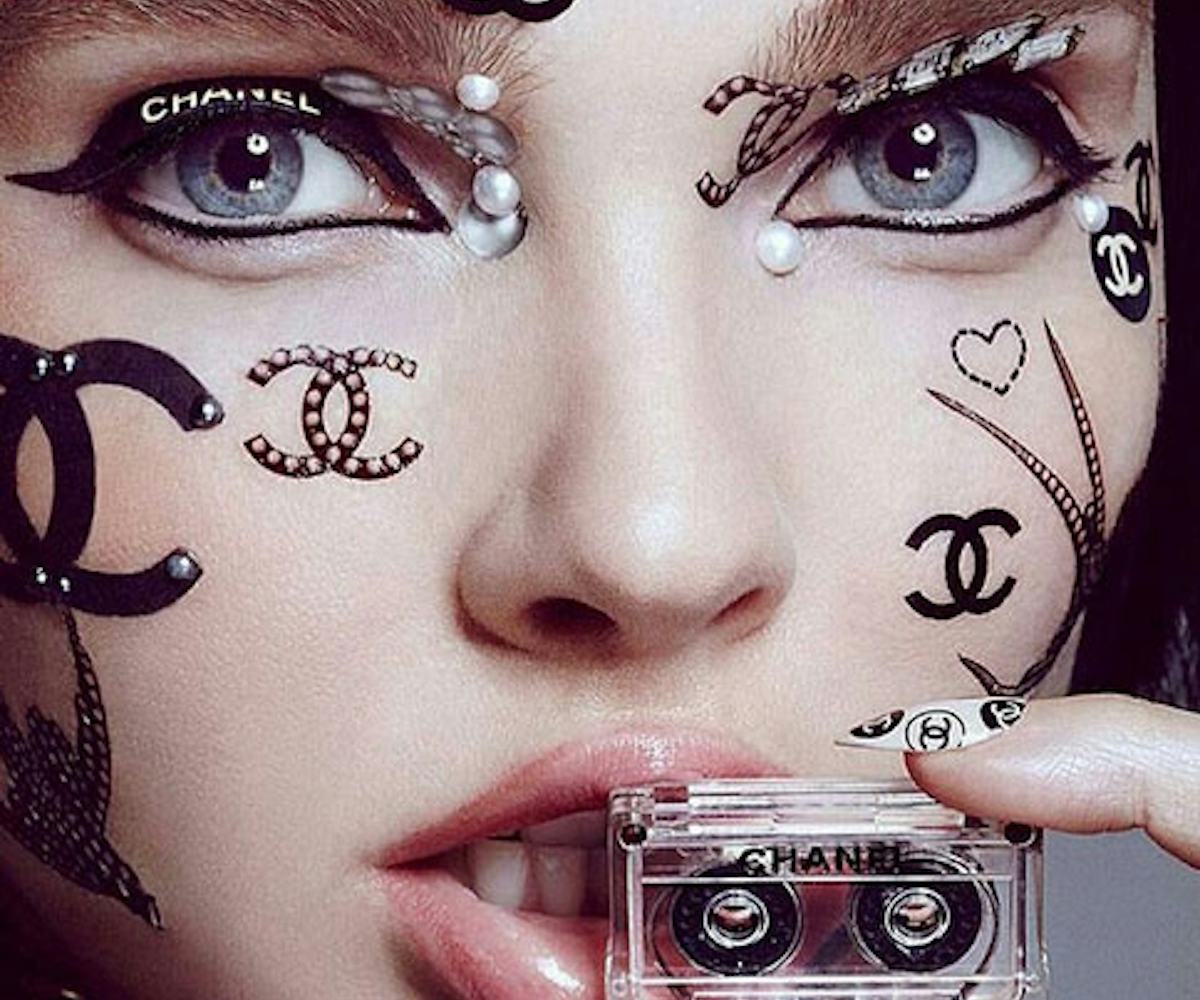 Insta Files: 10 Weird, Wild & Wonderful Makeup Artists
by Lara Adekola, Carly Valentine + Sarah Weldon
In the social age, makeup artists are killing the game. That said, it's hard to stand out on Instagram when everyone seems like they're total beauty experts. However, take a walk on the wild side and you'll find there are some people out there a little more daring in their approach to makeup. For them, the face is a canvas and makeup products are the tools to create the art. Flip through the gallery above and take a peek at the artists that have caught our eye(shadow)! Who knows, maybe they'll inspire you to let your brushes free and have some fun with your face. 
Aside from being a model, Laura Jenkinson is also a pretty talented make-up artist. Her feed is full of killer cat eyes and bold lip colors. But, Jenkinson's claim to fame is definitely her lip (and chin, and cheek) art. She's probably drawn every cartoon character known to man on her face and it's downright hilarious. Jenkinson might be our new favourite makeup artist follow this week (artist being the operative word here). Definitely follow of a dose of Saturday morning cartoons, every day of the week.
Internationally renowned makeup artist Pat McGrath's Instagram is pure #goals. Vogue has deemed McGrath one of the most influential makeup artists in the world so if that's not worth the follow, then we don't know what is. After being the creative eye behind the beauty looks of countless couture shows, McGrath just released her own makeup line Gold 001, which is featured all over her IG. Follow McGrath for some unique and colorful beauty looks, and also to channel your inner C-3PO (naturally). Happy double tapping!
Paolo Ballesteros is an actor/TV host by day, but by night he is the Queen of Contouring. Ballesteros' hashtag #MakeupTransformation has never been more accurate; he is almost unrecognizable in his glammed up beauty looks for various events around the Philippines. Ballesteros looks glam in all of his pictures, but he also posts some funny glammed up behind the scenes shots that are worth the follow. This makeup artist gives a whole new meaning to the phrase "too glam to give a damn."
Bi-costal makeup artist Roshar has worked with an impressive list of clients in NY and LA. From natural beauty looks to futuristic looking faces, Roshar's sleek style lends itself perfectly to the crazy artistic looks he pulls off. Roshar also has a line of vegan and cruelty-free eyelashes, so we know he cares. All that's left to say is, where can we sign up to be his next model? An IG follow is definitely the first step.
J.K Bonito is a Filipino makeup artist who is the master of glowing skin and making himself look like celebrities. Not just any celebrities, namely celebs at their least opportune moments. Highlights of Bonito's account are his transformations into Kim Kardashian crying, frozen Jack from The Shining, Beyoncé from the Superbowl and so, so much more.
Tal Peleg is a visual artist from Israel using eyelids as her canvas. Peleg's awesome and intricate paintings are upping the eye shadow game as she transforms everything from storybook themes to famous movie scenes into little drawings above the eye. Fall in love with Peleg's precise skills using themed eyeliner, brow grooming and lash extensions that complete each look. Everything Peleg creates is on point. Enough said.
Alex Box's Instagram feed looks like it is out of an '80s catalog. Her work, old and new, all has a vintage quality to it. Box features so many different styles and looks on her Instagram that it's hard to keep up with what she's doing next. From natural beauty to over the top looks to artistic looks with metallic eye makeup, Box's work is just cool to look at. We wish we could pull off these looks on the daily but for now, we'll just have to follow along on Instagram.
Queen of the reverse cat eye, celebrity makeup artist Lora Arellano (sup, Rihanna!) is killing it at the beauty game on Instagram. Already famous in the makeup world, Arellano is the co-founder of Melt Cosmetics and has nearly one million followers. Before she became a household name in the beauty industry, Arellano was working at a department store counter. She worked her way up from showing off daily makeup on her Instagram to being the brainchild behind this classic Rihanna look. All of it is bold, bright, and beautiful. 
Hailing from the Netherlands, Joyce Spakman's Instagram is like a year-round Halloween. In all of her photos, fantasy becomes reality in the most incredibly beautiful ways. Since she was 14, she's been experimenting with makeup and her love for this form of art and creation continually grows stronger (partly due to her love of Panic! At the Disco). Wow is the only word we can really use to describe the sheer magnitude of these creations.
Michael Anthony takes makeup to the next level. As a professional makeup artist, he works for the likes of Dior and Chanel (no big deal, really). We love how he always puts a spin on things whether it's creating a badass punk rock princess or turning faces into branded works of art.