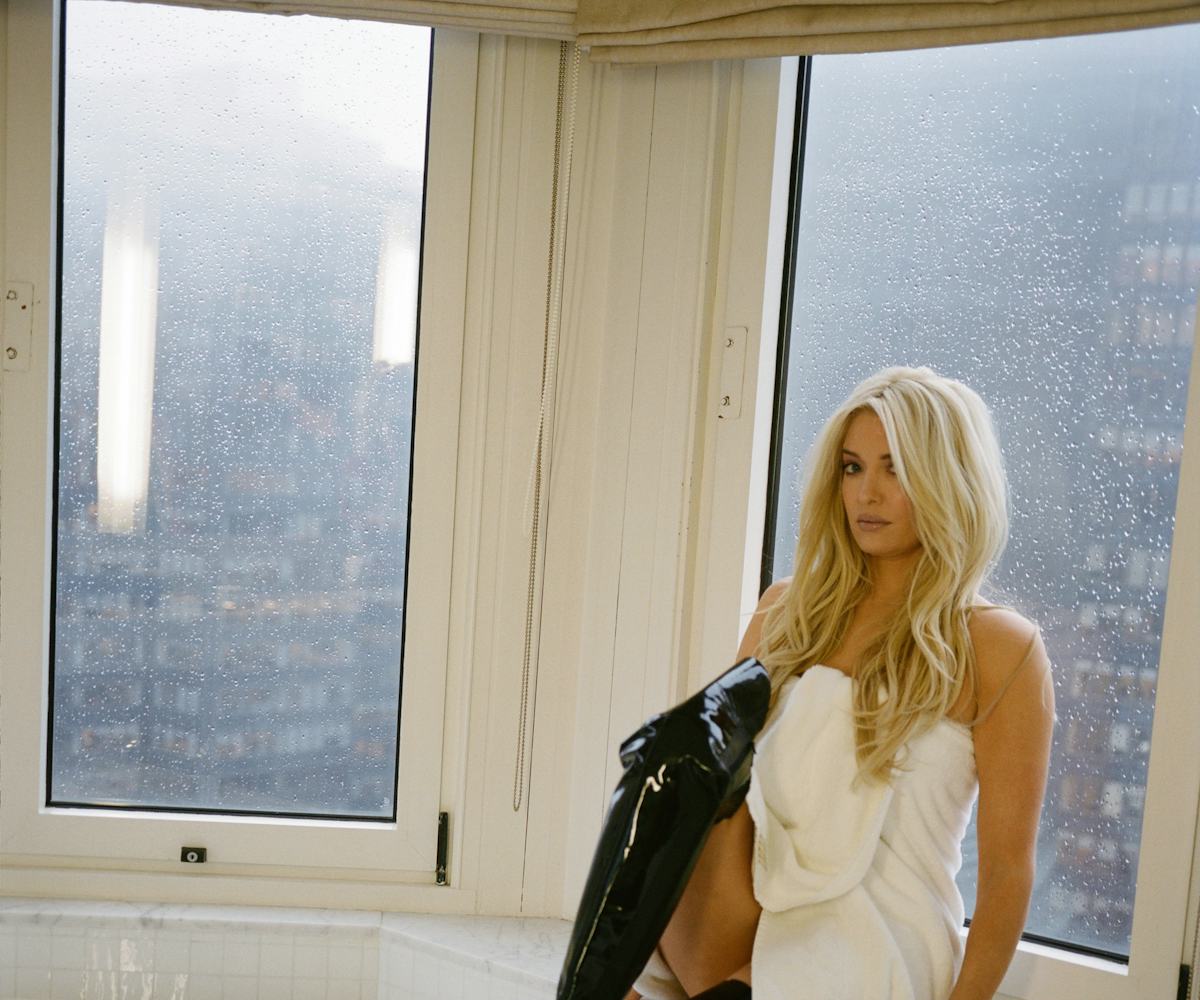 Photographed by Beth Garrabrant, Styled by Blake Vulgamott
On the Road with Erika Jayne: Not Your Typical Housewife
The Star Talks 'Real Housewives,' Self-Empowerment, and the Secret to Staying Fabulous
In the sixth season of the Real Housewives of Beverly Hills—which premiered this past December on Bravo—we were introduced to a new HBIC in town, Erika Girardi—also known by her diva alter ego, Erika Jayne. Mrs. Girardi quickly became a fan favorite after she taught us how to "pat the puss," throw subtle shade at almost every housewife (except for Yolanda, of course), and reign supreme as queen of the gays. And let's not forget her iconic delivery of the word, "jealous." Obviously team NYLON is team Erika Jayne/Girardi, so we made it our mission to meet up with her while she was in town touring the country as pop sensation Erika Jayne.
As I entered her glamorous hotel suite, all I could hear was her tagline, "I'm an enigma, wrapped in a riddle, and cash" play over and over in my head—and I think I've finally decoded what that really means since meeting her. The enigma about Erika is that on paper she could appear to some as a slightly vapid human being (see: money, fame, glamour)—but in fact, she's extremely kind, sweet, grounded, and real right off the bat (both in person and on the show). The riddle is that she's laying down in a bathtub wearing a fur coat over a black-and-gold sequin jumpsuit from The Blonds and orders a cheeseburger from room service. The cash can be seen almost everywhere in her hotel room—from the rows of Louboutin heels to the trays of Chanel jewelry to her own personal rack of designer clothing—but the material goods do not define her. What really defines Erika is her positive attitude, confidence, humbleness, and humor within herself and her surroundings. Case in point: What other Housewife would deliver lines like "eat a dick" while posing for a photograph for us? Here, the self-proclaimed "pretty mess" gives us some valuable life lessons. Scroll through the gallery for the full interview.
Since this is your first season of the Real Housewives of Beverly Hills, how are you dealing with your new level of fame and success?
I think the great thing about the show is that I've been able to take [my alter ego] Erika Jayne out of the clubs and into people's living rooms. It's a different level of recognition. People who I never thought would know who I am, now know who Erika Jayne and Erika Girardi are. It's interesting because now housewives and husbands and kids stop me—it's different than what I'm used to.
Has it negatively affected you in any way?
I think I've been fortunate enough to be okay. I've been fortunate enough to stay Erika.
Erika's own custom made boots
When you signed up for the show did you think, "This is how I'm going to act"?
I have nothing to be other than myself. I have nothing to give other than the girl you see. You know, it is what it is. I can't pretend to be anything other than what I am.
How do you balance being so relatable while also being your fabulous self?
Both my husband and I come from very modest backgrounds. He's obviously done very well, and I've worked hard all my life and done well, too. I think it's important to not be defined by those things, yet appreciate them. I give thanks every day that I'm fortunate enough to live the life that I do. You're still human, at the end of the day, and you should never lose that—you should never lose your roots, where you came from. It's all about human connection. We're all connected.
Erika's own custom made boots
Were you a fan of past seasons of RHOBH?
No, I never even watched the show before I stepped on the set.
No way!
I didn't even watch this season until after we came home from Dubai—that was the first time I ever watched an episode.
Why didn't you watch it before? Did you really not know what you were going into?
I knew who the women were because it's such a big franchise, but I didn't know anything about them, other than Yolanda [Foster]. So when I really meet Lisa Vanderpump and Kyle Richards and all of them for the first time, it really is a true first meeting. A lot of my reactions and my facial expressions are just my real reaction to what's going on. Like, "Whaaatt?" But Yolanda gave me a really good piece of advice, she said, "Listen, Erika, you have to get in there and figure it out for yourself. You have to do your own thing. I can't coach you or show you. You should authentically get in there and be yourself." So that's what I did.
The Blonds, Jumpsuit. Fur, Erika's own. Christian Louboutin, Heels.
Can we talk about the LGBTQ community and your role in the community because you're so outspoken and passionate about it?
I grew up with gay family members, gay friends, my mentors, and my teachers starting from going to children's musical theatre to attending a performing arts high school—all throughout my career I've been close to gay people. For me, it's a natural thing. It's not something that I went searching for. These are my friends, these are my family, these are my mentors, these are my teachers, and they just happen to be gay. I'm very fortunate to have them in my life.
What do you mean when you say things like, "I'm gonna give the gays everything they want" on the show?
Well because they've been supporting me since Erika Jayne came around. I found a home there. I made dance records and the gay community gravitated toward them. They gave me a place to really shine, a place to develop, and a place to spread my wings—I'll forever be grateful for that. That's the truth.
The Blonds, Jumpsuit. Fur, Erika's own.
What's the best piece of beauty advice that a gay person has ever given you?
Go to bed [laughs]. Get some sleep and do not ruin your face with drugs, alcohol, and cigarettes. Basically, watch what you consume.
What about the best piece of beauty advice a housewife has ever given you?
Stay out of the sun. I was told when I was very young from an older woman who said, "Erika, you're very fair, if you stay out of the sun then you won't wrinkle."
I want to talk about skincare because you have amazing an amazing complexion. What is your routine?
I go to a dermatologist, so I'm under that kind of care because you really can't get this skin without a professional—that's the truth. Other people sit here and tell you, "Oh I use this, I use that," but I go to a doctor. Besides doing that, I like going to get a facial, and taking makeup off at night—gently, not pulling on your eyes—is really important. It's all about using gentle cleansers that won't strip your face of its natural oils. It's maintenance; it's a lot of what you put in your body. You have to eat the right things, and you can't wreck your face with a bunch of late nights, sun, and dehydration. It's a combination and I'm fortunate enough to have the means to take care of it.
The Blonds, Jumpsuit. Fur, Erika's own. Christian Louboutin, Heels.
Are you brand loyal to anything specifically?
I use whatever works and I'm always searching. It could be this under eye cream from one person and this cleanser from another. It's just a case-by-case basis.
What fragrance would Erika Jayne wear but Erika Girardi wouldn't? Erika Girardi would probably wear Jasmal from Creed, and Erika Jayne would probably wear something really sexy and musky, and kind of smoky and woody.
What about lipstick?
Erika Girardi would wear Aquaphor with a little Dior lipgloss, and Erika Jayne would wear some big-ass overdrawn DSL's.
What about hair?
Erika Jayne likes her hair straight without a lot of product with a really good natural blow-dry, wait—did I say, Erika Girardi?
You said, Erika Jayne.
I'm sorry; Erika Girardi likes her hair straight without a lot of product, just a really good blow-dry. Erika Jayne likes her hair ropey with a lot of product, really rock star and wild.
CADET, Flight Jumpsuit.
When did you manifest Erika Jayne as a persona?
2007 was really when I started to make records and when I released my first album called Rollercoaster. As human beings, we all have layers to ourselves, you know? When I say there's a little bit of Erika Jayne in everybody, what I mean by that is: No one is one way all the time. No one is buttoned up all the time and no one is wild all the time. There are different parts to your personality, different layers—and that's really what Erika Jayne is, another layer to a human being.
Would you say Erika Jane has empowered Erika Girardi?
I think they empower each other. Being able to express yourself under the name Erika Jayne and saying things people want to say but wouldn't, or doing things that people want to do but don't, or taking that extra leap of faith or pushing the levels of sexuality, or whatever, that helps Erika Girardi stand on her own two feet and be calm and peaceful. There's nothing undone or unspoken, or nothing unsaid.
CADET, Flight Jumpsuit. Christian Louboutin, Heels.
Are you coming out with any new music soon?
I just shot a video for a new song called "How Many"—the real title is "How Many Fucks." I'm in the studio now making new music, but I'll always continue to release great records, give great shows, and create fun videos.
Who are your musical beauty icons?
I grew up a Madonna fan, still am a Madonna fan, and will die a Madonna fan. I think not only what she's done visually, but musically, and her work ethic, and her career is bar none. She's a force.
Does anyone else like that inspire you?
I think Gwen Stefani has great style, and I love Rihanna's style. There are a lot of great stylish icons in music—younger girls, older girls, everybody.
CADET, Flight Jumpsuit.
Since it just happened in one of the latest RHOBH episodes, can we talk about the whole C-word debate?
I think it's cultural. I think if you're not exposed to it then you only know it as one definition, and don't understand the other way it's used. I was very surprised that I was able to even say the word on the show. Does it offend some people? Sure. But when you know how I'm using it, then you see I'm actually paying you a compliment. It's like how bitch—remember when bitch was horrible to say? And now everybody is "Hey, bitch." That's how I speak, that's how I communicate—but not everyone does, and I understand that.
What's the best advice you have for girls?
Life is tough, you're going to get knocked down a hundred fucking times, but it's all about how you get back up and recover, and put one foot in front of the other toward your dream. It's never about getting knocked down and being out of the game. Life is long and success can take a long time, and you're in it for the long haul so you have to have a plan, you have to treat yourself well, and you have to look after yourself. You'll succeed, but never give up. And prepare, prepare, prepare, because I can assure you that once you think you get there, it's all going to fall down, and then you're going to get fucked up—but then you're going to get back up.