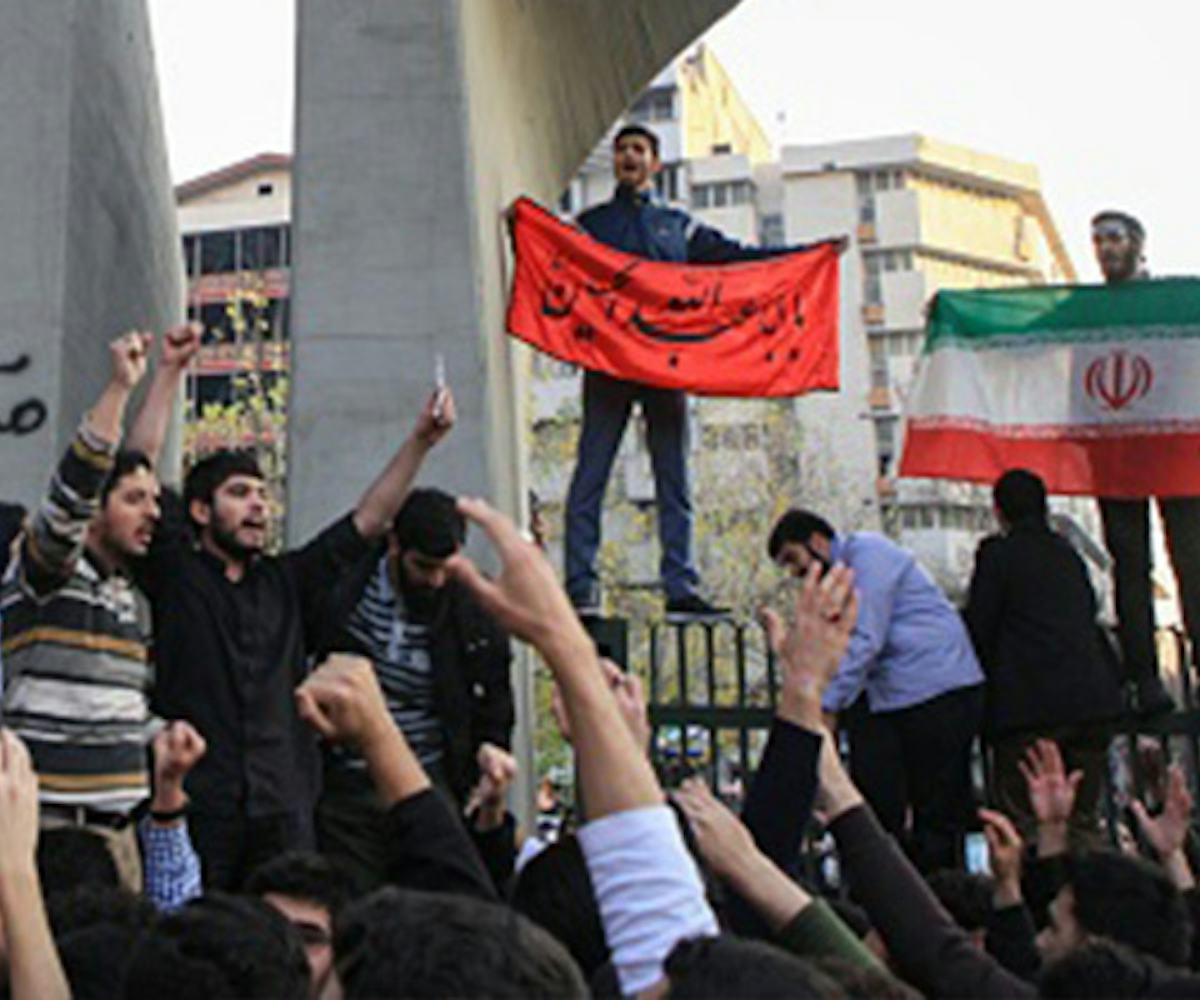 Photo by Stringer/Anadolu Agency/Getty Images
Iran Blocks Mobile Internet Access And Social Media Apps Amid Protests
They're suppressing the demonstrations
Following days of civil unrest and the largest protests in Iran since 2009, the country's government has shut down mobile internet access and has blocked some social media apps, including Telegram and Instagram. So far, according to the Washington Post, at least two people have been reported dead during the demonstrations. 
Activists began protesting on Thursday in reaction to economic corruption in Iran and rising fuel and food prices. They're demanding the country's Supreme Leader, Ali Khamenei, step down. Interior Minister Abdolrahman Rahmani Fazli warned protesters on Sunday, "Those who damage public property and create disorder are accountable before the law and must pay the price."
This internet censorship occurred after videos of "thousands marching through the western cities of Khorramabad, Zanjan, and Ahvaz" as well as Tehran went viral on social media. Iranian authorities told internet providers to cut off access to mobile networks on Saturday night. All of Iran's major telecommunications firms are either jointly controlled by the Iranian Revolutionary Guard Corps and Khamenei or have business ties to them, Al-Arabiya reported.
"[They] are blocking access to Telegram for the majority of Iranians after our public refusal to shut down https://t.me/sedaiemardom  and other peacefully protesting channels," Telegram founder Pavel Durov tweeted.
The Iranian government is clearly trying to suppress the protests and prevent people from seeing how large the demonstrations are. By blocking mobile internet access, they're hurting activists' ability to organize. Iran previously announced its plan to restrict citizens to a national internet, for fear of people sparking protests via social media. This is the first serious step taken toward internet censorship. 
Fortunately, for now, some activists and journalists have been able to use Twitter to get videos, photos, and messages out about the protests. And the Iranian government says they're just "temporarily" banning Telegram and Instagram in order to "maintain peace." 
According to the Washington Post, over the past year inflation has risen to nearly 10 percent in Iran with the cost of basic food items also rising. "This is a very sensitive moment for [Iranian President Hassan] Rouhani," Alex Vatanka, an Iran expert at the Middle East Institute in Washington, said. "Here's a guy who basically came into the presidency as someone who was going to be the champion of the reform cause in Iran. But these protests show that he's not a champion of the people. And Iranians feel like they've been played."