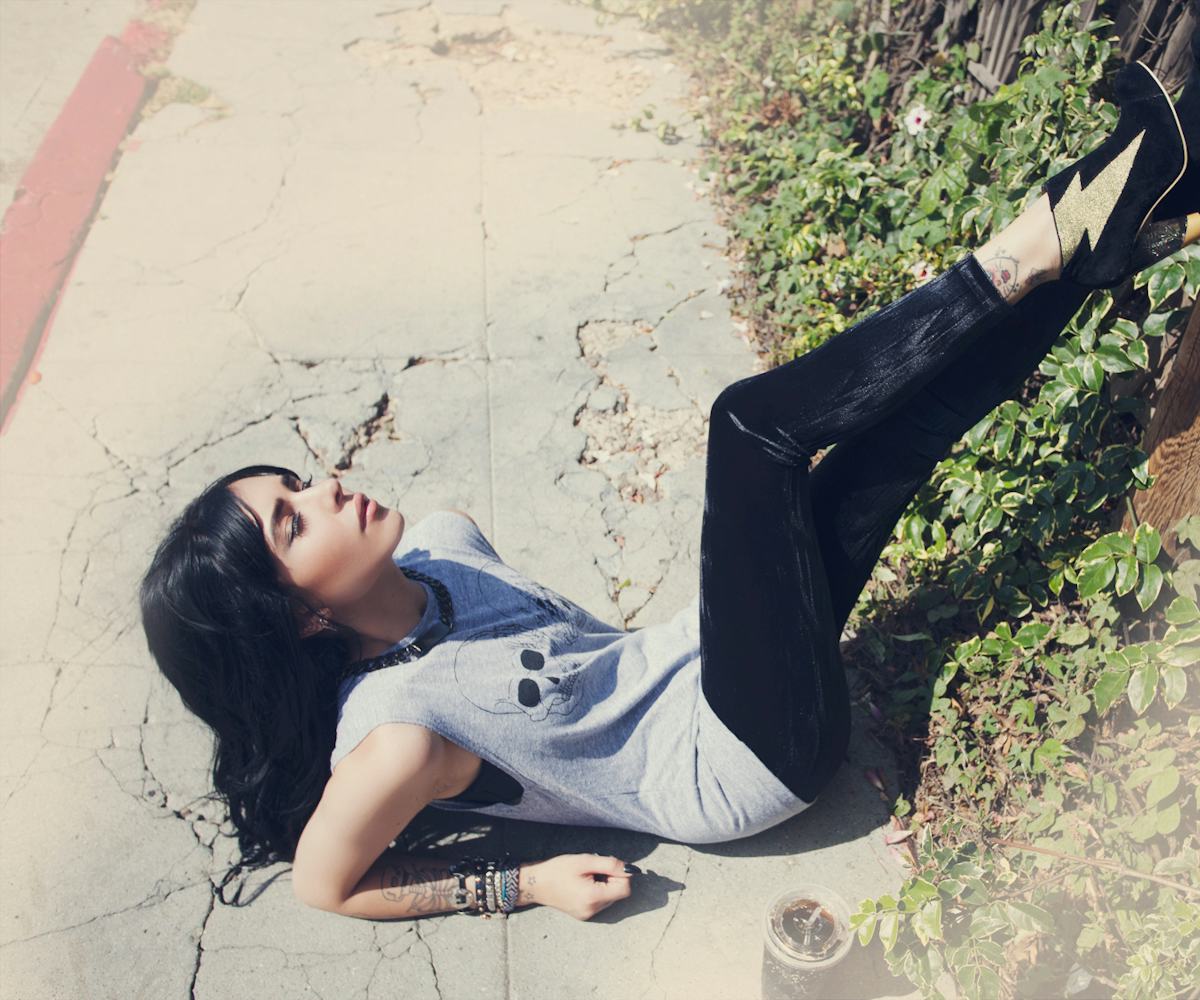 first look: irregular choice
take cool shoes. add in hanna beth. what do you get? awesomeness.
Irregular Choice is known for their eye-catching shoes. Hanna Beth is known for her eye-catching ensembles (not to mention penchant for Hello Kitty). What do you get when the two are combined? The brand's fall '13 lookbook. We've got an exclusive first look at the hazy, dreamy images (and if the clothing looks familiar, it's because they're all sourced from another NYLON favorite, Shown To Scale)--and all the details from the Internet It Girl herself, Hanna Beth.
What was your favorite part about the shoot?
My favorite part of the photoshoot was getting to work with a brand and people I love! I have been a fan of the brand for a few years now, so it was fun to be a part of their new lookbook. I really like the new direction of Irregular Choice and I totally dig all the styles from this collection--especially the glitter ones!
What do you look for in a pair of shoes?
Height! [Laughs] I love to rock any shoe that will make me taller. I also love shoes that make a statement. I am known for having a wild shoe obsession--I just feel like shoes make the outfit; you can turn something so simple into something creative just by adding the right pair.
How does your footwear style differ from your personal style?
My footwear style and personal style are very similar--sometimes I go for a more bold shoe and simple outfit, like a long black tank dress with a leather jacket and a wild pair of heels. My style is constantly changing and so are my shoes. I never stick to one look: I can go from a '70s rock'n'roll punk look to a boho-chic look, it just depends on my mood.
How would you style the rest of an outfit with this collection of Irregular Choice shoes?
I guess it would depend on the pair of shoes; every pair is so unique and different! I think it's rad how they don't really stay with one style--that way the shoes appeal to everyone. For the more outrageous pairs you would need to stick to wearing something more simple, whether it's a jeans-and-tee look or a solid color babydoll dress. For the platform shoes that are more toned down I think you could rock a fun, going-out type of look (whether it's rock'n'roll glam or more goth-chic).
What's your pre-shoot prep routine like?
Before a shoot I like to have an early night in; sleep is so important before a full day of shooting! I have shown up to a shoot dead tired before and it's not a good look. You want to be able to focus and to put all your energy into the photos.
What's the best location you've gone on a shoot?
Tokyo! I was just there a month ago for about a week and I had the most amazing time. I got to do a bunch of shoots and work on a few collabs I have in the mix. Everyone is so rad out there and the city is like a cartoon! It doesn't even seem real...I felt like I was dreaming the whole time! [Laughs]
Any other exciting projects coming up?
Tons of exciting things are always happening! I am working on a few collabs with some Tokyo brands--I'm going to be designing some phone cases and handbags! I'm also working on a collab with a Los Angeles-based streetwear company, which will be launched next spring. This week I'm shooting for Boy London, which is one of my favorite apparel brands. I'm launching a fashion-based web series next month with my friend Monty Jackson as the co-host. Next month I'll also be at Magic in Las Vegas blogging about all the trade show festivities and I will be celebrating my 25th birthday!