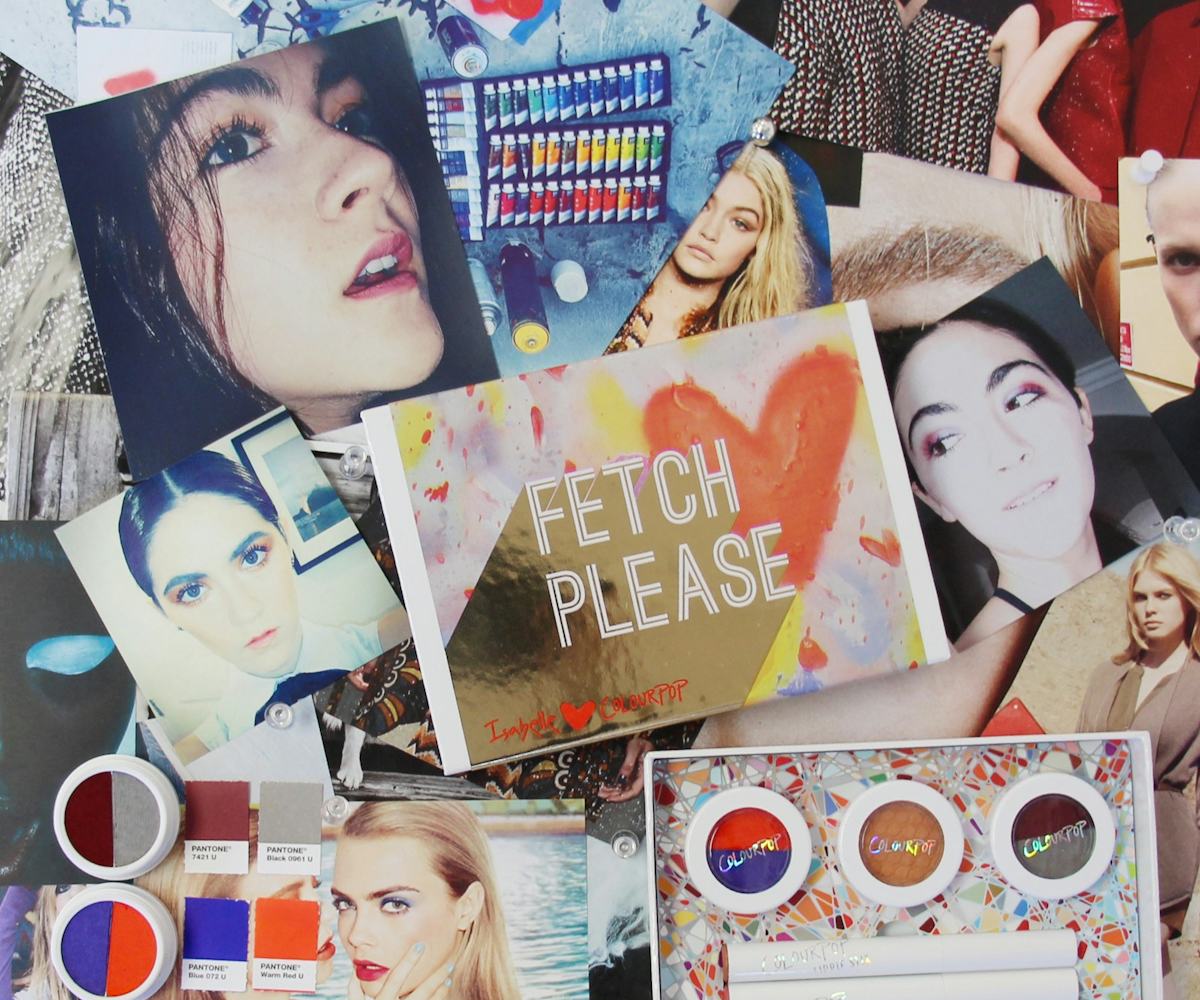 Photo via Colourpop.
isabelle fuhrman has a rad makeup collab
the 'hunger games' actress teamed up with colourpop
Isabelle Fuhrman is not only beautiful, bright, and stylish. At 18, she's quite an accomplished actress: You might have noticed her in Orphan, The Hunger Games, or All the Wilderness. The most recent addition to her resume? Makeup creator.
Isabelle recently collaborated with ColourPop Cosmetics (maker of super-pigmented, high-quality products that are really affordable) to create a capsule collection called "Fetch Please." The collection features colorful eyeshadows and neutral lipsticks, in a totable box topped with a drawing that Isabelle herself made. So, dying to know more about the makeup, we caught up with Isabelle and picked her brain. 
What's the meaning behind the title "Fetch Please"?
"When I was little, pre-Mean Girls, I started to call my sister Fetch or Fetchy. It's still is a nickname we have for each other. My sister used to not be the best at doing her makeup and because this box is something that can be a one-stop-shop it was almost like 'Fetch, Please do your makeup well!' It's sort of a joke but it's pretty catchy too."
Where did you derive your inspiration for the collection?
"A lot of my inspiration for Squint came from the makeup from Cara Delevinge's i-D magazine cover. My inspiration for Liason came from her Style.com mag cover. Those two colors are mainly for a really bold, different kind of cat-eye and they are super-pigmented so they will last all day. Lovey Dovey and Hunger were colors that I always thought would go together. I had been looking for a matte maroon and matte grey like that but I couldn't find the right shade from other companies so I just made with the team at Colourpop. Just a Sip is based off of the peach eye color from Louis Vuitton's Spring 2012 collection makeup. I loved the color and Colourpop helped me make it! It's a good daily color that is very feminine. Squeeze, Precious, and Paramour were colors that I feel everyone needs in their makeup bag. A good pink, a great nude, and a super-bold berry color."
This collection is such a personal expression of you. What were you hoping to share with the girl who wears this makeup?
"Well, I love to play around with makeup and try new things. I think that this box is for a very confident woman who isn't afraid to stand out and have people check out their makeup on the street. The colors are very different and the combinations are endless. It really is a kit that will be able to travel with you everywhere from a fancy dinner to a fun weekend at Coachella."
Do you have some go-to skin-care products that help keep your skin looking gorgeous?
I wash my face every morning I apply Lancer's Sheer Fluid Sun Shield SPF to my face. Then at night I wash my face with a gentle cleanser from Jurlique and then I use Caudalie Vinosource moisturizer. Whenever I go to Atlanta I see the Kathleen Denney for a facial. She's AMAZING! And she turned me onto these amazing masks from Gunilla of Sweden—Lerosett and Akta that I use once in a while to keep my skin clear and healthy. 
Who are your style and beauty icons and influences?
"My mom. She is so stylish and beautiful inside and out. She has taught me so much and I am so grateful to everything she does for me. My sister too. The two of them are my best friends."
What are you up to right now? I hear it involves many piercings....
"(laughs) I'm working on a film called Hellbent and my character goes through a big transformation. I have a lot of piercings in the movie! Pretty cool for my character, Danni, but It's weird for me to look in the mirror and see them! So different from me, it's awesome."
Besides your sister Madeline's great music, what are you listening to these days?
"I listen to Madeline's music A LOT! Her songs just get better and better, I can't wait for the world to hear them. I listen to a lot of Ed Sheeran, Ben Howard, Grimes,  and Coeur De Pirate. I've really gotten into classical lately too. I listen to anything that makes me feel something."
What's on the horizon for you? "Fetch Please part 2" or a film we can see you in soon?
"Maybe! I had such a great time working on Fetch Please with Colourpop. I'd love to do it again. I have a movie called Cell coming out soon and I just wrapped a romance film called One Night. I also graduate in June."