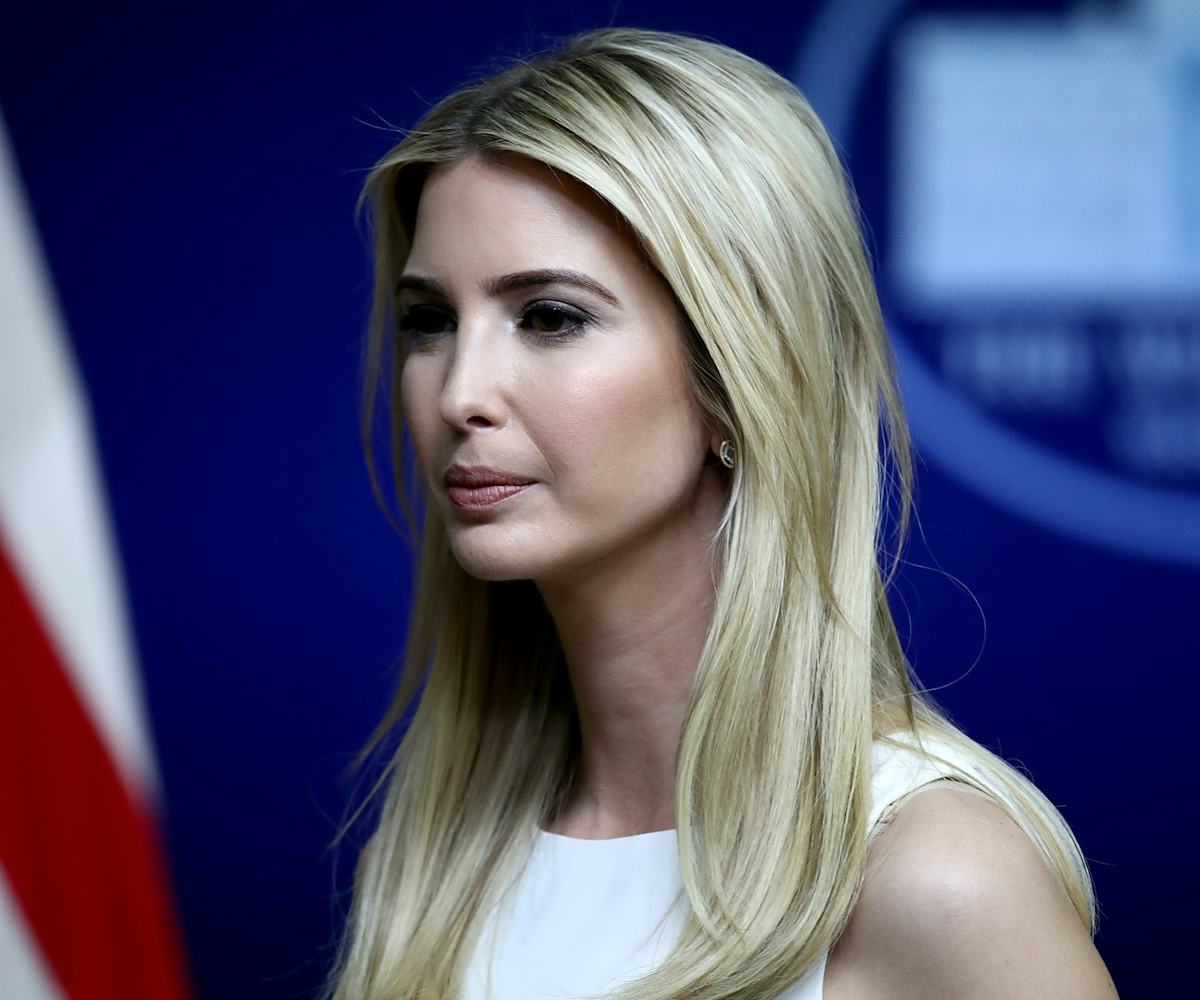 Photo by Win McNamee/Getty Images
Ivanka Trump's Apparel Line Was Renamed To Sell At Discount Retailers
The garments are being passed off as Adrienne Vittadini
While Ivanka Trump may no longer serve as the president of her namesake label, the controversies just keep rolling in. First, it was Nordstrom and other retailers choosing to drop the brand, along with a national #GrabYourWallets boycott campaign against the line and Kellyanne Conway's illegal promotion of the label on national television. Then last week, the brand secured Chinese trademarks the same day Ivanka and her father met with the Chinese president. Now, it looks like a little secret rebranding took place at its discount retailer, involving an entirely new name.
Yes, Ivanka Trump's clothing line seems to have taken on a new identity, according to discount retailer Stein Mart. A report released to Business of Fashion revealed that some Ivanka Trump garments sold have been relabeled as Adrienne Vittadini—an already existing brand sold at both discount retailers (such as Stein Mart) and department stores such as Nordstrom and Lord & Taylor. But why?
In a statement made to BoF, the brand's licenser, G-III—which owns the rights to both manufacture and distribute the product—acknowledged that it did sell the newly labeled products to Stein Mart, but unbeknownst to Ivanka Trump and the Trump administration.
"G-III accepts responsibility for resolving this issue, which occurred without the knowledge or consent of the Ivanka Trump organization," a representative said to BoF. "G-III has already begun to take corrective actions, including facilitating the immediate removal of any mistakenly labeled merchandise from its customer. The Ivanka Trump brand continues to grow and remains very strong."
While the reason why has yet to be confirmed, many argue that it was either to increase sales or prevent the Ivanka Trump brand from being associated with discount retailers.
However, what we do know is that it wasn't because Stein Mart does not wish to carry the Ivanka Trump name. Stein Mart chief executive D. Hunt Hawkins said in a statement to BoF that its decision to carry the relabeled apparel was in no way motivated by politics. "We've had both labels for a while. We may see more Adrienne Vittadini in the short term. I've had an equal number of [customers] say that they don't want and do want [the Ivanka Trump merchandise] in the store. If we get it, we get."
While G-III claims to be removing any pieces from stock, it's unknown whether it has been sold to other discount retailers outside of Stein Mart.