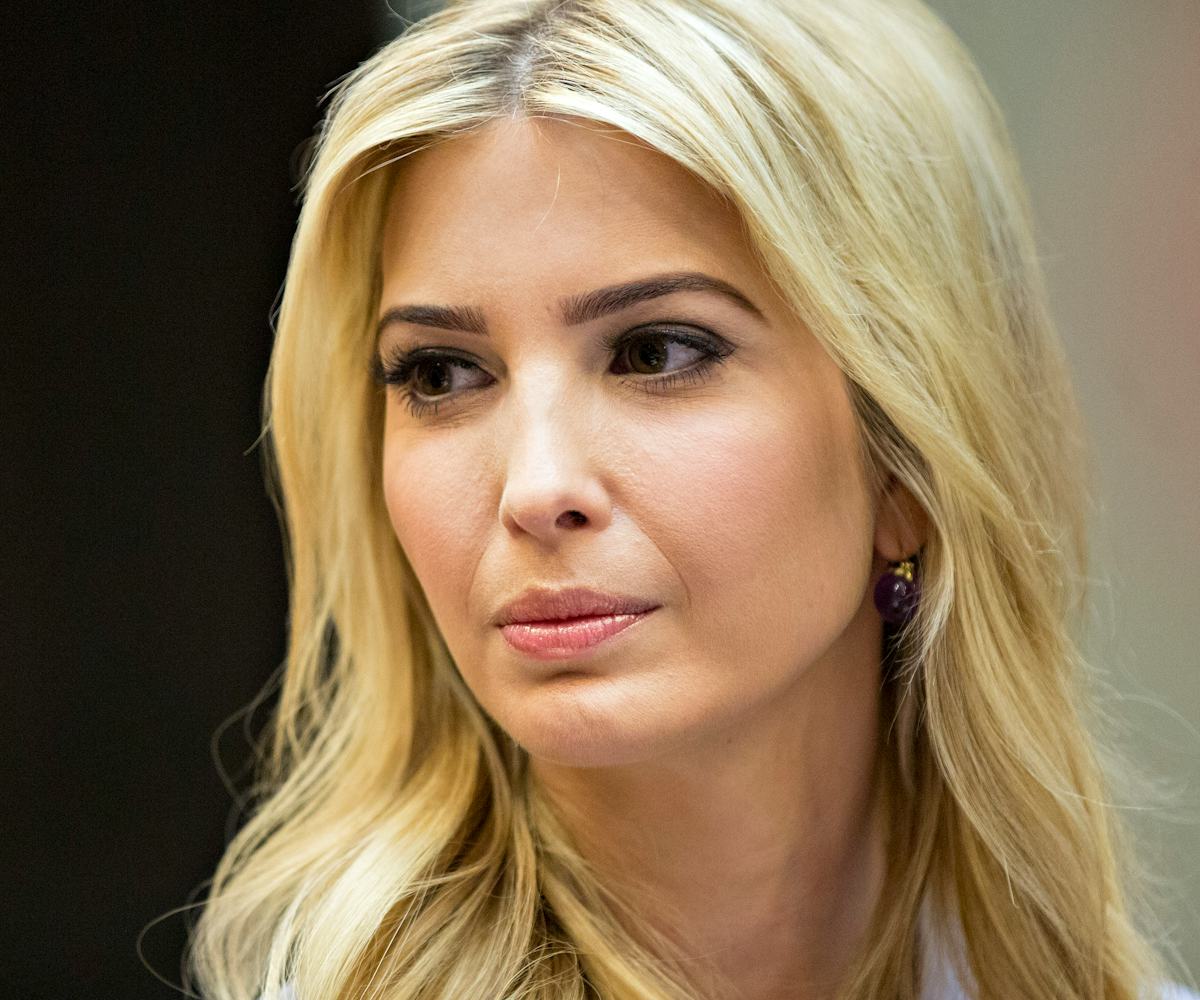 Photo by Andrew Harrer-Pool/Getty Images
Ivanka Trump Has Some Questionable Advice On How To Be A Working Mom
Her new book 'Women Who Work' is coming out tomorrow
There's probably no woman on earth whose advice means less than Ivanka Trump's. After all, she doesn't even know what "complicit" means. And yet, this month brings the release of Women Who Work, Trump's second book (her first, The Trump Card, was delightfully skewered by Jia Tolentino in The New Yorker), so clearly, there are some people out there who trust whatever it is that Trump's selling.
And just what is for sale this time around? Oh, nothing more or less than a guide on how to be a working woman, a topic Trump is an expert on because she works and is a woman and... wait, is that enough to make her an expert? Or even slightly qualified in any way to cover this important topic? Of course, not. But that hasn't stopped anyone in her family before from doing things for which they are not qualified, nor have any substantial expertise in.
While the book doesn't come out until tomorrow, an excerpt ran today on Fortune, so that the rest of us working women can have a couple of discreet pearls of wisdom from Trump, prior to the whole necklace revealing itself tomorrow. 
Which, okay, we will reserve judgment before we read the book in its entirety, but, based on the selected parts revealed today, Trump seems to be espousing the idea that not only is it not impossible to have it all, but it's the best, even the only, way to be. Trump talks about how much better her life became once she started revealing intimate, "candid" photos of her children on Instagram, and how it taught her that it was important to "celebrate the fact that I'm a super-engaged mom and unabashedly ambitious entrepreneur." She addresses the difficulties of the work-home life balance, but her suggestions seem to be suited only for a CEO; not everyone can have their nanny bring their child to visit them at the office for uninterrupted mommy-and-me time.
Perhaps most puzzlingly, though, is Trump's insistence that women should no longer pretend that they can't do it all because she can and does do it all, so you can, too. This is an... interesting approach, to say the least. We currently live in a society in which the working mother is not prioritized, in which maternity leave and access to affordable child care are provinces of the very wealthy. For most women, the big balancing act of being a working mother resides in the ability to juggle a meager amount of resources and do the best they can with what they have. For Trump and for, she assumes, her readers, the balance lies in showcasing the abundance of riches, both material and immaterial, of which she has been the lucky recipient her entire life.
To say that this is out-of-touch is an understatement; Trump's sole concession to the idea of having to give things up is that she can't get as many massages as she'd like. And her admission that she routinely sends people emails at 11:30pm evokes one of the biggest problems in our current workplace realities, that the job never stops, particularly for those who aren't paid well enough to make this 24/7 lifestyle viable.
It is interesting to note, though, that Trump considers it her duty as a working woman to be always available for both her family and her job. I'd definitely be curious to see how her father, who is a self-proclaimed uninvolved parent and has spent more time away from the White House than any other president at this point in their term, would feel about his daughter's views. Unfortunately, Donald Trump doesn't really read books; he just "looks" at them. So his opinion might take some time in coming.