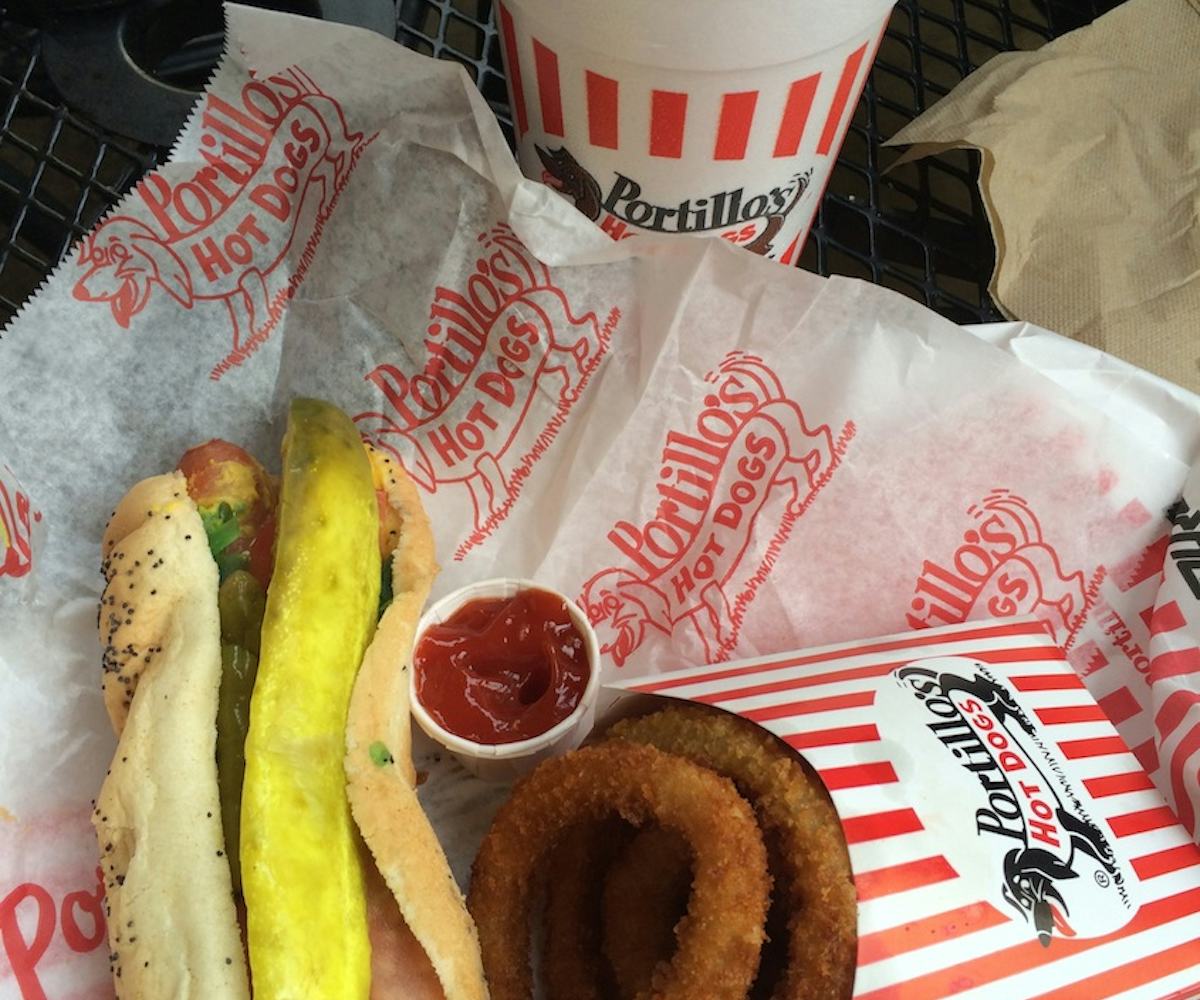 photos by jackie yaeger
the nylon guide to chicago
hot dogs, spice world on vhs, and what to wear to a cubs game.
They say Chicago is mostly known for its deep dish pizza. But after spending a few hours in the Windy City, I'm here to tell you that it's about way more than a big pie (and a big bean for that matter).
If you've never been to Chi-town, use my guide below to have the best trip ever. If you have been to Chicago, then you know that Portillio's hot dogs alone are a reason to go visit again and use my guide for your second time around.
Oh, and if you're from this awesome city, I hope my Cubs game outfit lives up to your rad street style standards, which are seriously impressive.
Where to Eat:
Yes, Portillo's is a chain. Normally I refuse to eat at chains, however, when everyone—from my first Chicago cab driver to my friends who used to live here—told me that I had to go to Portillo's and Gene's & Jude's, I'm coming for you next time). What to order? The first item on the menu, a hot dog--with everything. What exactly is everything? It means that for under three bucks, you get a hot dog with onions, relish, mustard, tomatoes, peppers, and a pickle, on a bun with poppy seeds. I recommend also getting yourself a side of onion rings and coke for optimum Instagram-ability.
The only reason I'm choosing Stan's over Glazed and Infused is because Stan's was open after 2PM (I was in Wicker Park). When I asked two local friends which was the better of the two, they argued over the subject in question for longer than I had expected that they would. Again, Glazed and Confused, much like Gene's & Jude's, I'll see you on my next trip to Chicago. Stan's, though, definitely came through. With styles like a "Banana Nutella Pocket," "Old-Fashioned Strawberry," "Lemon Pistachio," and "Orange Vanilla," just to name a few--I was in donut heaven. Just make sure you go with a friend, because you'll definitely want to try them all.
Not every cafe hooks you up with a bike tune-up, a free cup of joe, and the option to eat a bowl of Cap'n Crunch upon every visit, but that's exactly what Heritage Bicycles General Store provides. I actually felt like I was in the southern United States as soon as I walked in. I guess it was something about the rustic fixtures, wood floors, vintage oven, American flag, and slow-spinning fan. While this spot is known for their delicious pour-overs (May I suggest the Thai Iced Coffee?), they've also got a bike mechanic in the back who will hook up your fixie while you sip on the good stuff--so rad.
Whether it was the lack of artificial coloring, or the fact that one of the flavors was "Watermelon Tabasco," the cotton candy from Spin-Spun definitely didn't taste traditional. Every batch of Spin-Spun's airy concoction is free of fat, gluten, nuts, preservatives, dairy, and GMOs. Also, they're all vegan--yes, even the Maple Bacon flavor. The best part? Each fluffy cloud of deliciousness comes atop a glowstick.
Where to Shop:
The Vintage Store - Kokorokoko
Trust me, I love vintage shopping, but there are some vintage stores that are just more overwhelming than they are fun to be in. Kokorokoko is not one of those places. This seriously rad shop feels curated just for you, with everything you wish you still had from the '90s (I'm talking Spice World dolls, Little Mermaid puzzles, and The Simpsons trading cards), plus the ultimate selection of retro skirts, tops, shoes, and jewelry. Even though this is definitely a vintage store, it feels more like a hand-selected treasure trove of gems, where you want to leave with every single thing.
I've been to a lot of book and zine shops in my day--especially now that I live in NYC, but nothing beats Quimby's. With so many zines that they're broken down into multiple categories, like "Music," "Chicago," "World Famous Zines," and "Drawing Zines," you could spend hours a day browsing the spot's awesome selection of handmade indie publications. You can also scoop up pins and poetry books, making this place a haven of good reads.
Where to Play:
Since the winters in Chicago can get pretty chilly, I'd say you definitely want to stop by during the summer. The Lake comes with free beaches, the parks are the perfect amount of greenery amongst the beautiful city skyline, and The Navy Pier provides more fireworks (twice a week) than you could even imagine were possible. The warm weather also brings a favorite American pastime. I'm talking about baseball. Whether you're a fan or not, heading out to Wrigley Field (which has been around since 1914) is totally worth it. From the cheap tickets to the seriously good bars in the area, this is one rad way to spend a sunny afternoon. Not to mention, the Cubs tees are really cute. (Check the gallery to see how I styled mine!)
Hotel Bar: W Chicago Lakeshore
Let's face it--every time you leave home, you're going to need somewhere to stay. Like most cities, the options are endless. But with the W Hotels, the choice is pretty easy. With everything from fashion inspo to decor that feels like it's from your dream apartment, you'll have a blast at any of their locations. The newly renovated W Chicago Lakeshore has the craziest views of Lake Michigan, cocktails you'll dream about, and a Living Room that might actually make you want to never leave their property.
Stan's delicious flavors!
Stan's!
Heritage is so cute.
I'll have one large bowl of Cap'n Crunch, please!
My Thai Iced Coffee looks really good next to this awesome vintage typewriter!
Free coffee--say what?!
Bring your bike on in!
Free coffee when you get a flat (and they fix it for you)?! Maybe I'll get flats more often.
Maple Bacon cotton candy from Spin-Spun! So yum.
Spice World on VHS and the mini dolls (OMG). Kokorokoko rules!
The Barbie versions, too.
Cyndi Lauper bubble gum, card, and sticker pack. After all, girls do just wanna have fun.
Tetris!
See, I told you they had Little Mermaid puzzles. Remember these?
#Need.
All the awesome vintage goodness at Kokorokoko!
Tough call, here.
Zines by Chicago zinemakers at Quimby's!
Rad poetry books. Some of these you just don't see anywhere else.
Wrigley Field has been around for 100 years. That is awesome.
Of course, a vintage Cubs tee or jersey is awesome, but since I didn't have that I actually scooped up this rad one on the way to the game. Here's my first styling option. Click next for option two, then comment with which one you like better!
Cubs outfit, option two.
The hallways at The W Chicago Lakeshore Hotel made me feel like I was walking into a party, not a hotel room.
View of Lake Michigan from my room. So crazy!
Unreal.
Art in my room.
Need this vanity in my life every day.
Yummy breakfast at W Chicago Lakeshore!
Juicin' after rooftop yoga with Tara Stiles!
Party to celebrate The W Lakeshore's new rad renovation!
RAC (Remix Artist Collective) killin' it!
It's not a party until there's live street art!