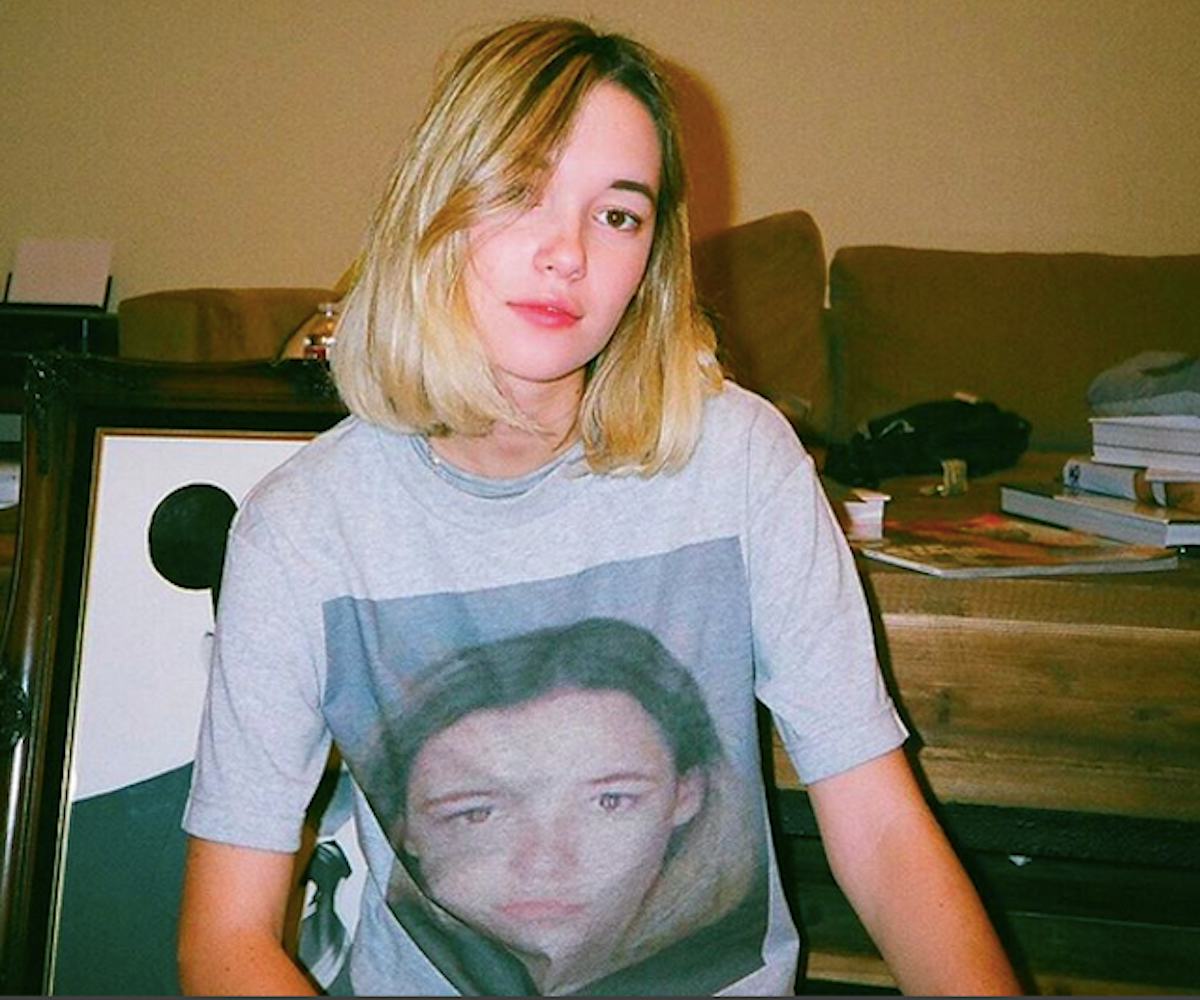 Image via @sarahfuckingsnyder Instagram
Update: Jaden Smith's Girlfriend Did Not Wear Her Own Mugshot On A T-Shirt To Court
it's confirmed, sarah snyder gives zero f*cks about everything
Updated on October 5, 2015: Looks like Snyder did not wear her own face to court. Her attorney told People, "she was dressed respectfully in proper courtroom attire." No word as to whether she pulled a Lilo and subtly rebelled via nail art... (via People)
Original post published on October 2, 2015: We already know that Jaden Smith's new ladyfriend Sarah Snyder is—how shall we say—highly self-possessed. We mean, her Instagram name is @sarahfuckingsnyder for Pete's sake. 
Well, we just got a big, strong whiff of her less-than-demure attitude, thanks to the Instagram photo above of Snyder rocking a tee featuring her own mugshot from her June arrest on charges of stealing a $16K Hermès bag from a boutique in the millionaire enclave of Bedford in Westchester County, New York. She captioned it with "56 nights," a reference to 56 Nights, a mixtape from Future and DJ Esco inspired by the latter's incarceration for drug possession in Dubai.
Oh, but it does not end with that snap, friends. Apparently, Snyder wore the shirt to court Wednesday where her lawyer contested the charges. Speaking on behalf of the 19-year-old model, attorney Robert Schuster told Entertainment Tonight:
"As of last night, we made it clear to the district attorney's office that we would not be accepting any offers or any pleas and that no pleas would be entered. The only thing we are interested in is an exoneration and an apology…At this point we are preparing for a potential trial, whether it is to be tried as a felony or a misdemeanor."
In regard to Snyder's cheeky streetwear, he said, "My clients are free to express themselves in any way that they choose, and I do not advise them one way or the other on availing themselves of their First Amendment privileges." Well, okay then.
Was it a good idea? Absolutely not. Just ask Lindsay Lohan how far messing with judges gets—particularly when you might happen to be guilty. Was it kind of awesome? Absolutely yes. We need so much more of Sarah Snyder's bad attitude in our lives. Shoutouts to PizzaSlime for creating a true statement tee.
(via Us)