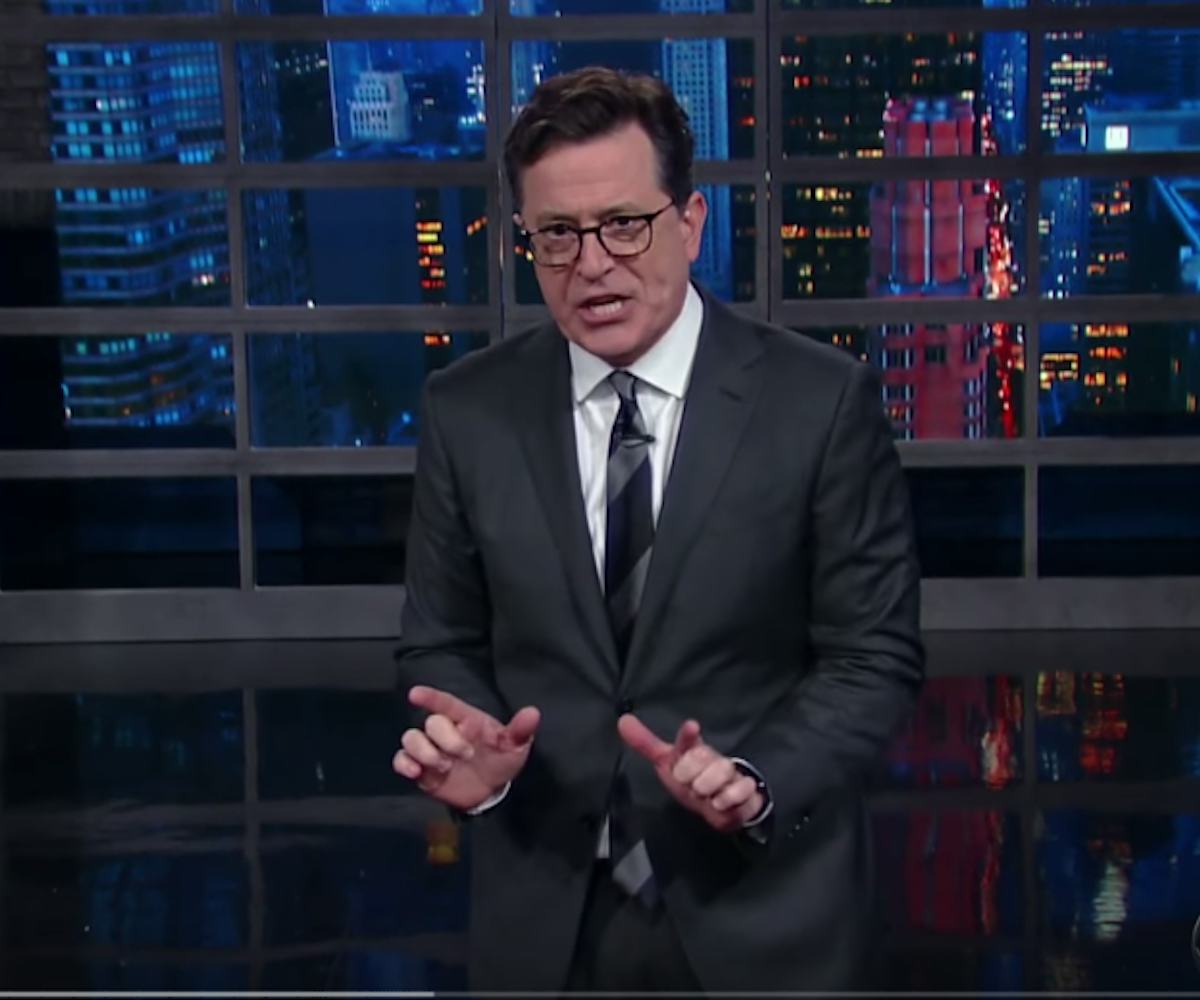 Late-Night Hosts React To James Comey Firing
Trying to get laughs from a scary situation
In the age of Trump, late-night hosts and their writing staffs need to be on their game, because you never know when major news is going to break. For Stephen Colbert and The Late Show crew, news of Donald Trump's insane firing of FBI director James Comey broke 10 minutes before the host hit the stage to deliver his opening monologue. That let Colbert break the news to his shocked audience, and get in a few hasty jokes on the story. "That shows no gratitude at all," Colbert said. "Did Trump forget about the Hillary emails that Comey talked about?"
On his show, Jimmy Kimmel tried to put Comey's firing, which many believe has everything to do with his investigation into Trump's with Russia, into context. "[Trump] fired James Comey, which is kind of like O.J. firing Judge Ito halfway through the trial," he cracked. He also made the obvious but very apt comparison between Trump's firing of Comey and his persona on The Apprentice, who famously fired contestants using a stupid catchphrase. "This is the kind of thing reality TV hosts do—they fire someone every week," he jokes. "Maybe that's what happened: He still thinks he's on the Celebrity Apprentice. It was between James Comey and Meatloaf, and, well, the Loaf won again."  
Over on The Daily Show, Trevor Noah, a South African native who has made a habit of comparing Trump to African dictators, had more fuel to add to this dumpster fire. "Even Africans are watching this like, 'Yo, yo, yo, yo, yo! Donald Trump does not fuck around!" He, too, mocked the administration's laughable excuse for firing Comey. "Wow, Trump fired the FBI director! Like, you can't just fire the FBI director," said Noah. "I mean if he's gone, who's going to investigate Russia's ties to—Ohhhh."
Meanwhile, over on The Tonight Show, Jimmy Fallon did his thing and showed us an alternate universe where Trump isn't president and Aziz Ansari can come on TV and read angry Yelp reviews like the world isn't burning.