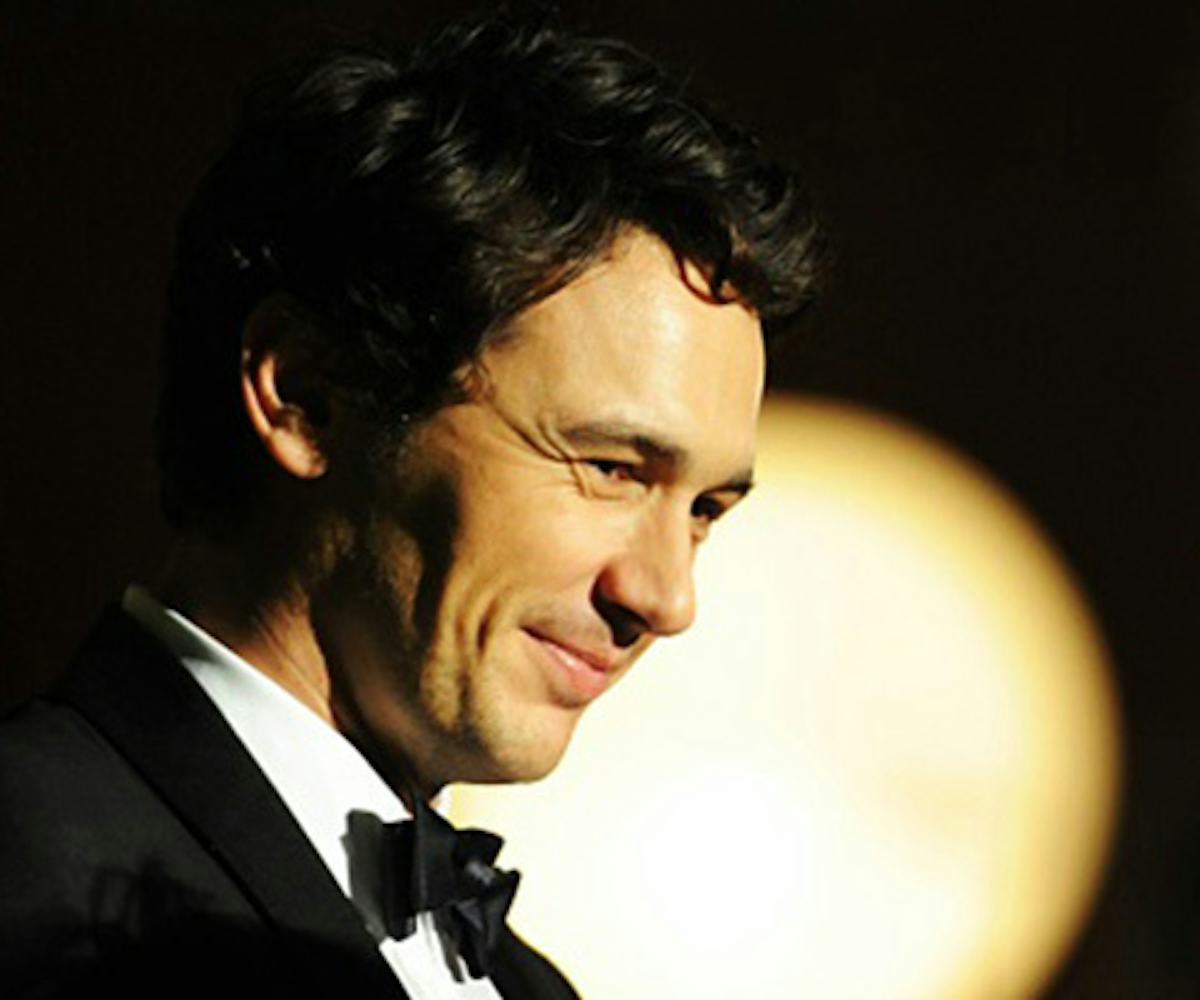 Photo by Manfred Segerer/ullstein bild via Getty Images
Five Women Have Now Accused James Franco Of Sexual Misconduct
"There was an abuse of power"
After being criticized online for supporting the Time's Up movement at the Golden Globes this year, James Franco has now been accused of sexual misconduct by five women. Four were students at the now-closed film school Franco founded, Studio 4 in Los Angeles and New York, and worked with him on his productions; the fifth says Franco was her mentor.
"I feel there was an abuse of power, and there was a culture of exploiting non-celebrity women, and a culture of women being replaceable," Sarah Tither-Kaplan, a former student of Franco's, told the Los Angeles Times. She said Franco's Golden Globe win for best actor in The Disaster Artist felt "like a slap in my face." Following his acceptance speech, Tither-Kaplan tweeted, "Hey James Franco, nice #timesup  pin at the #GoldenGlobes, remember a few weeks ago when you told me the full nudity you had me do in two of your movies for $100/day wasn't exploitative because I signed a contract to do it? Times up on that!"
She elaborated on this tweet to the Times, claiming that in a nude orgy scene she filmed with Franco and a few other women, the actor removed protective plastic guards from the actresses' vaginas while simulating oral sex on them. Franco's attorney Michael Plonsker said, "The allegations about the protective guards are not accurate."
Two other students of Franco's recalled a time when the actor-director became angry when no women agreed to be topless during one particular shoot. Plonsker has also denied these allegations and directed reporters to Franco's recent comments on The Late Show with Stephen Colbert. 
"Look, in my life I pride myself on taking responsibility for things that I have done," he told Colbert. "I have to do that to maintain my well-being. The things that I heard that were on Twitter are not accurate. But I completely support people coming out and being able to have a voice because they didn't have a voice for so long. So I don't want to shut them down in any way. If I have done something wrong, I will fix it—I have to."
Before opening his own film school, Franco taught at Playhouse West in Hollywood, where two of his former students claim he frequently put female students in uncomfortable situations. 
Hilary Dusome, who took one of Franco's classes in 2012, told the Times that he'd selected her and a few other actresses to appear in what she thought was one of Franco's "art films." However, while on the shoot, which took place at a strip club and had the women dressed in lingerie, things veered into unprofessional territory when midway through filming Franco said, "So, who wants to take your shirt off?" 
When none of the actresses obliged, Franco allegedly stormed off. "I felt like I was selected for something based on my hard work and my merit, and when I realized it was because I have nice [breasts], it was pretty clear that was not the case," Dusome said. "I don't think he started teaching with bad intentions, but he went down a bad path and damaged a lot of people in the process."
Another student on the shoot, Natalie Chmiel, corroborated Dusome's story, saying Franco was "visibly angry" when they declined to go topless. "He just took advantage of our eagerness to work and be a part of something bigger," Chmiel said. "We were all these up-and-coming actors who were so hopeful."
Katie Ryan, a student at Studio 4, claims that while Franco wanted to involve his students in his films, there were conditions. He "would always make everybody think there were possible roles on the table if we were to perform sexual acts or take off our shirts," she said, adding that she frequently got emails from Franco about roles for "a prostitute or a hooker." 
Franco is "not aware that any of the actions alleged by Ms. Ryan ever occurred," according to his lawyer. And Vince Jolivette, co-owner of Rabbit Bandini Productions which ran Studio 4, said in a statement that "the school was always run professionally." He added that the "instructors were excellent, student feedback was positive" and the complaints against the school, which they are currently investigating, are "very inconsistent with the mission."
Some of the allegations against Franco include sexual coercion. Violet Paley, who spoke out on Twitter the night Franco accepted his Golden Globe, was a former mentee of Franco's and claims the actor forced her to perform oral sex on him in a car. "I was talking to him, all of a sudden his penis was out," she told the Times. "I got really nervous, and I said, 'Can we do this later?' He was kind of nudging my head down, and I just didn't want him to hate me, so I did it."
While Franco and Paley went on to have a consensual romantic relationship, she says if she could go back, she'd handle things differently that day in the car. "I would say, 'No, stop, get out of my car," she said. "The power dynamic was really off."
Franco himself hasn't yet released a statement addressing these allegations, but if he prides himself on taking responsibility for his actions, hopefully, he will soon.