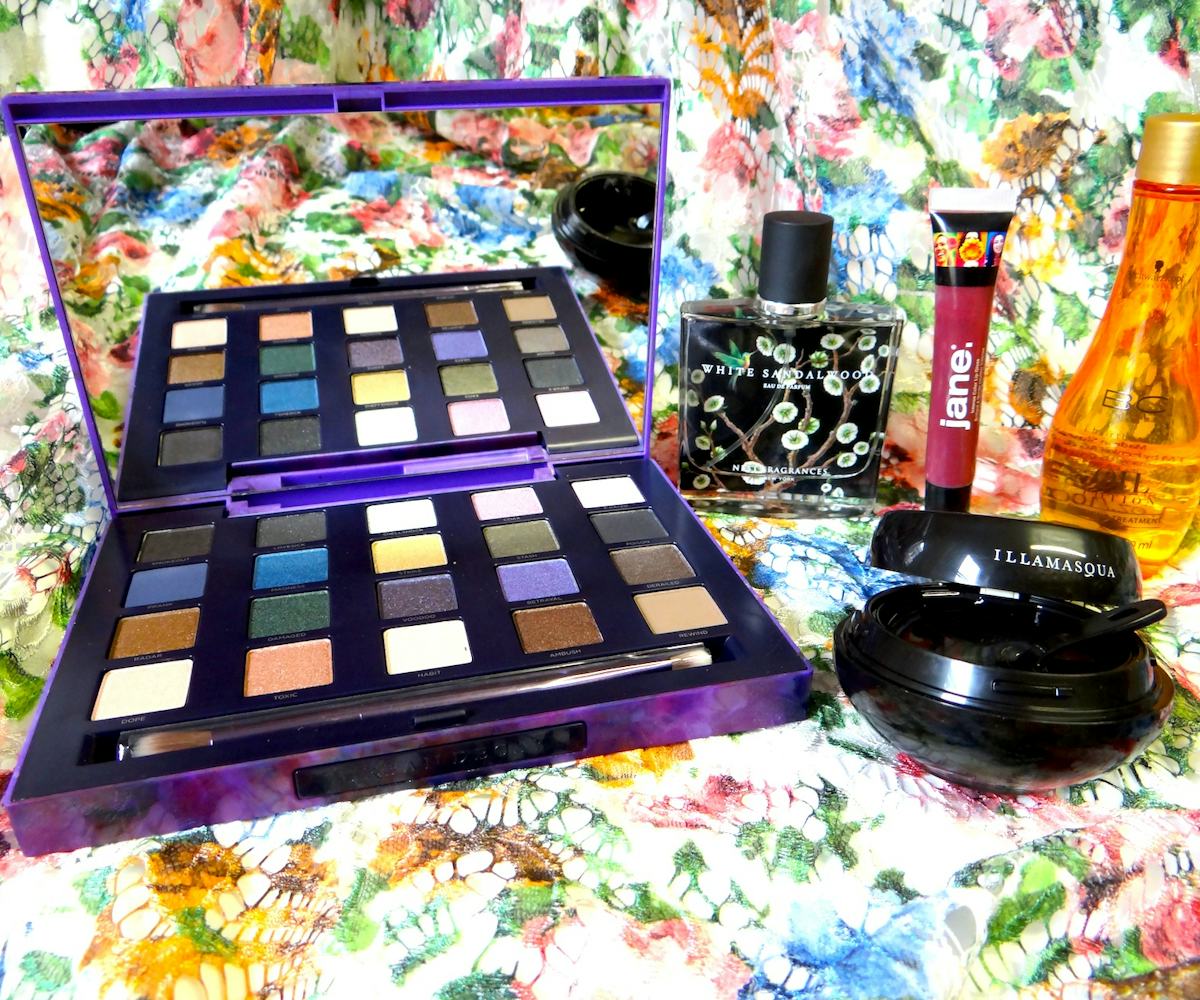 photo by jade taylor
vanity case
from floral fragrances to the best eyeshadow palette, the new products you need to know.
OLFACTORY GIRL
WHAT IS IT:
NEST Fragrances White Sandalwood Eau de Parfum
WHY I LOVE IT:
After Laura Slatkin, Founder and CEO of NEST Fragrances, debuted the brands Fine Fragrances Collection in 2012 (inspired by botanical artworks from 18th Century British artist Mrs. Mary Delany), NEST was recruited by mega-house Sephora to debut five fragrances to be sold exclusively at Sephora.com and select Sephora stores nationwide. The end result? A quintet of perfumes printed with botanical art from Russian-born artist Alexander Solodukho, using three existing fragrances--Amazon Lily, Midnight Fleur, and Passiflora--then adding two new fragrances, Dahlia & Vines and my personal favorite, White Sandalwood. Trust me, all of the scents are luxurious, but White Sandalwood in particular takes the cake. Combining white sandalwood (hence the name) from India and Australia with creamy almond, white musk, and exotic spices, the woody notes really boom with decadence when spritzed on skin. And if you're not a fan of sandalwood, the good news is that there's four more fragrances in the collection to choose from! 
FOR THOSE:
Who consider "gardening"  collecting fragrances with various floral notes.
FLAMING LIPS
WHAT IS IT:
Jane Cosmetics Intense Color Lip Gloss in Awe Intense
WHY I LOVE IT:
Um, do I really have to explain why I love Jane Cosmetics and their highly anticipated return to the beauty world? Fine. I'll give you a few reasons: 1. It was the first ever makeup brand I owned, thus birthing my obsession with all things beauty-related. 2. I loved the name Jane (i.e.
Jane
magazine, Jane Lane from
Daria
) mostly because it was so similar to my own. 3. The line makes me nostalgic for the '90s, when all I really cared about was what color lipgloss I was wearing and what Britney Spears song I was going to play next. (I can list off more reasons, if need be.) And although I may have outgrown lipgloss since then (but never, ever Britney Spears), I've made an exception with this one. Featured in Jane's Intense Color collection, the gloss is the perfect shade of blazed-berry, like the color your lips turn after chewing on a grape flavored ice pop--minus the purple teeth!
FOR THOSE:
Who immediately start singing every word of "Lipgloss" by Lil' Mama when they apply lipgloss.
EYES WIDE SHUT
WHAT IS IT:
WHY I LOVE IT:
For the beauty junkies who missed out on Urban Decay's first Vice palette, don't fret! UD is releasing a sequel to their legendary eyeshadow palette, and trust me, it's bigger and better than ever. Packed inside a tie-dye and jewel-encrusted palette with 20 different eye colors that offer a sporadic assortment of neutrals and vibrant hues with varied formulas. It truly is the perfect Holiday gift for that makeup-obsessed someone you know--just don't forget to pick one up for yourself too before they sell-out!
FOR THOSE:
Who can't wait until they release the Vice 3 Palette (fingers crossed). 
FACE TIME
WHAT IS IT:
Illamasqua Hydra Veil Rehydrating Gel
WHY I LOVE IT:
This Rehydrating Gel bridges the gap between a primer and a moisturizer, forming a Frankenstein hybrid of all things good for your skin and appropriately packaged in a cauldron-esque jar. But I know what you're thinking: "Another product to add to my daily skincare regimen?" Trust me, it's worth it. Not only does the jelly-formula put your skin in hydration-overdrive, but it instantly smooths, calms, and extends your makeup for all-day wear. Bonus: you can use the hygienic spatula provided to mix up the gel and capture the desired amount you want, and then watch the jelly shape-shift back in place.
FOR THOSE:
Who want to prep their skin for the upcoming winter-weather. Dry flakes are not as pretty as snow flakes!
HAIR METAL
WHAT IS IT:
Schwarzkopf Professional BC Oil Potion Finishing Treatment 
WHY I LOVE IT:
If you've been avidly watching
American Horror Story: Coven
like I have, you may have found yourself in a particularly witchy mood as of late. Needless to say, if any lotions and potions can somehow make me look as flawless as Jessica Lange--I mean, The Supreme-- does: I'll take two. But I may have already found one magical remedy by way of this Schwarzkopf Oil Potion. It's infused with precious marula oil for opulent shine and softness sans the heavy or greasy feeling most oils can leave behind on your strands--not to mention it comes in a wicked potion bottle. Pro tip: Massage to the ends of your hair after showering for maximum impact!
FOR THOSE:
Who practice Bitchcraft.