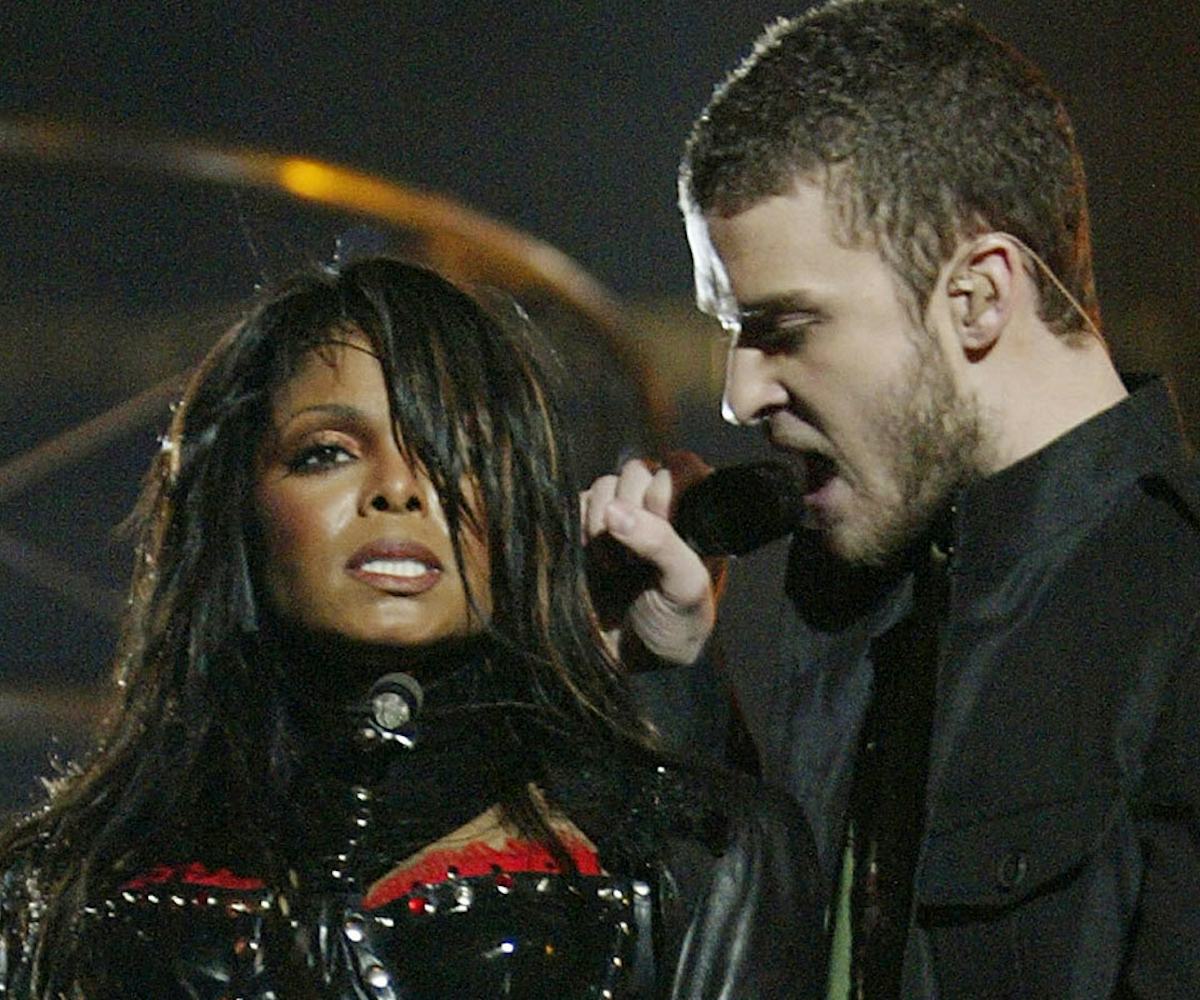 Photo by Frank Micelotta/Getty Images
Janet Jackson Is Allegedly Not Banned From The Super Bowl Halftime Show
Janet Jackson's exposed right breast during the 2004 Super Bowl Halftime Show spawned the term "wardrobe malfunction" and "Nipplegate," made the seven-second delay mandatory for live broadcasts, and negatively impacted Jackson's career. Justin Timberlake, the one who ultimately did the exposing, however, flourished. Timberlake is confirmed to return to the Super Bowl Halftime stage this year. Jackson? Unclear as rumor had it she was banned from the event by the NFL.
That rumor has been cleared up.
"There's no ban," an NFL spokesperson told Entertainment Tonight. The spokesperson then stated they were not going to comment on any buzz around guests—if Timberlake will be bringing any out in the first place. A source close to Jackson added she'd be more than down to join Timberlake on stage. "If Justin or his team did reach out," she said, "Janet would perform with him again in a minute." No one from Timberlake's team has reportedly done so despite the growing pressure from social media that he do so.
The end of the 2004 Super Bowl Halftime Show was never supposed to happen the way it did. It's known that Jackson's styling team changed the finale after the Halftime Show's final rehearsal, giving Jackson and Timberlake little time to properly nail the reveal. No one from the NFL, MTV, or any other sponsor was aware they were going to pull the stunt that coincided with Timberlake's "Rock Your Body" lyric that says, "Better have you naked by the end of this song." Jackson told David Letterman that the reveal did not happen how it should have. "I wasn't supposed to come out of it the way that I did," she said.
Regardless, Jackson was shamed for the stunt while Timberlake's involvement was brushed aside, exposing our society's collective misogyny and policing of female bodies. Jackson was uninvited to the Grammys that year, and her music videos and songs were blacklisted from radio and TV play. Timberlake hasn't commented too much on it, though he did tell MTV News after the fact that he "probably got 10 percent of the blame," and "that says something about society." Uh, yeah, female—especially black female bodies—and their sexuality are vilified for merely existing. 
So now that it's been made clear Jackson is not banned from America's Most Watched Television Event™, the ball is truly in Timberlake's court to wise up and give Jackson the apology and stage time she so rightly deserves. #JusticeForJanet, indeed.