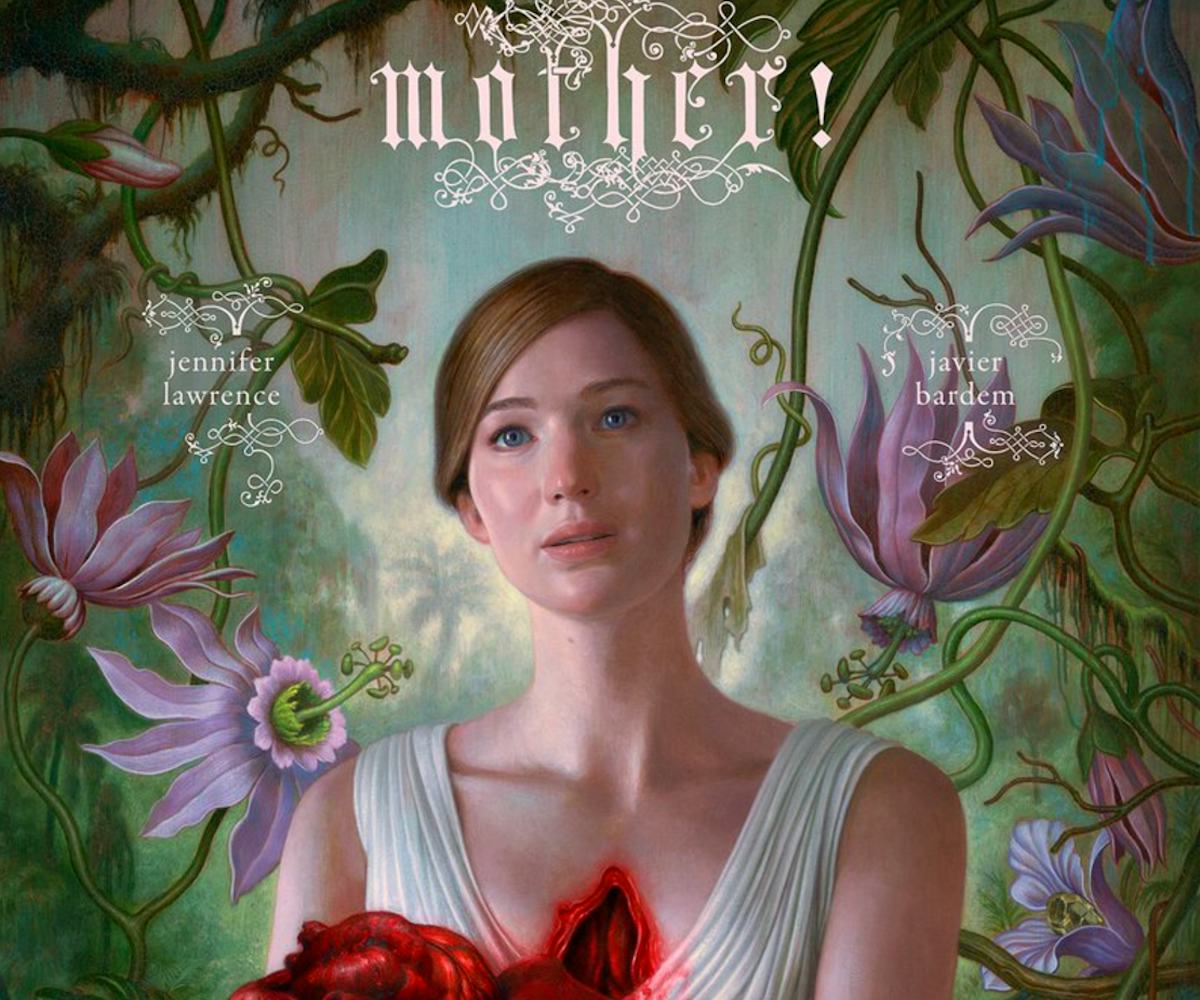 Image via Paramount
Jennifer Lawrence's Mysterious New Movie Is Coming Sooner Than You Think
'Mother!' just got a new release date.
On Mother's Day, director Darren Aronofsky tweeted out a disturbing illustration of Jennifer Lawrence. She's wearing a white dress and her hands are covered in blood from having ripped her own heart from her chest. It was the first glimpse of Aronofsky's latest film, Mother!
The film's original release date was October 13, but it's been moved to September 15, Aronofsky announced on Twitter today. He didn't explain why the release date had been moved up, or offer any other details about the movie, except that he was in the final stages of post-production. "Can't wait to share it," he wrote. "Just gotta finish mixing and fine tuning."
He also said the first teaser for the "psychological horror-thriller film" will play at select showings of Dunkirk this weekend. "Look forward to feedback from those who catch it," he wrote.
There's almost no information out about the film, other than it "centers on a couple whose relationship is tested when uninvited guests arrive at their home, disrupting their tranquil existence." It stars Lawrence alongside Javier Bardem, Ed Harris, Michelle Pfeiffer, and Kristen Wiig. We can assume, since Lawrence and Bardem are listed on the movie poster, that they are the couple whose tranquil existence is disrupted. 
While IMDB pages aren't always 100-percent accurate, some bit parts listed for the film include "pervert," "creep," "sex slave," "thief," "protestor," "refugee," and "rave dancer." It's like a dark, twisted game of Mad Libs at this point. 
One thing we know for sure is that the film will deliver "thrills and chills," according to Paramount's domestic distribution chief Kyle Davies—if the film is half as creepy as the poster, we agree—and a source close to the film told The Wrap that "Aronofsky is flirting with the same psycho-horror that won Natalie Portman an Oscar for the unraveling ballerina she played in  Black Swan."