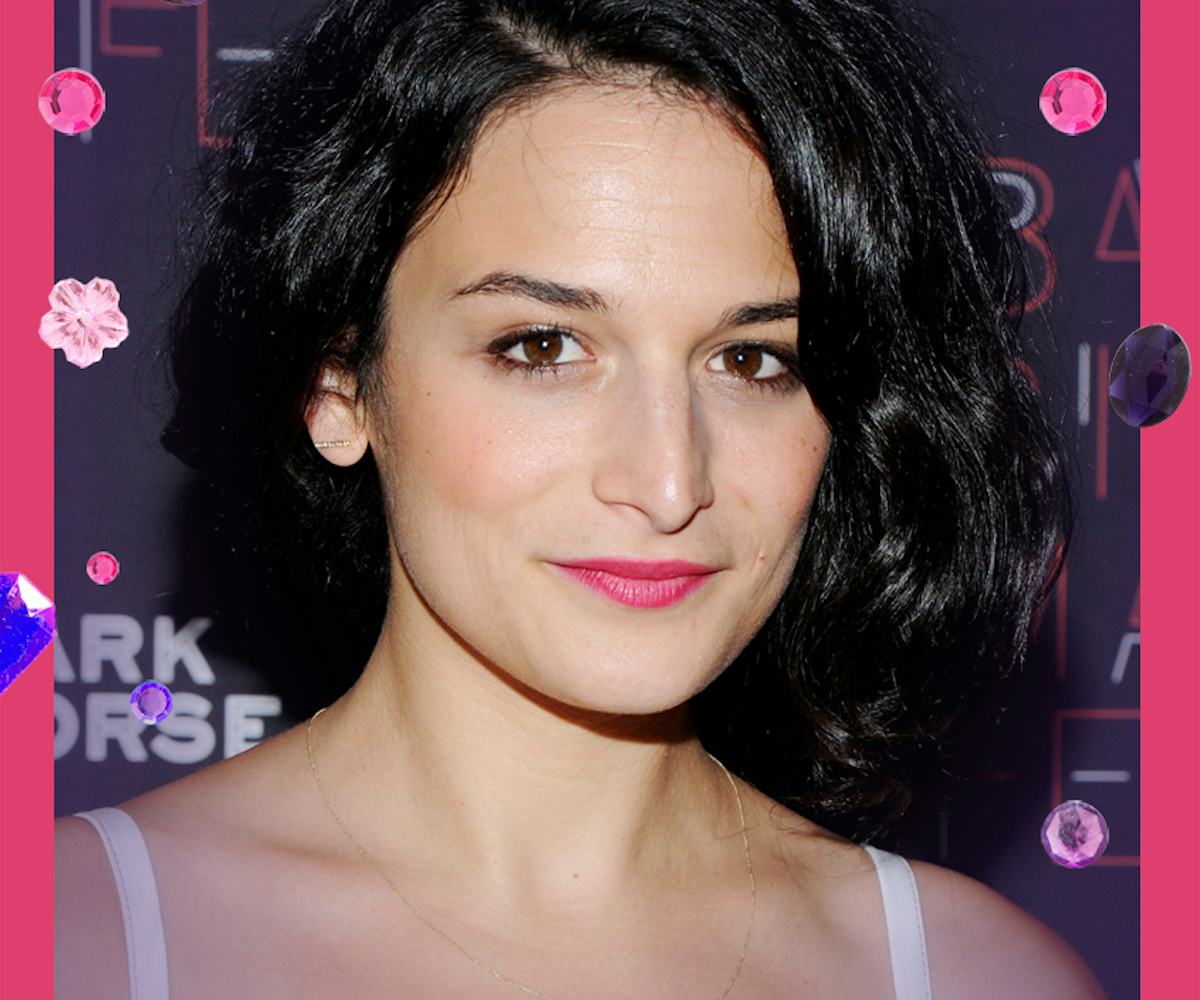 photo via getty images
jenny slate has some awesome advice
the brains behind marcel the shell.
Many of cinema's hottest stars have taken part in The Los Angeles Times Young Hollywood Roundtable at the AFI Film Festival, from Andrew Garfield to Jesse Eisenberg to Kirsten Dunst. This year Jena Malone (The Hunger Games: Catching Fire), Logan Lerman (Fury), Joey King (Wish I Was Here) and Jenny Slate (Obvious Child) sat down to chat auditions, freak outs, funny moments, and their advice to aspiring actors (or really just human beings).
Although we love everyone from this year's discussion, we have to confess that one of the most exciting artists on stage was Jenny Slate. She's a pretty amazing lady, with a season's worth of experience on SNL, recurring guest roles on Parks and Recreation, House of Lies, Married, and a starring role in a Sundance hit (Obvious Child) on her resume. And let's not forget her turn as Marcel in the hilarious, super-sweet sketches Marcel the Shell, which has the power to fix any not-so-great days. 
Her diverse experiences definitely brought a cultivated, insightful wisdom to the panel. When asked about her first big Hollywood moment, Slate told a story about working with Sigourney Weaver on SNL. She recalls Weaver telling her that if anybody ever told her she couldn't do it, just to say, "F**k it." Slate has clearly done that so far, re-inventing herself after getting let go from SNL and choosing to pursue Marcel over bigger, moneymaking projects. 
Slate is also an undeniable nerd, as charming as she is hilarious. She admits that a big part of choosing to attend college at Columbia was about fitting in. "I needed to get a group of weirdos together to show me I belonged." If you follow her on Instagram or Twitter, you'll see she totally embraces that eccentric nature. She describes social media as both a "beautiful meadow for sprites" and a "garbage dump" for people with bad manners. In the end, Slate admits her Internet frolicking is totally cathartic, so totally follow her: @jennyslate.
I was so bummed when no one was dressed up at the roundtable last year! You look amazing! 
I love to dress up. It's fun! Dressing up is really just like costuming yourself for the moment you hope to have.
What is the moment you hope to have?
I'm having it! This is my fourth consecutive year being involved in AFI. It's interesting to be on a Young Hollywood panel when I'm 32, but in a way I was so stressed in my twenties because I didn't know how to f****** do anything. I feel the youngest I've ever felt! I feel fresh. So I think that's what I'm dressed for. I feel like I'm a daffodil.
Marcel the Shell just came out with a new video! What are your plans with the little guy? 
We started to do it to really take control of when we were creative. It doesn't depend on somebody else saying our idea is good or not. It depends on us wanting to be in that process. That's an important thing to take for yourself in an industry that is typically very risk-averse. How do you pitch Marcel? You can't. We'll keep doing things with him but we try to be pretty chill about it and keep it as a representation of us being privately creative and then connecting to people through that honest motivation.
Now that you have bigger projects coming through the pipeline, do you feel that need to cling on to projects your passionate about?
I feel the need to truly connect to whatever I do. I feel very connected to my work on Parks and [Recreation]. I feel like that show has such a beating heart and what I hope for myself is to just be satisfied with my work and to not have to work with assholes and to be able to have enough power to make choices according to my preferences. Also, I think it is important to me to me feel that in my private life there is an element of creativity and that's not just reserved for my professional life. Both my parents are artists. I grew up in a creative household. It's important to me to feel like things are bubbling all the time.
You're married!
To Dean [Fleischer-Camp] who I do Marcel with! He directs, animates, and is the interviewer.
Friends tell me never to marry an artist or writer! What's your advice on having a partner that's also a creative partner?
Everything depends on personality type and who you are specifically. I dated a comedian and it was a disaster! My husband's a director. We understand what we do, but we don't do the same thing. We push each other but don't really compete. It just works. You just have to be careful. That's any partnership!