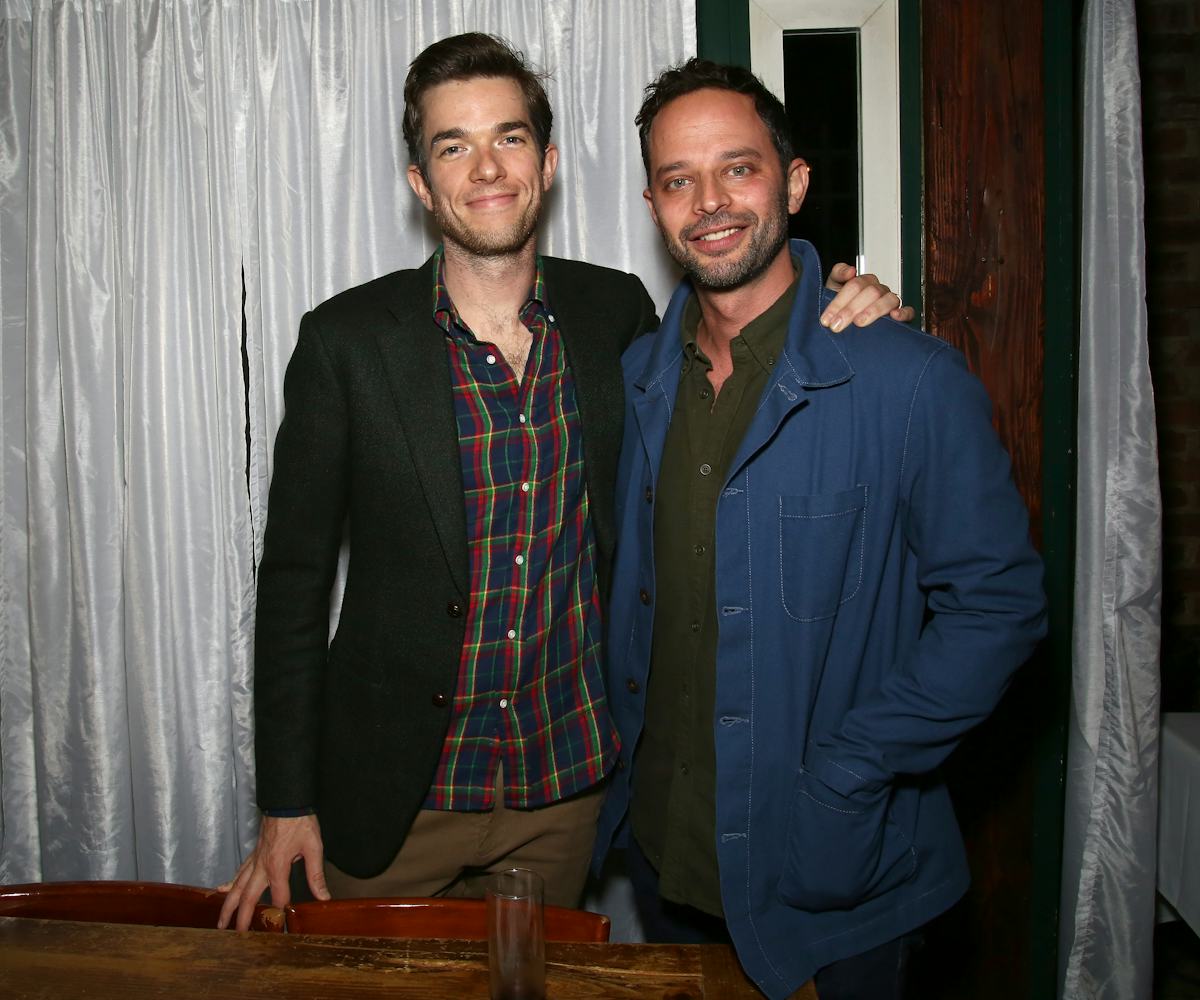 Photo courtesy of Paul Zimmerman / Getty images
John Mulaney + Nick Kroll On Hosting Awards Shows In The Age Of Trump
The Independent Spirit Awards hosts break it down
As the cantankerous bellyachers Gil Faizon and George St. Geegland, Nick Kroll and John Mulaney turned the art of complaining into a Broadway hit, as "Oh, Hello" went from an alt-comedy underdog to one of the most financially successful plays of the season. On Saturday, the real-life BFFs will ditch the fright wigs and corduroys when they host the Independent Spirit Awards, following in the footsteps of fellow "It Comics" Seth Rogen, Andy Samberg, and, most recently, Kate McKinnon and Kumail Nanjiani. We asked the dynamic duo about their pre-drink plans, their industry targets, and what they have in store for a certain someone in a certain White House. 
What is the secret to a good opening monologue?
John: Having very, very, very good jokes, and saying them—
Nick: In an order that appeals to the audience in the crowd as well as at home—
John: And that the observation aligns with something they already know, but that there is a surprise element to the punch line that will elicit the laugh.
Are you guys going to go heavy on industry jokes, or go heavy on Trump?
John: I don't see any reason to make fun of Donald Trump.
Nick: He's the president.
John: Yeah, he's the president.
Nick: We're going to make a lot of jokes not about the industry, but about industrials. You know, those videos that are made for internal use for corporations.
John: Samuel Gompers is one of the writers who obviously was very early in the union's movement.
Nick: We've also got this great chunk on Walter Mondale that we're excited to try out.
John: We're actually way behind on our political news, so we're working our way up to Donald Trump. We're still doing Mondale/Ferraro stuff.
Who in the audience do you guys really want to take down a peg?
Nick: I don't know if Simon Pegg will be there, but I'd love to take him down a peg.
John: I'd like to take one "g" off the Pegg.
Nick: Yeah, I'd like to take one "g" off the Pegg and really take him down a peg. I don't know if Katy Segal is there, but I'd like to take her down one peg. Those are the two main pegs that I'd like to take down.
Are you hoping that this one day leads to a gig as host of the Oscars?
Nick: We're interested in hosting the Oscar Isaacs, which is an awards ceremony for movies that Oscar Isaac does.
Do you think it's a bad idea to pull a Ricky Gervais and drink before or during the show?
John: I wouldn't drink before it. I'm going to do nitrous right before I walk out on stage.
Nick: And I've been microdosing. I'm going to keep microdosing until the awards, and on the day of, I'm going to macrodose, and just flip my shit on acid on stage, and Jon will have to deal with it.
Are you required to watch all the nominated films?
John: Yes, we watched them all because we're hosting.
Nick: And our favorite film this year was that photo of Trump's doctor.
John: That photo was about as independent as it gets.
Will Gil and George make an appearance?
John: We're negotiating with them. After they did the Broadway show, their egos have expanded.
Nick: We've been talking to their agent, who's Trump's doctor.
John: They've also each gained 200 pounds since the closing of the show, so it won't even look right.
Is it your ultimate goal to try and make people forget about all the bad stuff for a couple of hours?
Nick: My main goal is to just have a good time with my buddy hosting this awards ceremony, and hopefully provide a really good time for the people who love independent film, and who have worked really hard. Anything beyond that is too tall an order. Oh, and we really want to meet Kevin Smith.