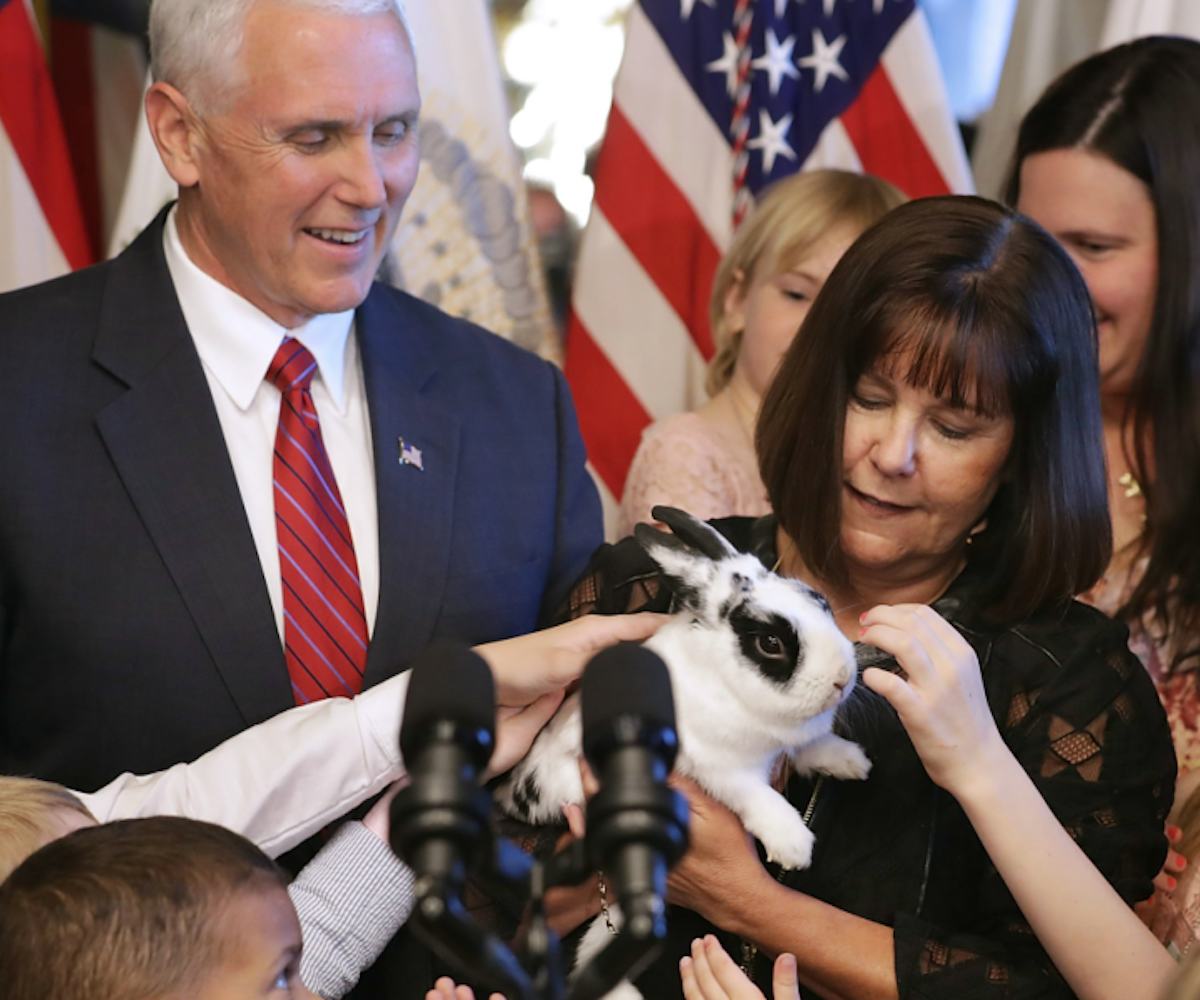 Photo by Chip Somodevilla/Getty Images
Every Indiana Elementary School Will Get John Oliver's 'Marlon Bundo' Book, Thanks To 'Will & Grace' Creator
This is the gift we all need
There are two things most everyone knows about Vice President Mike Pence by now: His political stances—and his views toward the LGBTQ+ community in particular—and the fact that he has a pet rabbit named Marlon Bundo. Well, in case you missed it, last month, Marlon Bundo's book, "Marlon Bundo: A Day in the Life of the Vice President" (written by the vice president's daughter, Charlotte Pence, and illustrated by his wife, Karen Pence) was released, but not without a little queer-friendly competition.
The team behind Last Week Tonight with John Oliver was one step ahead, releasing "A Day in the Life of Marlon Bundo," an LGBTQ+ inclusive loose parody of the book...a day before Pence's actual book dropped. The book—written by Jill Twiss, a comedy writer for the show—is all about Marlon Bundo and his relationship with (and subsequent marriage to) another male rabbit named Wesley. The fact that this book even exists is great as it is, but to top it all off, all of the profits from its sales are being donated, with proceeds going to both The Trevor Project and AIDS United. The book also became an unexpected success and quickly made it onto the Amazon best-seller list.
As if the saga of Marlon Bundo could get any better, Max Mutchnick, the creator of the hit show Will & Grace, decided to take things a step further. On Friday, Mutchnick
that he would be buying a copy of "A Day in the Life of Marlon Bundo"...for every single elementary school in Mike Pence's home state of Indiana. That's 1,121 schools, for the record. 
In his tweet, Mutchnick shared a letter he wrote to the schools about why he wanted to donate the book, calling it "a poignant story about how love and community can rise above intolerance." He also talked to The Hollywood Reporter more in-depth about why donating this book was so important to him:
Mike Pence has had an enormous platform in Indiana, and as it relates to gay people, he's used it to spread a message of intolerance. By donating these books, I hope to counter those efforts and provide positive role models and a story of inclusion for children in Pence's home state. If this book can help one boy or girl in Indiana love and accept who they are, I know both Marlon Bundos would be proud—even though one of them is on the downlow.
That this parody book has become so unexpectedly successful and has turned into something truly sweet that can educate and be enjoyed by young people is pretty amazing, and this move by Mutchnick makes it even more accessible to kids who might not otherwise have access to some much-needed positive LGBTQ+ representation.
Related: It seems entirely unfair that Mike Pence is allowed to have a pet rabbit with such a cute, punny name (and to be quite honest I think he should give him to me, but I digress.)