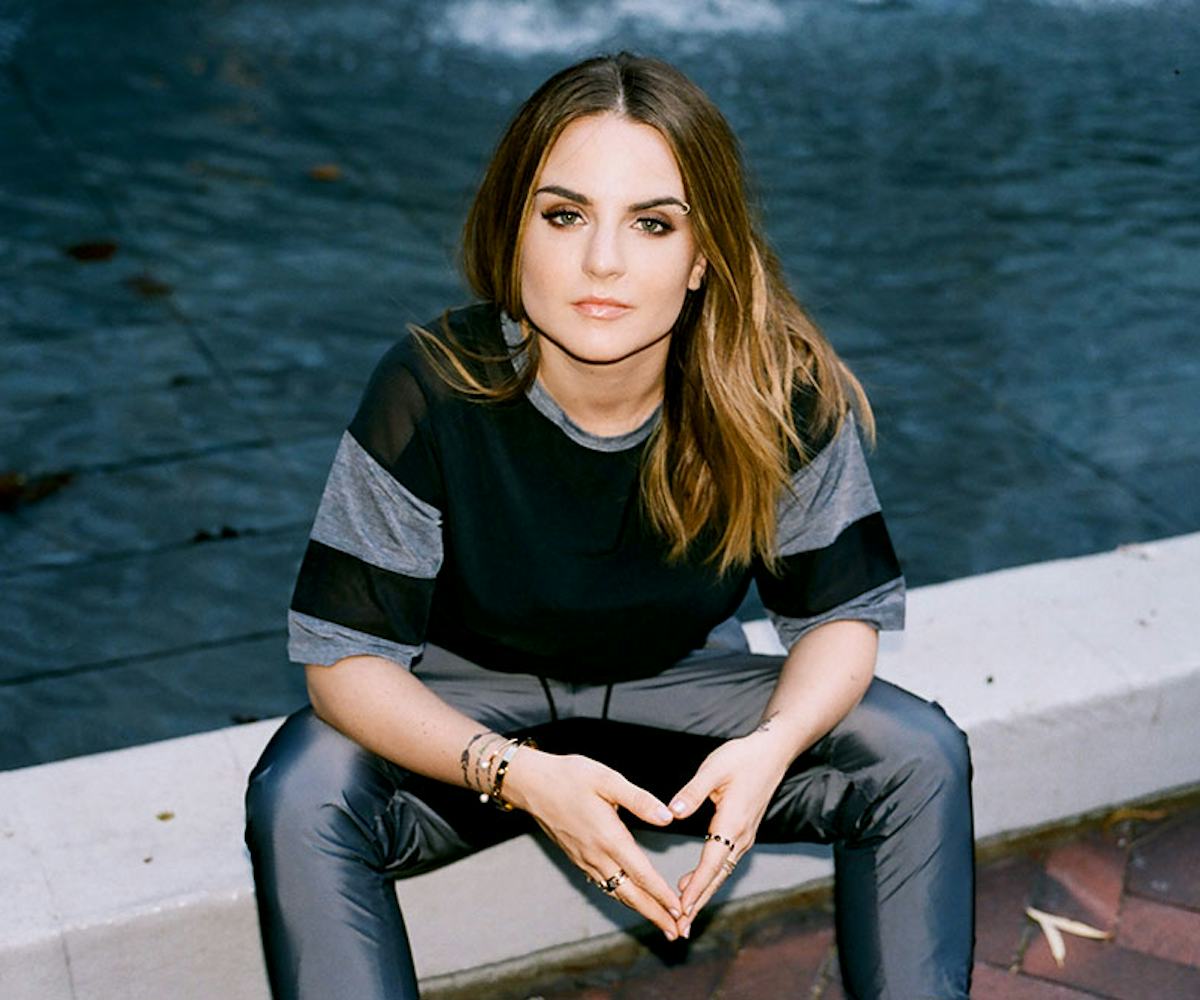 Photographed by Atisha Paulson
playing catch up with jojo
While most 13-year-olds were busy worrying about whether their crush reciprocated their feelings and slurping up the last bit of Coke at the mall food court, JoJo was busy making her swift rise to fame. After "Leave (Get Out)" hit the airwaves, she became the youngest solo artist in history to have a number-one single in the United States, and along with it came a dedicated, diehard fan base. Fast-forward a few years, and the internet was littered with headlines like "Where Is JoJo Now?" 
"I felt totally stuck and I was making the decision whether to go to college and study anthropology and sociology, or to go through with the lawsuit and try to get out and focus on the next chapter of my career," she says, referencing the time during which her label, Blackground Records, decided to silence her. "It was really frustrating because people had questions and I didn't have answers. Even my family, they saw me, you know getting very, very sad. It was just confusing and mostly I wanted to be able to explain things to people, but I also didn't want to seem like I was anti-label or like I wasn't trying to make things work."
Because after two albums, 2004's JoJo and 2006's The High Road, and an iconic '00s breakup anthem ("Too Little Too Late"), her record company decided that they wouldn't be releasing any more of her work. She was still stuck in her existing contract, which stipulated that she release seven exclusive albums with them, and it seemed like she would never be able to release music again. 
Click through the gallery to read the entire story.
Photographed by Atisha Paulson; Styled by Marissa Smith.
After an arduous, long lawsuit, the court eventually freed her of her contract, and she signed to Atlantic Records. Now, after clocking in some studio time and creating over 70 songs (most of which will never see the light of day), the 24-year-old is gearing up to release her new album. So far, she's released what she calls a "tringle"—three singles at once. "I knew I needed to come back and make an impact in a certain way and the way I wanted to do that is through music," she says. "Just conversationally, me and my team were sitting at a restaurant or something, and we just kept saying three singles, three singles...tringle! It's a word that sticks in your brain whether you want it to or not."
And if her previous music defined the '00s, her new material is sure to speak to the digital age. "The internet really saved me in a lot of different ways," she explains. "It just kept my sanity and kept me creative. It's also a great place to find music, so I'm always discovering things on SoundCloud or people will tweet me, 'Hey check this out,' and oftentimes I do. It's exciting to be turned on to new stuff." 
above: sweater by sandro. below: shirt by h&m.
Photographed by Atisha Paulson; Styled by Marissa Smith.
But it's not just her sound that's changed, she explains. It's also the landscape. "When I came out in 2004, I think that maybe pop still had a bubblegum feeling attached to it, and a sort of stigma attached to it," she says. "I don't really feel that way when I think of pop music today. I think there's a lot more space now. Pop to me now just means 'popular.' We could call Bruno Mars pop; we could call Fetty Wap pop."
With tinges of house influence and synth to highlight her power-ballad vocals, her new sound melds the gap between new wave and the strong female soul music that she was raised on. "I grew up listening to all types of stuff and house wasn't really one of them—now I love it," she says. "I dive into different music that's touching me at the time. I love Gorgon City, MNEK and Disclosure and when elements of house and dance music are infused into pop. I'm living for it. It makes me feel fabulous, triumphant, and strong. Like a woman."
above: shirt by h&m, pants by nomia, shoes by schutz. below: shirt by nike.
Photographed by Atisha Paulson; Styled by Marissa Smith.
Ultimately, though, her journey is just a highly publicized coming-of-age story—a detail that JoJo is quick to point out. "It's no different than anyone else's struggles. It's just inserting different words and obstacles," she says. "I'm young and I believed that someday I was going to have the opportunity again to pursue my career, but I mean, some people I know were dealt just a far worse deck of cards: they grew up in the foster system, or their father was in jail and they didn't meet him until they turned 18, or they came from another country and had to pay their way through college by working two jobs. These are real life things and you can't really compare; all of them are difficult. So I found comfort in knowing that I wasn't the only one struggling and it gave me some perspective on how you're never exempt from a struggle. There's always something you're facing."
And she, just like the rest of us, is trying to figure it all out. "I just try to be true to who I am. I know that I'm a host of contradiction," she smiles. "I consider myself an all American girl in a sense but then I also have tattoos and two eyebrow piercings and sometimes I feel sexy, and sometimes I feel cute. I don't wanna be I don't have to be the same thing all the time and I don't need to cater to men. I don't dress for men, I dress for myself."
above: sweater by sandro, skirt and boots by dkny. below: dress by beckley.
Photographed by Atisha Paulson; Styled by Marissa Smith.
sweater by sandro, skirt and boots by dkny.
Photographed by Atisha Paulson; Styled by Marissa Smith.