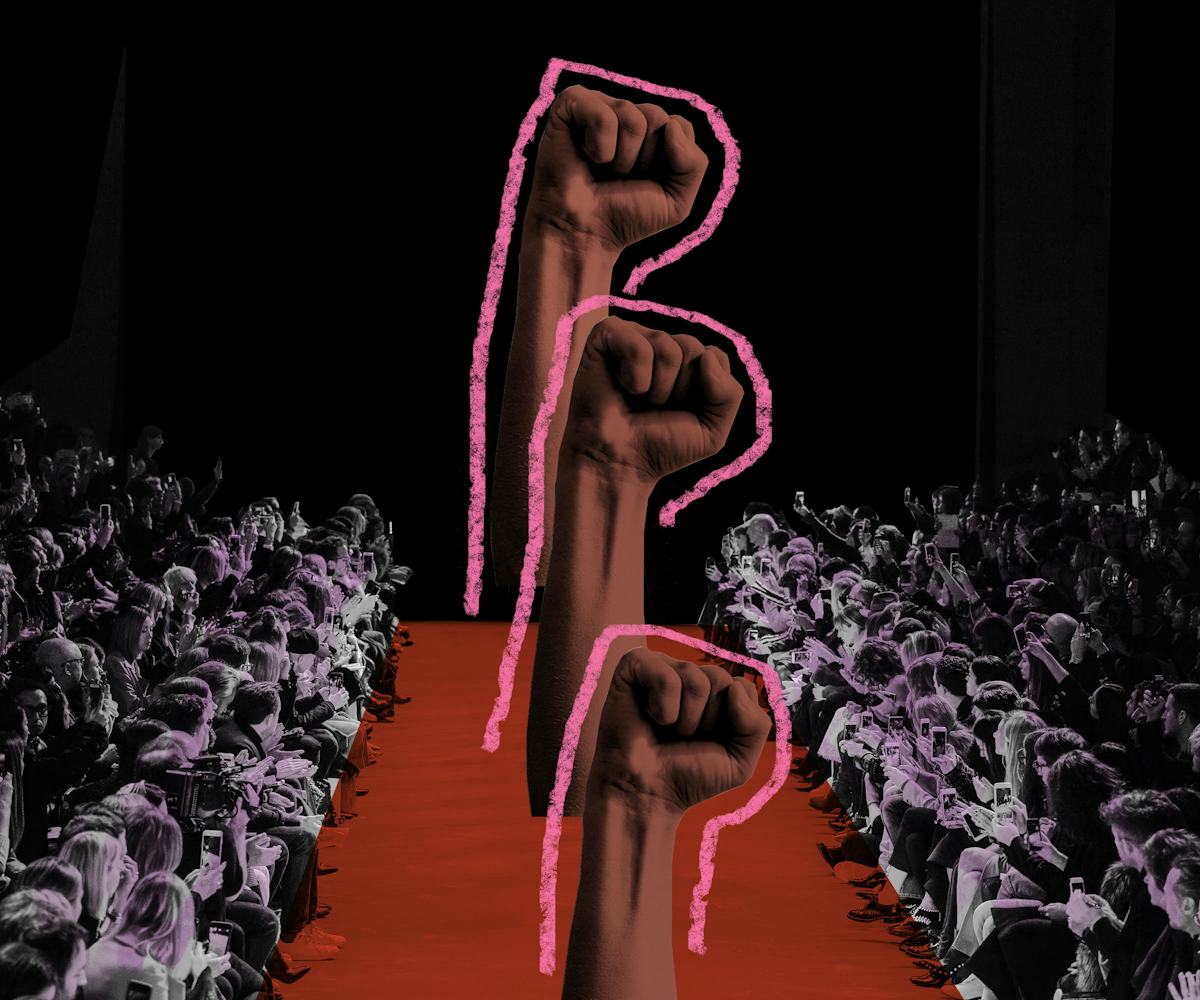 Collage photos via Getty Images
These Professors Are Here To "School The Ignorant" On Race And Fashion
Kimberly Jenkins and Jonathan Square discuss their new interactive panel "Fashion & Justice"
"I remember asking students on the first day of my Fashion and Race class, 'What do you hope to get out of this?' One of my former students, Jewel Friday, was just sitting in the back, with his arms folded, and said, 'To school the ignorant,'" Parsons professor Kimberly Jenkins recalls. "He did just that. And that's what we hope to accomplish through this event."
Jenkins is one-half of the brains behind the upcoming public workshop "Fashion & Justice," an interactive, daylong event at Parsons School of Design that will examine the role of fashion in challenging inequality and race through "sartorial ingenuity." She—in collaboration with her friend, colleague, and Harvard professor Jonathan Square and fellow guest speakers—aims to connect the dots between the history of race and fashion, and how it relates to psychology, slavery, politics, religion, and gender.
Though the event is new, the two are no strangers to, well, schooling the ignorant. Square and Jenkins have unpacked these topics for years with their students, colleagues, and in conversation with friends, through a series of acclaimed panels, journals, and studies—from Jenkins' well-received, designer-studded "Fashion Talks" panel, which featured a series of talks relating to fashion, history, and cultural appropriation, to Square's "Fashioning the Self In Slavery And Freedom," which explored the role of fashion for those of African descent during slavery and the emancipation era.
With so much progress in such an understated field, it's hard to believe that they didn't cross paths sooner; they only met a year ago, but ever since then, have been building the vision of taking the conversation between race and fashion to a broader audience. 
"It's actually a cool millennial story, we first met through the internet," says Square of their friendship. "I think the first time we met IRL was at her birthday party in Bushwick [in Brooklyn, New York]. That was the first time."
"I always heard about Jon and loved his work," Jenkins says. "And so I invited him [to the party], and he came, along with Dario Calmese and some other fabulous people who are in our field talking about all this. We just sort of connected ever since. He put together the "Fashioning the Black Body In Bondage And Freedom" conference, and it was phenomenal. He invited me to be a part of it in some way, moderating a discussion. The rest is history."
So what inspired this new course? For the two professors, it was a wish to address issues like social injustice and police brutality, while also celebrating, uplifting, and educating the black community through fashion, music, and protest.
And while the workshop is academically based, the duo, ultimately, wants the event to be enjoyable. "We don't want to make it too dense or inaccessible or really academic," says Jenkins. 
"So instead of us lecturing the entire time, we will have activities," Square adds.
Read our interview with Square and Jenkins, below, to find out how their studies have affected their personal style and what they plan to do in the future.
Why did you two decide to create this workshop? 
Jonathan Square: We've been inspired by a number of conversations in forums about representation and inclusion, and we felt like we were uniquely qualified to join the conversation.
Kimberly Jenkins: With what we've been seeing over the last two or three years, with [the deaths of] Trayvon Martin, Michael Brown, Philando Castile, social injustice has been on the forefront of everyone's minds and in the news. With that, we've been seeing lectures and talks, panel discussions, read-ins or teach-ins, and groups where they're talking about what's going on and how to make sense of it. It just seemed like the timing was just perfect for this, and we think we can bring a critical perspective to the table.
And consciousness to students, as well.
KJ: Yeah, and we have access that many people in our field don't have, to archives or research databases that are only accessible within academic institutions. So we're just kind of expanding the conversation, adding to it, complicating it also, making sense of it. I developed a class called "Fashion and Race" at Parsons, and Jonathan's been addressing this, as well. We put on a conference in the spring, "Fashioning the Self," and so we sort of merged forces, where we can use components of what we're teaching in the classroom or in these kind of smaller spaces and bring it out to the public. That's what we're doing.
Which of today's "trends" play a role in our society at large? 
JS: Diversity, inclusion, and representation—those are all trendy, buzzy words.
KJ: Body positivity, embracing who you are unapologetically. And what I'm seeing with natural hair; that's been having a moment for about 15 years, but really, it's sped up in the last five years or so. And so being proud of the hair that grows out of your head and just accepting who you are, whether it's your body size, the texture of your hair, the tone of your skin, the breadth of your nose and your lips—all those things people felt they should apologize for or minimize or hide or obscure. All those things, thanks to trends, coming off the back of the courageousness of certain celebrities or pop stars who have stood out, like Solange, who says, "Embrace your hair!" Or going further back, India Arie or Erykah Badu saying, "Embrace it, love it." Jill Scott saying, "Love your body." And there's so many others. Alicia Keys with her no-makeup. We could complicate that a little bit, but, in theory, she was right. 
I just saw a recent cover of Elle magazine where there's Kate McKinnon from Saturday Night Live on there, and it kind of boasts on the cover "makeup-free Kate." It's just showing that now these trends in the fashion industry, the feeling of needing to be kind of overdone or just to wear so much makeup, are kind of falling away. It's just not cool anymore to feel this need to dress up or hide things or always straighten our hair. And I'm guilty of that. Due to social pressure, I always felt the need to straighten my hair. Thanks to the courageousness of various role models and influencers just sticking their neck out there and showing who they are, it's allowed us, women and young girls or young men, to embrace our identity: sexual identity, racial identity, all of it.
JS: I think one thing we hope that works out is that it won't be a trend anymore, that there will be a radical change in the way people see themselves.
How has your research influenced the way that you dress and see fashion?
JS: I think Kim would probably say the exact same thing, that the study of fashion has completely changed the way I dress. I'm just more in tune to it. Also living in New York City. So studying fashion, but also living in New York City, it's turned me into a fashionista.
KJ: When I was in high school, I was, like, this fashionista. I was really following all of the trends, and I didn't care where it came from. I was just always deferential to whatever designers said or did, and I just loved wearing their labels, and I was always walking around with a Vogue magazine. Then when I entered the fashion studies program at Parsons, I still loved fashion, but in a different way. I have to admit, it did take some of the wind out. Specifically, when we talk about how fashion is produced, the hands behind it, talking about sustainability, what it does to the environment—that definitely helped change the way I shopped. I always loved vintage clothing and thrift stores and stuff, but especially so now. And then not feeling the need to wear designers all the time or wear someone's logo across my chest. Now I have a much more complex, nuanced way of dressing. Where I purchase, how I dress myself, what that says about me... Actually, in fashion theory, we talk about conspicuous consumption and the consumer's need to flaunt their shopping bags or the logos. There's a reason behind that, a very complicated reason behind that. We talk about theories or concepts of uniformity and workwear, the sort of idea of wearing one thing. 
As a concept, that's something else we can talk about: dedicating yourself, like committing yourself, to one style of dress or one color palette or one look or one designer or one material and just being really conscious about what you're wearing. All of that is folded into the way I dress myself now and the way I think about that. What is my uniform? What is my wardrobe about? Is it a clean wardrobe, so to speak, with the hands that made it, where I'm shopping and spending my dollars, the CEO, like, what are they about? Do they practice diversity within their own company? It helped me take a deep dive in the fashion industry and really explore it and investigate it and examine it, and just think, What am I wearing? That's what my entire career now is based on: talking to students about, what are you wearing and why?
JS: One thing I love about you, Kim, is that you wear your students' clothing.
KJ: I'm through and through.
What other messages do you want to get across through this event?
JS: I want to emphasize that fashion matters. Sometimes fashion gets relegated to something that's trivial or unimportant or superficial, but actually, politics are deeply embedded in fashion. So we want to re-emphasize the importance of fashion.
What are your plans for the future?
KJ: I'll be teaching a class in the fall. "Fashion and Race" is coming back at Parsons, I'll be teaching at Pratt again, and will be hosting another "Fashion Talks" panel."Fashion Talks" is a talk series I started in 2014, where I'm seated with influencers in the industry, scholars, designers, magazine editors, authors, curators, photographers. I got welcomed back to do that, so right now we're in the exciting process of reaching out to possible guests, and it's going to be a three-part series. So it'll be a talk, I think, in like September, October, and November. Usually, the finale is a designer. I've had Adam Selman as a finale. Becca McCharen-Tran, who I've known since she was just starting out, from Chromat, she was my finale guest, and now she's just taking off; she has a collaboration with M.A.C. now. So I'm excited about that because I love public speaking, and I want to be a show host. 
I'm also part of this collective, the Fashion Studies Journal. Aside from that, I put together events with the journal, so it's not just reading something online; there's actually higher relevance. I'm doing something with Sarah Scaturro, who is the conservator of garments and objects at the Costume Institute of the Metropolitan Museum of Art. She takes care of the health of the garments, so whenever you go to a fashion exhibition at the Met, she's the hidden hands behind it, like a doctor, taking care of them and making sure they're healthy enough to be out on the floor for you to enjoy. So I'm doing an event with her at the end of July in her home, where we're going to talk about the importance of conservation with a couple others.
JS: I am teaching a class on slavery and fashion at Harvard that I'm really excited about. I'm also doing a fashion-focused walking tour poem in August, and then I'm organizing a conference at Weeksville in September that's inspired by the first fashion exhibit. Weeksville is a cultural center in the middle of Brooklyn that was, in the 19th century, founded by free blacks. Now it's an archaeological site, cultural center space. I'm organizing the conference there in September.
"Fashion & Justice" is open to the public, and will take place Saturday, July 15 at Parsons School of Design from 9am to 5pm. Get your tickets here.