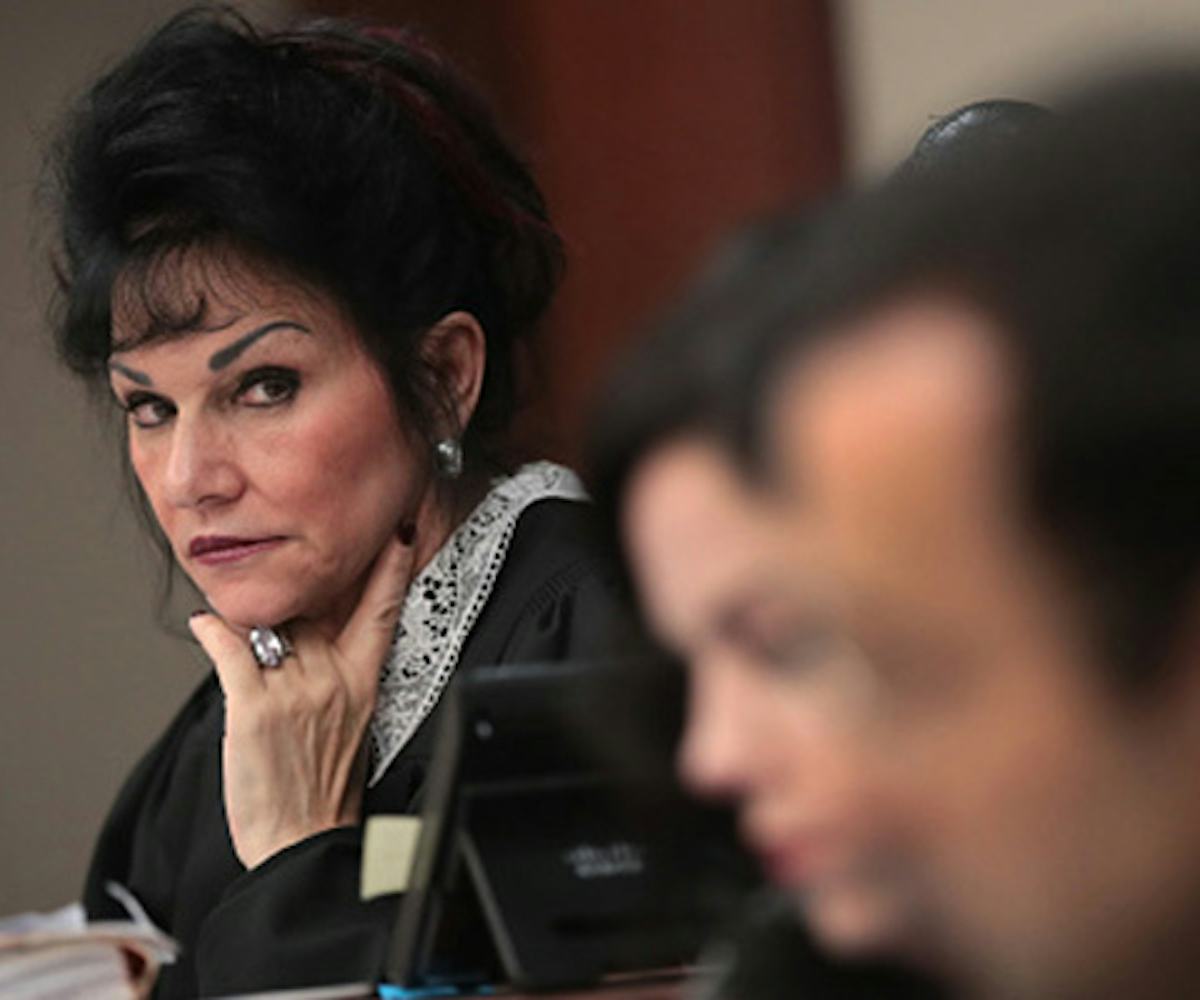 Photo by Scott Olson/Getty Images
On Judge Rosemarie Aquilina And The Problem With Our Bloodthirsty Judicial System
She signed Larry Nassar's "death warrant"
Nobody does—or should—feel bad for former USA Gymnastics doctor Larry Nassar. He's a convicted serial sexual abuser who tormented more than 150 girls and women for decades. And so when Circuit Court Judge Rosemarie Aquilina harshly condemned Nassar during his sentencing trial, she was understandably applauded—and not just for her words, but also for her actions. Aquilina not only expressed empathy for what the scores of victims endured and encouraged them to keep fighting, but she also allowed 156 victims to give statements against Nassar. However, the judge's decision to gleefully discuss Nassar's imminent death upon his arrival in prison should give us all pause.
"Sir, you do not deserve to walk outside of a prison ever again," Aquilina told Nassar after sentencing him to up to 175 years in prison. "I just signed your death warrant." 
While it is easy to feel bloodthirsty on a personal level in a case like this—some of the victims he sexually abused were as young as six years old!—it is alarming to see those feelings reflected by the court system. But while alarming, it is not entirely surprising. As a powerful thread on Twitter about how judges treat people of color in criminal court reminds us, this kind of language is normal for sentencing judges. Compared to how many judges speak to those they're sentencing, Aquilina almost went easy on Nassar. But that shouldn't be applauded, but rather questioned.
As Aquilina said in court on Wednesday, "prison is no place for a human being to live," and yet so many judges take pleasure when sending someone there, no matter the offense, and treat prison as purely punitive, rather than potentially rehabilitative. Even when someone, like Nassar, is likely beyond rehabilitation (he demonstrated a total lack of remorse in a letter to Aquilina, in which he complained about how he was being treated by the courts and focused the blame on the victims), we must be vigilant against judges who find it appropriate to insinuate that Nassar will soon be a victim of sexual abuse himself. Feeling wary about language like Aquilina's—and that of countless other judges—is not about defending Nassar, but rather wanting to dismantle a corrupt prison system in which many men—often men of color, often men of little economic means—are treated as subhuman, and condemned to fates including—and in some ways, worse than—death.