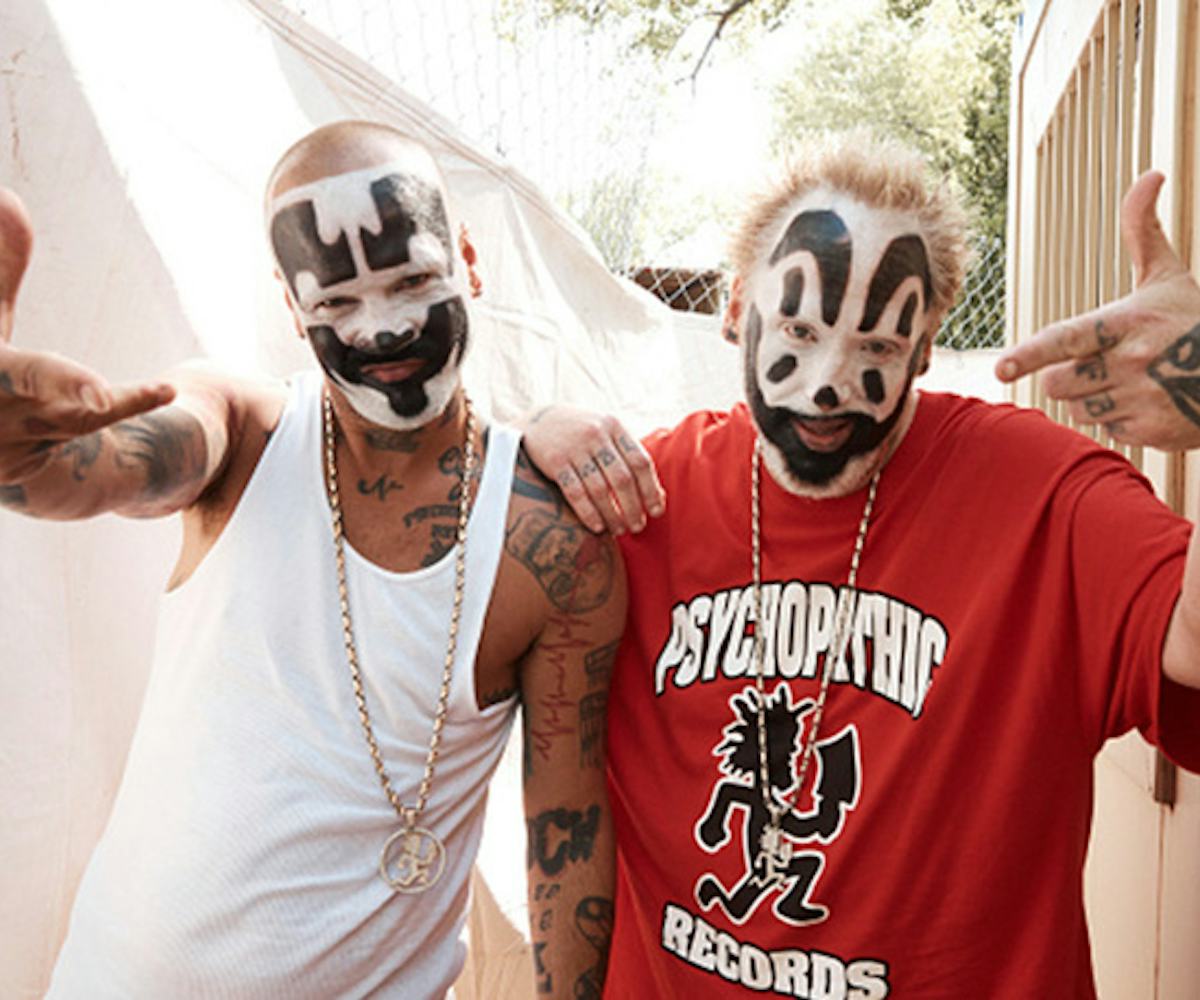 Photo by Devin Doyle for The Washington Post via Getty Images
Juggalos Are Marching On Washington To Fight FBI's Gang Distinction
There will also be a pro-Trump group rally
This weekend, die-hard fans of the rap duo Insane Clown Posse, aka Juggalos, will come from all over the country to march on Washington, D.C., in protest of being labeled a "hybrid gang" by the FBI in 2011, Vice reports. They're marching for their right to worship the "most hated band in the world" without being criminalized for it.
"In 2017, you can be branded a gang member for wearing your favorite band's T-shirt," the "Official Juggalo March Infomercial" begins. "You can be fired from your government job for being a fan of certain music. You can lose custody of your children just because of the music you listen to." 
ICP's founding members, Violent J and Shaggy 2 Dope, organized the Juggalo March on Washington. "As soon as we started planning out the Juggalo March on Washington, D.C., we were reminded about the discrimination against Juggalos in our country," Shaggy says in the clip. 
Juggalos tend to be "young white men from working-class backgrounds," Wired reported in 2010. "They tend to feel that they've been misunderstood outsiders their whole lives, whether for being overweight, looking weird, being poor, or even for just liking ICP in the first place. It's a world where man boobs are on proud display, where long-hairs and pink-hairs mingle, where nobody makes fun of the fat kid toweling off."
Juggalos and Juggalettes, as the female fans are called, are easily identified by the clown face paint they wear to resemble ICP. While they can be outspoken, they usually aren't when it comes to politics. But after being deemed a gang by the government, the group banned together to take action. In 2014, they worked with the ACLU to file a lawsuit challenging the designation. Then in the summer of 2016, they announced the Juggalo March on Washington. 
"We may be the outsiders, the misfits, the weirdos, and the underdogs of the mainstream world, but as a result we have created our own world—one built on a rock-solid foundation of community, creativity, joy, and love," says the official website for the march. "This is our chance to make a difference. A real difference."
The message has resonated with a lot of Juggalos, even those who consider themselves apolitical. "I'm not with any political group as both have their good and bad views," Emily, an ICP fan from Baltimore, told Vice. "But I'm marching because no one who is a Juggalo should feel their future is limited due to the music they listen to. The purpose of the March rings true to my beliefs—everyone has the freedom of speech, the freedom to be who they want to be. And I'll be damned if someone takes that right from not only my fellow Americans, but my fellow Juggalos."
At the March on Washington, Juggalos will share how they've been impacted by the FBI's gang designation. According to the video, some have lost custody of their children and others have been kicked out of the military. 
"Even though it's happening to a group of people that no one gives a fuck about, when does it stop?" a Juggalo YouTuber Mr. Makanhoes asked. "It's Juggalos now, but Lady Gaga's Little Monsters could be next."
Trump will have an unusual crowd outside the White House this weekend. Also marching, according to NPR, is the Mother of All Rallies, a pro-Trump group that wants to "defend American culture and values." Considering ICP's feelings about racist imagery—Rolling Stone points out the group has a song called "(Fuck Your) Rebel Flag"—it'll be interesting to see these two groups interact.