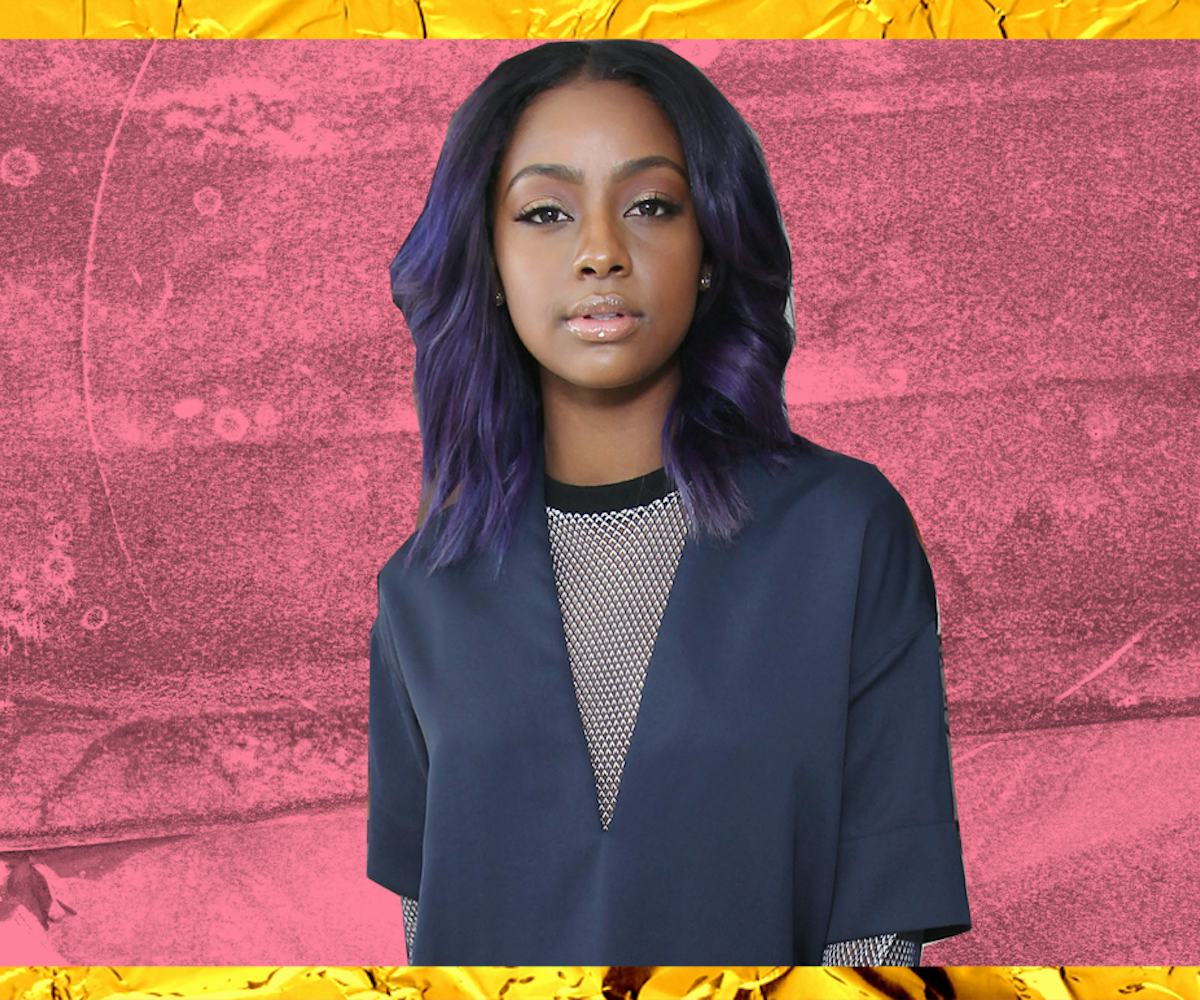 Photo by Bennett Raglin/Getty Images for SheaMoisture
Justine Skye Is Making Herstory With A Whole Lot Of Girl Power
The internet loves itself some girl-on-girl beef. It's a shame. Thankfully, there are festivals like The Other Festival that seek to bring women together and uplift. This past weekend, Naomi Campbell, NYLON's own editor-in-chief Melissa Giannini, and others gathered under one roof to talk style, making it, leadership, and more. Among the guest performers was 20-year-old Justine Skye, a young adult with a breadth of worldly knowledge already. The rising pop star is making a name for herself, with a little help from a strong group of women. She embodies everything The Other Festival stands for. We caught up with Skye to see how girl power has helped and is currently influencing who she is today.
Can you recall the first time you experienced sexism in the industry?
As a female artist—and an artist, in general—you're always in the studio focused on a project, but there are a lot of people on my team and in my management helping the Justine Skye train keep moving. I have a lot of females on my team, so I've seen them experience sexism—especially my mother, who is one of my managers. In the beginning, people wouldn't listen to what she had to say. They're like "Oh, she's a woman. Whatever." They wouldn't take what she was saying seriously, and she was very passionate about it, so a lot of the time they'd say she was being emotional because she's a woman. If a guy said the same exact thing to them, they would listen and they would do it. It took us a long time for people to take what she said seriously, and it affected her a lot. I grew up in a way where there was no color, no guy or girl things; you're human and we're all human, and we're all equals. As I got older, I started to see they treat women way differently in the industry compared to men.
Was it intentional, surrounding yourself with a lot of females?
It actually wasn't intentional. I didn't wake up and say, "I want a bunch of females on my team." It just so happened that I found an amazing group of females that are very well connected and have amazing ideas and experience in the music industry. I'm so, so glad I have them on my team because I have a lot of women to look up to and to go to when I have questions about more than the industry, about life in general. They're like big sisters to me.
What women have helped shape you into the woman you are today? Who has had the biggest impact on your life?
My mom. My mom has been a huge part of my career; she was the first person to believe in me and actually give me the chance to show everyone that this is what I want to do, that I want to be an entertainer. She's been in the music industry my entire life, so I grew up around it. She's an entertainment attorney, and she's very well experienced. I'm learning every day, and she's learned from me as well because she has the experience and the years on me, and I have the youth and the future and creativity. It's great to have family, especially your mom, on your team because she'll never give up on you.
What is the biggest lesson she's taught you?
The biggest lesson she's taught me is that you need to have tough skin in this industry. I'm very emotional, and she's always telling me, "Don't cry." You have to have tough skin, you have to take criticism, you have to be on top of your game. This industry wasn't built for crybabies. I had to learn to pull back from that.
What are other obstacles you face in the music industry?
There are definitely not a lot of brown girls in the music industry, and in the beginning, there's a lot of people asking you, "Do you really think you're going to make it?" Dark-skinned girls don't really make it in the music industry, but I've learned to take that and be like, "Yeah, I'm absolutely going to make it because there aren't a lot of dark-skinned girls in the industry." There needs to be someone representing for the brown girls. Talent speaks for you, not your skin color.
How does it make you feel when someone asks you what it's like to be a woman in the industry?
It's a very ignorant question, because it's not about whether you're a man or a woman, it's about how creative you are and how on top of things you can be. It's about music, marketing, all of that. It has nothing to do with your gender, so I feel like that's a question from someone who is just trying to come at you. They're trying to say that because you're a woman, there's something different you should be doing. But like Beyoncé said, girls run the world.
With all this history being made in the political sphere—especially Hillary Clinton's presumptive nomination—how do you feel about the possibility of a female president?
It's honestly the most amazing thing, despite what people are saying on social media. Not that social media's such a huge thing—everyone can cyberbully for a reason they're completely unaware of. The bigger picture of it is that there's a woman who can potentially be the leader of this country. Whether you're for it or not, whether she wins or not, that's one of biggest steps in history for women. Showing we are capable of everything after a man or someone else may say we're not.