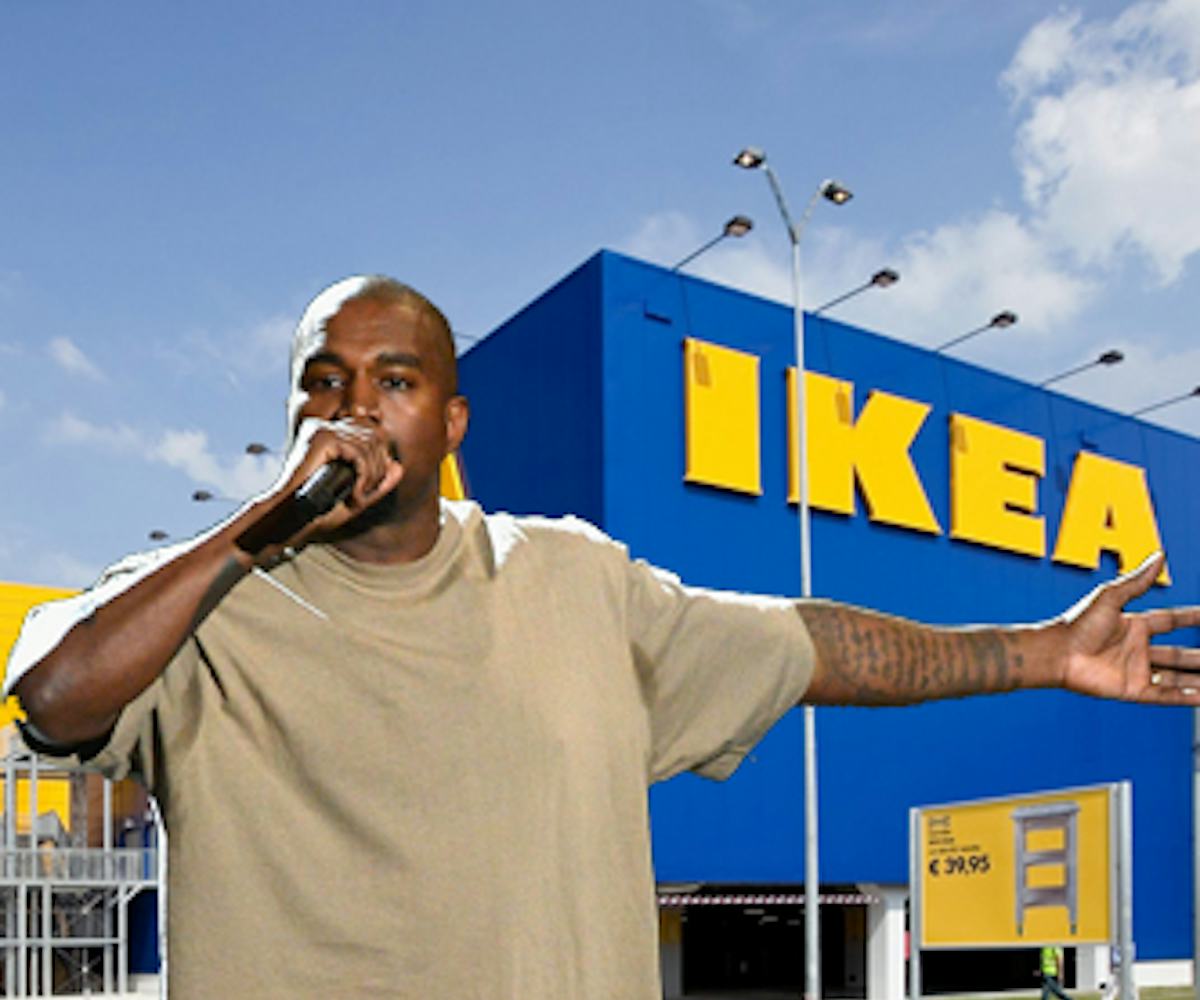 Photo by Kevork Djansezian/Getty Images
Wait, Is Kanye West Collaborating With IKEA?
Yeezy rugs? Yeezy couches? Yeezy meatballs?
Kanye West is the biggest hip-hop artist in the world. IKEA is the largest distributor of home goods and Swedish meatballs in the world. Could the two mega brands be on the path to a collaborative project?
Well, there's no hard and fast answer to that very important question, but there are some encouraging signs that Ye and the creators of sometimes-unpronounceable some-assembly-required furniture are at least talking to each other. As Complex and others have reported today, a user in a West-focused Internet forum posted photos that placed Yeezy at IKEA's design headquarters in Älmhult, Sweden (the company's actual corporate HQ is in the Netherlands).
IKEA subsequently confirmed the report, with this statement:
Today Kanye West came by our design department at IKEA of Sweden in Älmhult to explore IKEA and our design. At IKEA we are constantly curious about different people, companies, artists and events around the world. To have these connections and inspiring meetings is an important way for us to find new ways to create a better everyday life for the many people.
Despite the fact that neither West's team (who have said nothing about the visit) or IKEA have suggested that a partnership may be in the works, that hasn't stopped many from launching into a wild, exuberant round of heedless speculation.
And really, why shouldn't this happen? Ye has made it clear that design in all its forms, from computers and phones to food, is of particular interest to him. Moreover, with the success of his Yeezy line (well, the sneakers at least), we don't see why he wouldn't, at least, give interior design a try? As Ye said only yesterday: 
We would never dare, Kanye.
Now, we know you're already imagining lines around the parking lot at your local IKEA, filled with anxious fans waiting to get their paws on the Yeezy armchair, the Yeezy floor lamp, or the Yeezy dish towel but it may never come to pass. He could just as well have been snooping around IKEA's studios for the hell of it or perhaps in preparation for his own stand-alone line of home products. We can't know, but we can cross our fingers and hope for the beautiful absurdity that would be the Yeezy bunk bed.
Update: West himself has confirmed not only his IKEA visit, but how truly inspiring it was.
Race away, Ye.
(via Complex)