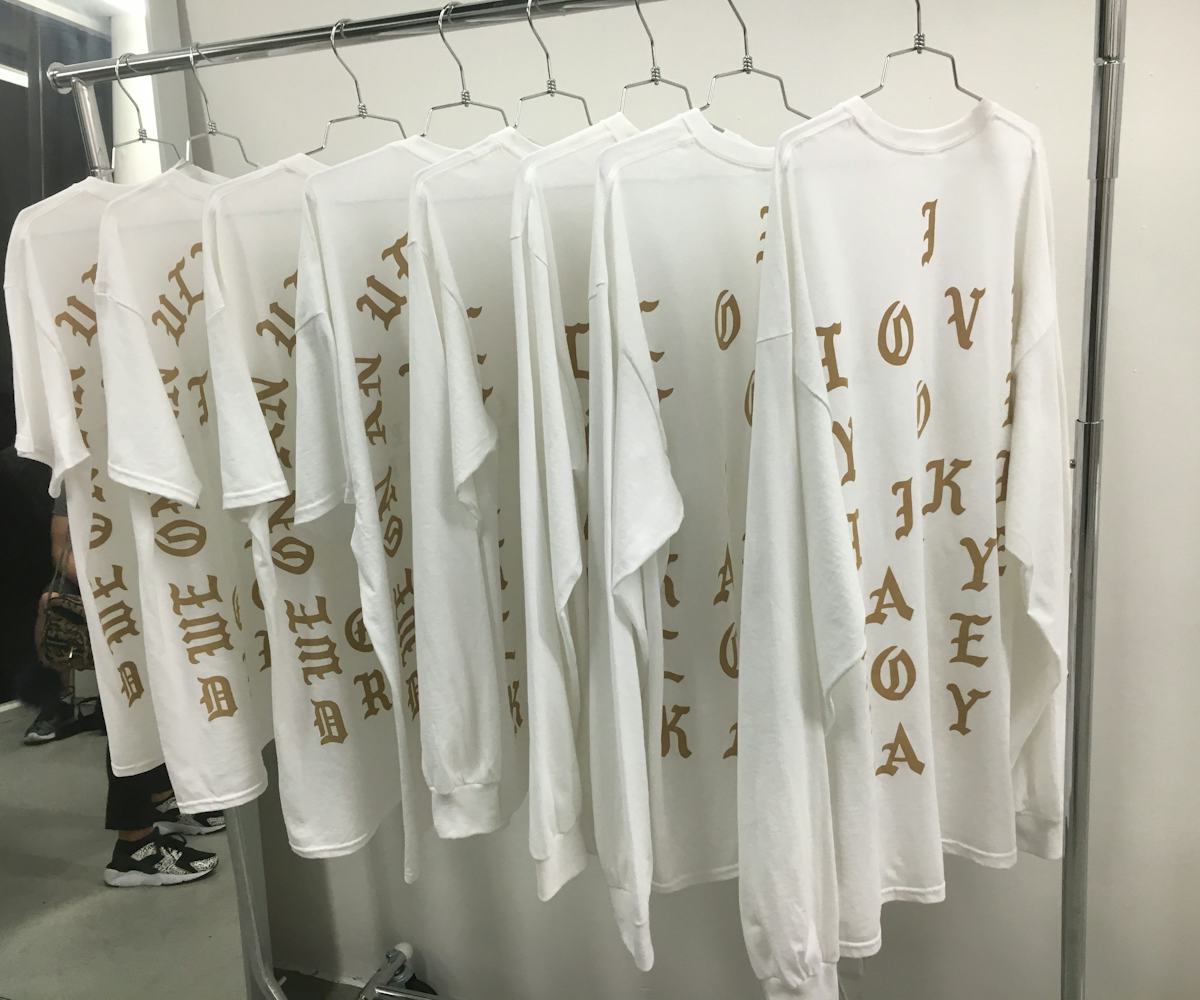 What To Expect From Kanye's New York Pop-Up Shop
Before you attempt to wait in that line…
Unless you've been living under a rock for the past two days, you more than likely have caught wind that Kanye West is doing his pop-up shop thing again. If you missed the opportunity to pick up a Life of Pablo tee when he did it the first time, now's your chance to stock up on all new Kanye merch—and this time, you have the chance to do so in 21 different cities, from L.A. to Berlin, all weekend long.
I, of course, had to check out the New York shop for myself to see what all the hype was about. Being a newbie to the pop-up merch shop scene, I was surprised at how small the room was—just five simple racks in an all-white, sterile-looking room, enhanced solely by a giant "New York" scrawl, in Yeezy's signature merch lettering, stretched across one wall.
Each city hosting a pop-up has its own color scheme, and thankfully, New York's was an ultra-chic black and white/gold-lettering situation, aside from the Pablo military jacket in a green camo print. Prices range from $45 to $325, with the military jacket being the most expensive. Short sleeve tees went for $55, long sleeves for $75, crew neck sweatshirts for $95, and hoodies for $105. If you're not into spending $95 for a screen-printed crew neck sweatshirt, they also offered black and white "New York" embroidered baseball caps for $45.
Personally, I think the winner had to be the bomber jacket, emblazoned with "Pablo Pablo Pablo" in gold lettering down the back, that went for $250. The pieces ranged from simple (a crew neck sweatshirt with a New York logo on the front and "Perfect" across the back) to more detailed (long-sleeved tees with phrases like "I love like Kanye loves Kanye" and "We young and we alive, we never gonna die" printed across the backs).
While I was lucky enough to get to check it out before it opened to the public, the sea of crazed Yeezy fans and merch enthusiasts hanging over barricades and attempting to swarm the door was a little terrifying. It was only 10am and the line already wrapped around half of the next block. I overheard one of the PR reps say that the fans in the front of the line had been camping out since 2pm yesterday. Woof. If you're planning to get in that line now, Godspeed. We can't say it's not worth it, though.