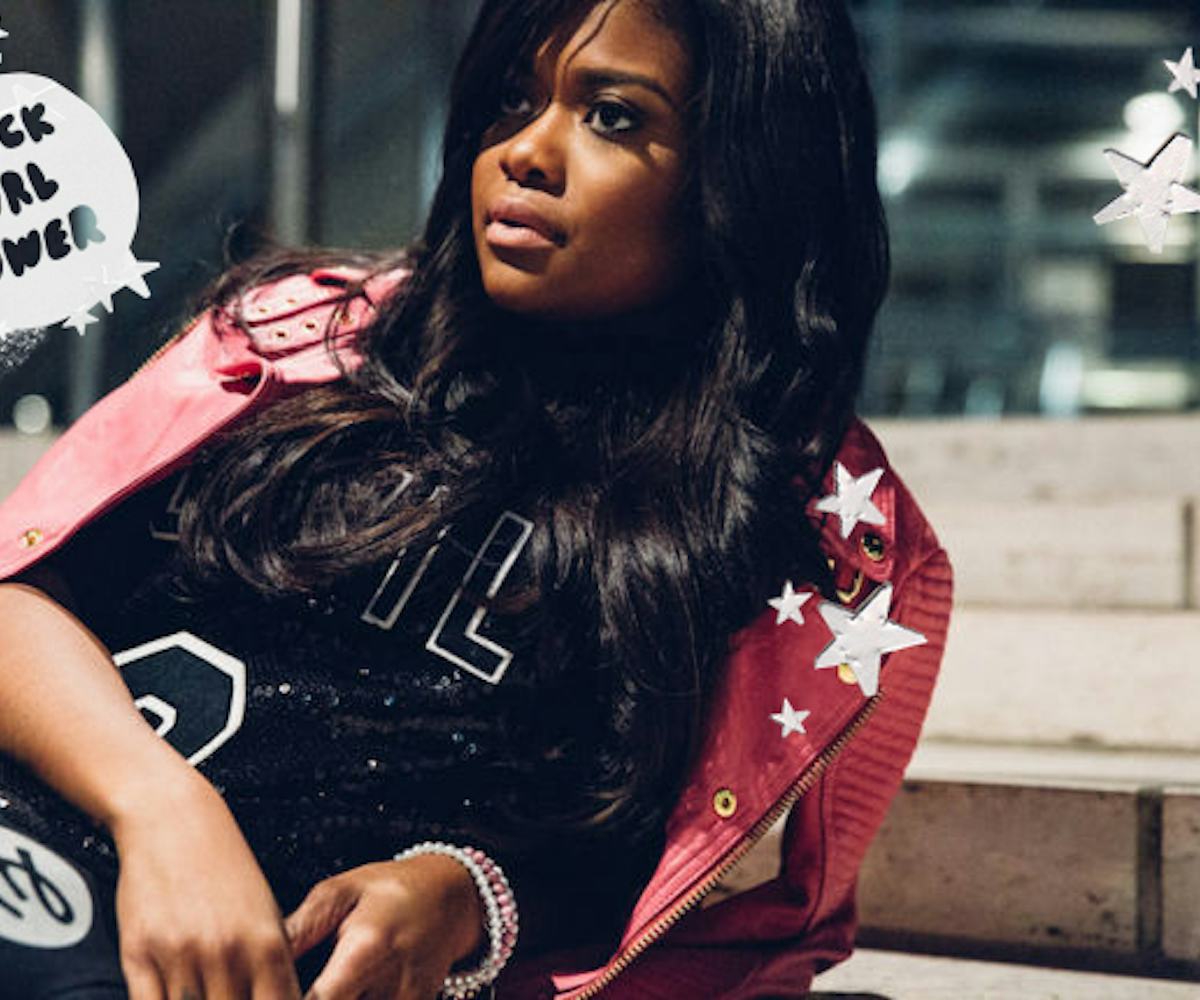 Photographed by Sungwook Kim.
Karen Civil Is A Culture-Influencing CEO
the definition of a media maven
In celebration of Black History Month, NYLON is running a spotlight series called Black Girl Power... The Future Is Bright. Every day, phenomenal black women from different industries will be featured to tell their stories—revealing how they became who they are, showing what they have accomplished, and pinpointing how they navigated their careers. Black women deserve to be celebrated 365 days of the year, and we hope that this series will inspire everyone to believe in the power of #blackgirlmagic. 
Karen Civil is a self-proclaimed media maven. At one point or another, many music fanatics run fan pages about their favorite artists—not only did Civil do just that from her hometown of Elizabeth, New Jersey, but she took it a step further by entering contests to meet the people she dedicated her online time to. "All those things that made me different growing up, were the same things that I used to create and start my brand," Civil said in an email. "I found a way to hone in on that and now get paid to be myself." 
After studying radio at Union County College, Civil scored an internship at Hot 97, and then went on to become the social media manager for Beats by Dre. Now, she runs two of her own personal brands—KarenCivil.com for music content and Live Civil for lifestyle and beauty. Last year, Civil published her own book titled Be You & Live Civil: Tools for Unlocking Your Potential & Living Your Purpose. 
"There is so much that has occurred and happened in my life and I wanted to remind people. We aren't supposed talk about failures and missteps, so that's what this was for," Civil explained. "Although we may not be going after the same things, we all have relatable stories. I didn't have anyone, and I still did it. So many people read the book and share excitement. It gives them that extra boost and makes them feel like they can also do it too. I aspire to inspire."
Learn more about how Civil paved her path to success in the interview, below! 
What were the steps to creating your brand?
I worked my way through the entertainment industry by interning with some of the biggest radio and music brands in New York, and made a handful of connections. My first real industry experience was when I entered the Hot 97 Apprentice Contest for the Angie Martinez Show. Although I wasn't picked, Funkmaster Flex at Hot 97 liked my go-to attitude and decided to keep me as his intern. I moved from Hot 97 to working with hip-hop group Dipset. I did everything needed from mixtape covers, to A&R work, to tour manager; whatever needed to be done, I made sure it was done for other artists to succeed.
I later teamed up with a web designer to create a website for rapper Lil Wayne and fans to keep in touch, as the rapper served his jail term. I successfully assisted Wayne with keeping his brand intact and focused on becoming a digital media expert and CEO of Always Civil Enterprise. Always Civil Enterprise is a brand strategy and consulting company. I also run a hip-hop tastemaker's site,
. I built myself and my brand from the ground. My book was also a project I was working on for a couple of years. I wanted to give back and share something with the world to leave a lasting impression. So I was like, 'I'm going to release a few chapters of the book. I'm going to make a workbook, make it fun, and have the conversations be engaging in the additional pages in the back so people can add their thoughts on certain things.'
How do you maneuver your respective industry as a black woman? 
I maneuver as a woman, and I make sure I don't put myself in certain predicaments and places. I don't answer phone calls after a certain time, I respect the relationship that I'm in, and I make sure there are clear and precise guidelines. I built a reputation on respect and I don't let distractions get to me. I'm there to get the job done.
How did you grow into your black identity? (Or, if you're multiracial, how did you grow into your identity as such?)
Growing up it wasn't easy being a Haitian-American because the Haitian kids were in English as a Second Language (ESL) and they didn't speak English, and the black kids didn't see me as one of them. I was an outsider for a very long time, but that instilled thick skin in me. As I got older I learned to accept who I was and be proud of where I'm from. Being ashamed of who I am and being a Haitian is like being ashamed of my parents, and I never want to be that.
Who did you look up to growing up? Who inspires you now?
Growing up, three people who I looked to as inspiration are Ananda Lewis, Carson Daly, and Angie Martinez. These are three media influencer icons who did entertainment their way, with so much personality and flare. There are so many people that I respect, from Mellody Hobson, to Michelle Obama, down to Yara Shahidi, so I couldn't name just one. I love a woman who uses her platform and her voice to create change. There's a plethora of women because we have so many options now, that its a wonderful thing.
Could you describe a moment where you felt like you defied the odds or broke a barrier? 
Last year, I was a guest speaker at the White House for their Champions of Change event. No one expected that from me because nobody thought blogging could take you to the White House. Nobody thought this girl who is in love with hip-hop would be here giving remarks on women's empowerment, inspiring young millennials. It was that moment that let people know you should never put a limit or a cap on your success or where you're going in your career.