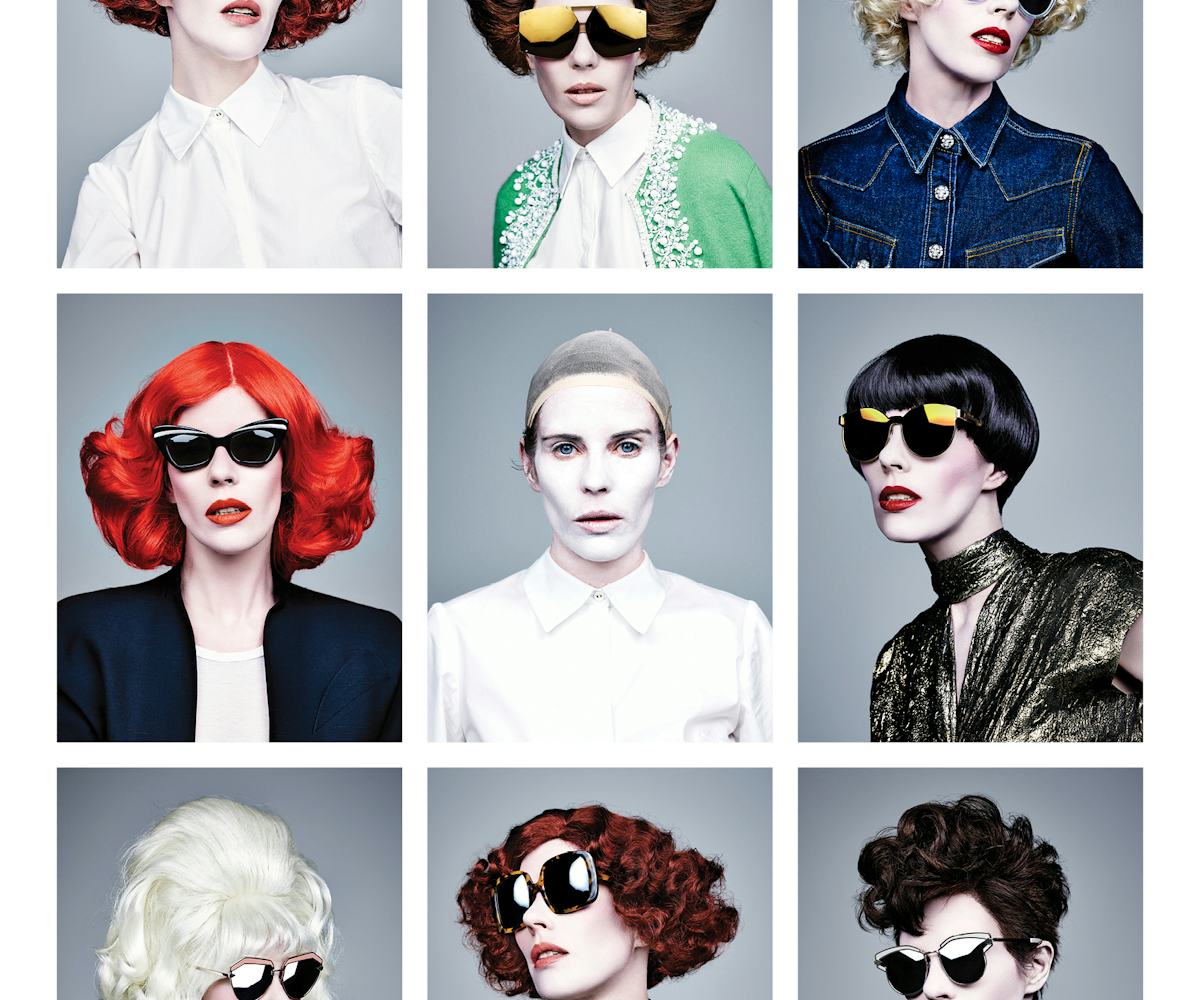 Photo courtesy of Karen Walker
Watch Karen Walker Transform Herself For The Latest Campaign
The designer plays dress up for her new styles
Karen Walker's latest eyewear collection is here, and this time, she took the campaign into her own hands—literally. 
To celebrate the launch of the Transformers collection—six bold and quirky new styles, along with three newly reimagined classics—Walker got in front of the lens herself. In this new project, the designer nods to the work of Cindy Sherman and Andy Warhol, transforming herself into the multiple "hats," or personalities, that she wears on a daily basis and representing the many roles that women take on in both their professional and personal lives.
From a modern-day Princess Margaret to a James Dean-Robert Mapplethorpe hybrid, she becomes these characters, all the while wearing everything from exaggerated '50s cat eyes to rainbow mirrored lenses that are transformative in themselves. "That's the whole concept for this campaign," she says. "Shining a light on exaggerating that feeling you get when you put on a new pair of shades and, for a moment at least, feeling like you're taking on a new character."
The new collection is available now at KarenWalker.com, and soon to be in Neiman Marcus stores and NeimanMarcus.com. Click through the gallery below to check out each of the personas Walker portrays (and, of course, to check out each incredible new pair of sunnies). Which one(s) are you?
The Waugh On Terror
Walker describes The Waugh On Terror as Bright Young Thing meets Bauhaus, an ode to author Evelyn Waugh.
"Mr. Waugh has been one of my favorite writers since I was about 10, and I doubt there are more than two or three of his books that I haven't read," she says. "I love that opening he allows into a time when women's freedoms—and in fact, all of youth's freedoms—changed, and how the consequences of that rippled out into society. I've always wanted to be one of his characters, and now I have been." 
Karen Walker, Domingo Pink With Rose Gold, $233.53, available at Karen Walker.
The Waugh On Terror
Karen Walker, Marques Crazy Tort With Gold, $209.52, available at Karen Walker.
The Golden Rebel
The Golden Rebel is a blonde reincarnation of Grease's Rizzo and '50s rock 'n' roll style.
"Rizzo was by far my favorite greaser, but I always thought she could rock that look in platinum," says Walker. "This allowed us to test out the hypothesis."
Karen Walker, One Star Crystal Clear With Silver, $221.53, available at Karen Walker.
The Super Replicant
The Super Replicant represents a "Thierry Mugler model with the synth hint of Ridley Scott in a violent red wing and exaggerated cat eye acetates." 
"My formative fashion years were when Mr. Mugler was the dominating voice, and I remember being so astonished by his work and his overall look," says Walker. "While I was too young and poor to rock that style then, it was great to act as this character now."
Karen Walker, Babou Black/Silver, $221.53, available at Karen Walker.
Too Sassoon
Too Sassoon can be best described as a "hyper-real execution of the sleek bob, revisiting '80s Shiseido campaigns."
"Some of my earliest fashion memories are of those iconic [Vidal] Sassoon ads," says Walker. "So otherworldly, cool, and polished. Yes, please!"
Karen Walker, Star Sailor Gold With Pink, $245.54, available at Karen Walker.
The Platinum C&W
Walker describes this persona as the Southern Belle of country and Western music—the stacked blonde paying homage to Dolly Parton.
"Miss Parton's always been my favorite female country and Western voice," she says. "Her voice, her songs, her story, her look—I love it all. Putting on that wig, which was so dominating, really gave me a glimpse into the 'putting on' of the character that she must every day."
Karen Walker, Jacinto Rose Gold With Pink, $233.53, available at Karen Walker.
The Wildest One
Walker describes The Wildest One as James Dean via Robert Mapplethorpe in a leather jacket. "A great personal style and a brilliant artist," says Walker of Mapplethorpe. "Plus, I always love dressing in quite a masculine way, so putting on a dude's quiff felt great."
Karen Walker, Felipe Silver With Soft Gray, $233.53, available at Karen Walker.
The Lost Aristo
The Lost Aristo represents Walker's favorite royal of all time: Princess Margaret—the "louche, party-loving black sheep in a bouffant."
"I'm not much of a monarchist, but I always did have a thing for Princess Margaret," she says. "She always managed to push the barriers, and I loved that about her. Plus, she could rock a pair of shield glasses like no other princess, and we had to celebrate that."
Karen Walker, Salvador Crystal Brown With Gold, $233.53, available at Karen Walker.