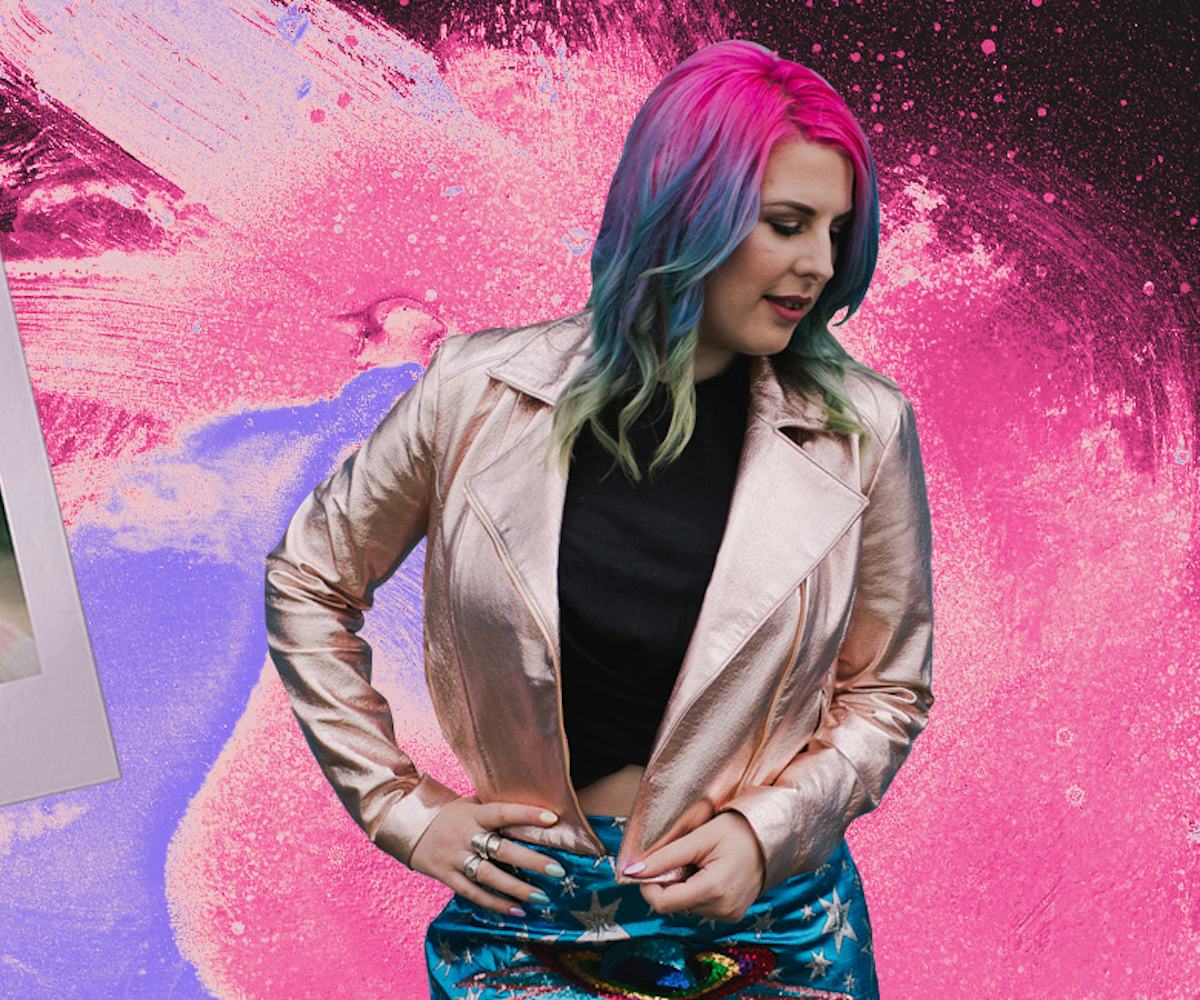 Photo by Lisa Jane Photography
'Rock N Roll Bride' Is The Glittery Punk Wedding Mag Of Our Dreams
Talking with Kat Williams about the allure of the "anti-bride"
I'm not getting married anytime soon, and I'm not the type of person who dreamed up the perfect wedding as a child. Watching Say Yes to the Dresswas the closest I got to that craze, but that had more to do with my obsession with reality television and less to do with dreaming about my "big day." But, after a tattoo artist I follow on Instagram shared a digital feature of her wedding on the Rock N Roll Bride, I fell down the bridal blog rabbit hole and never looked back. 
Based out of the U.K., Rock N Roll Bride's founder, Kat Williams, wanted to build a platform for weddings that didn't fit the archetypal matrimonial model. Heading to Rock N Roll Bridefeels like all the satisfaction of biting into that corner slice of wedding cake, but without the tired bridezilla tropes attached. There's glitter, smoke, elopements, sometimes no brides at all—what's not to love? Today, Rock N Roll Bridecelebrates its 11th birthday, so NYLON chatted with the founder herself about everything alt-bridal.  
It all started when Williams was planning her own wedding back in 2007 and began the blog as a way to talk about it. "That's when it kind of exploded," Williams says. "After we got married in 2008, I kind of carried it on, but, obviously, at that point, I was already married. So my blog changed from talking about our wedding to sharing other weddings I found online and talking about things that I liked that I'd seen... It just kind of naturally progressed into being an alternative kind of hub," she explains, "because that's the kind of weddings I was really interested in."
She didn't see herself in the wedding magazines that littered the racks at bookstores when she was looking for her own inspiration. "You would open any wedding magazine, and it was like, 'You know, you have to spend £30,000, and you have to have a horse and a carriage and blah blah blah.'" What's original—or realistic—about that? "I remember when we were engaged, we had no idea what we wanted, but we knew we didn't want that." So the blog became a platform for her search for out-of-the-box ideas. 
"People sort of gravitated toward it," she says. It makes sense seeing that she was filling such an obvious gap in the wedding industry. When they had nowhere else to look, brides- and grooms-to-be could look at Williams' blog and, later, magazine, to find brides dressed in black, venues that didn't cost a thing, and queer couples. While in 2018 there's a lot more representation in the wedding industry (and beyond), Williams still notices a lack of representation for couples that don't fit the norm and makes sure to feature a diverse roster of weddings in each and every issue. 
Luckily, she doesn't have to do a lot of searching to find gorgeous events to showcase—they come to her. Approximately 99 percent of the weddings featured are pitched by the wedding party or photographers themselves, according to Williams, but she does keep her eyes peeled for others. "I do follow hashtags on Instagram, and we have a Facebook group that has, like, 13,000 brides in it." 
By "a bit of an accident," Williams created a hashtag to unite alternative weddings in one place. #AntiBrideTribe was originally thought of as just a way to have weddings that maybe didn't fit the site, but were still really cool, have a place to exist amongst the others. But in it, "anti"-brides found community, and the hashtag now has nearly 3,000 posts to scroll through. 
With all the colorful, creative weddings to choose from, it's hard to pick favorites. Williams points to a few that were quite memorable, including a wild Vegas elopement with a pink-haired, sequin-donning bride. "I was just the coolest fucking elopement you've ever seen," Williams exclaims. "We featured it, and it got picked up by quite a lot of mainstream press, it went kind of viral. So I always loved that one." While love doesn't always last, like in this couple's case—the two split last year—the wedding inspo remains tough to beat. 
Williams has a penchant for Vegas elopements that she features on Rock N Roll Bride, gushing over one featured just this past week. "[The groom] also wore a wedding dress, and it was the same dress as her. I was like, 'Oh my god! I love you!'" Not only did their dresses match, but the two both wore red pumps, dramatic curls, and cowboy hats. 
For quite some time now, Williams has been offering her own personal way of putting an official Rock N Roll Bride touch on your wedding, through collaborations with clothing and accessory brands. She teamed up with Sophie King of Crown And Glory, first for a collection of flower crowns before, later, diving into veils. "We both know my audience inside and out," Williams says of King. As far as weddings go, their offerings are priced on the lower side and still available today, making them ideal for any bride looking to put an alt touch on her look. 
Recently, Rock N Roll Bridehas collaborated with The Couture Company on a collection of embroidered leather jackets. Whether you're a bride-to-be who wants a killer layer to throw over your gown, or just an everyday fan of the magazine, there's no mistaking that these are the coolest way to scream, "I'm rock 'n' roll!" 
Now, Williams is putting all her knowledge of pulling off the ultimate alt wedding into a book, which will cover everything "from getting engaged to setting your budget to dealing with the guest list, literally everything... You could just buy that book, and hopefully, it will answer all your questions." 
"I have wanted to write a book for a very long time," she adds, "and I kind of put it off for a long time because I was scared of getting rejected." But what most writers dream of happening, happened to Williams—the publishers came to her. She says, "My publishers came to me in the end, and said they'd been following me online and were like, 'We love what you do. Would you be interested in putting it into a book?'" It was fate. 
Even as we move into the digital age, Williams realizes the importance of physical publication when it comes to wedding planning. "It's really nice to offer people something they can hold in their hands," she says. "You could literally plan your wedding using the internet and spreadsheets. But brides still want to buy those notebooks, and still go buy the magazines and rip up the pages. It's still a very tactile thing."
Through the ups and downs of starting a blog and magazine from the ground up, Williams has remained open and in touch with her audience—quite a unique trait for the publishing world. "It is very much me at the forefront, and you either like me or you don't. And if you don't, that's fine, and if you do, that's awesome," she said. With fluorescent pink-green-and-blue hair, and the most enviable collection of rainbow-colored garments, and a bright personality to match, it's hard to imagine an audience that wouldn't fall for Williams' charm. 
Whether you're knee-deep in planning a wedding, or would just love to fawn over pages upon pages of tulle and glitter and cake, Rock N Roll Bride: The Ultimate Guide for Alternative Bridesis available for pre-order now. 
NYLON uses affiliate links and may earn a commission if you purchase something through those links, but every product chosen is selected independently.