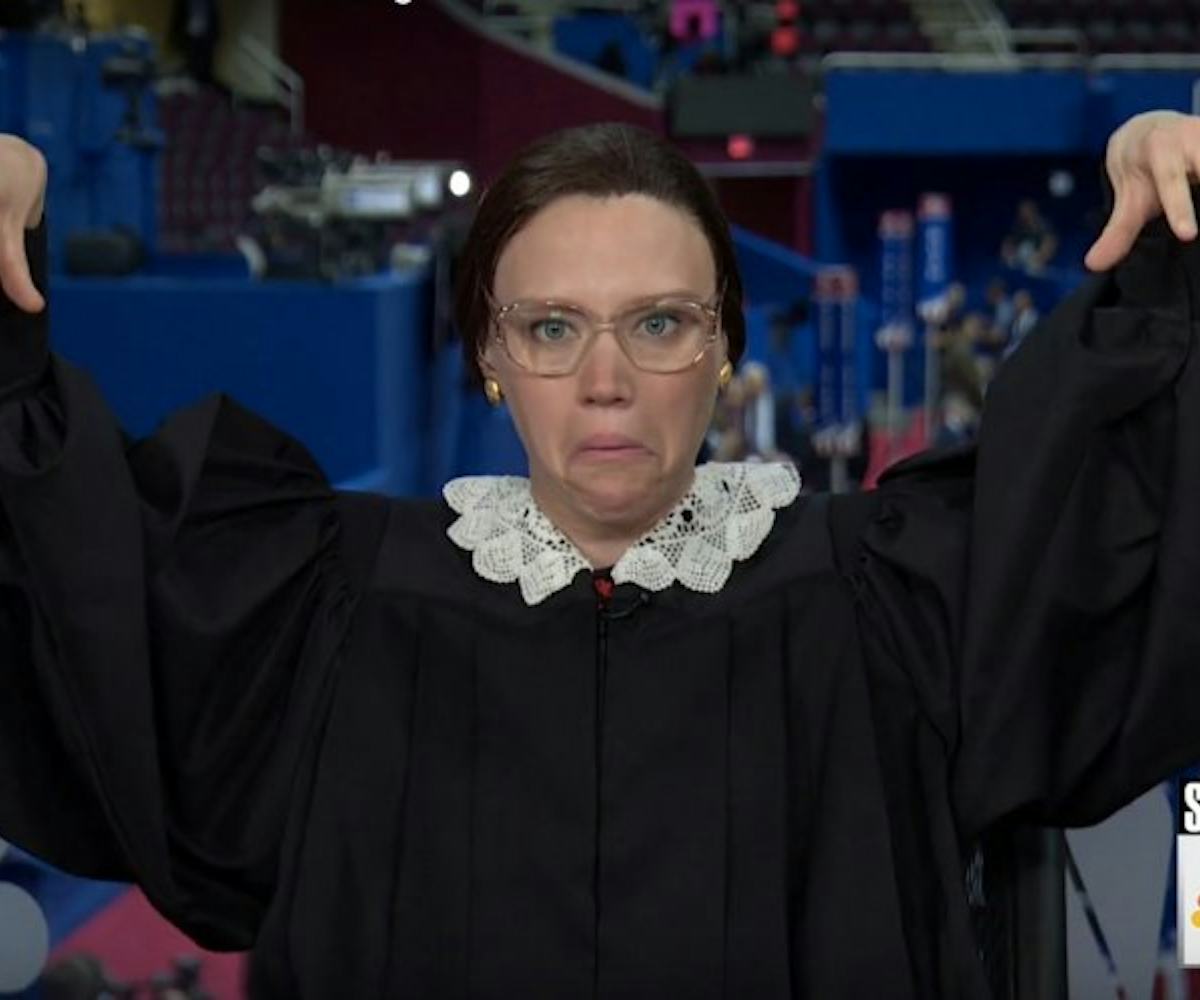 Photo courtesy of MSNBC
'SNL' And Kate McKinnon Owned The RNC Last Night
With some help from "Pokemon Go"
Fresh off of her breakout performance in Ghostbusters, Kate McKinnon joined her Saturday Night Live costars Colin Jost and Michael Che for some inspired coverage of the Republican National Convention last night. While pundits on other networks were reacting to Ted Cruz's crazy awkward speech, McKinnon brought the pain in the form of her crackerjack impression of Supreme Court Justice Ruth Bader Ginsburg, who came under fire recently for criticizing Donald Trump. 
Ginsburg had to apologize for her remarks—which included calling Trump a "faker"—but McKinnon's cartoon version did no such thing, lobbing her "Ginsburns" like fireballs in every direction. "If my mind is shot then Donald Trump's mind is shot, stabbed, strangled, put in a vat of wet cement, and dumped in the Gowanus Canal," she offered. "His mind is sleeping with the fishes, but it's waking up to a Ginsburn!" Watch it below.
Notorious RBG came out strong and kept the Ginsburns coming at #RNCinCLE on @msnbc.https://t.co/DF3HD8KCaz — Saturday Night Live (@nbcsnl) July 21, 2016
Elsewhere at the convention, Michael Che used the "Pokemon Go" obsession to his advantage by creating his own version called "Trumpemon Go," in which he tries to catch all the "rare minorities" at the Quicken Loans Arena in Cleveland. Watch the clip below and don't forget to vote.