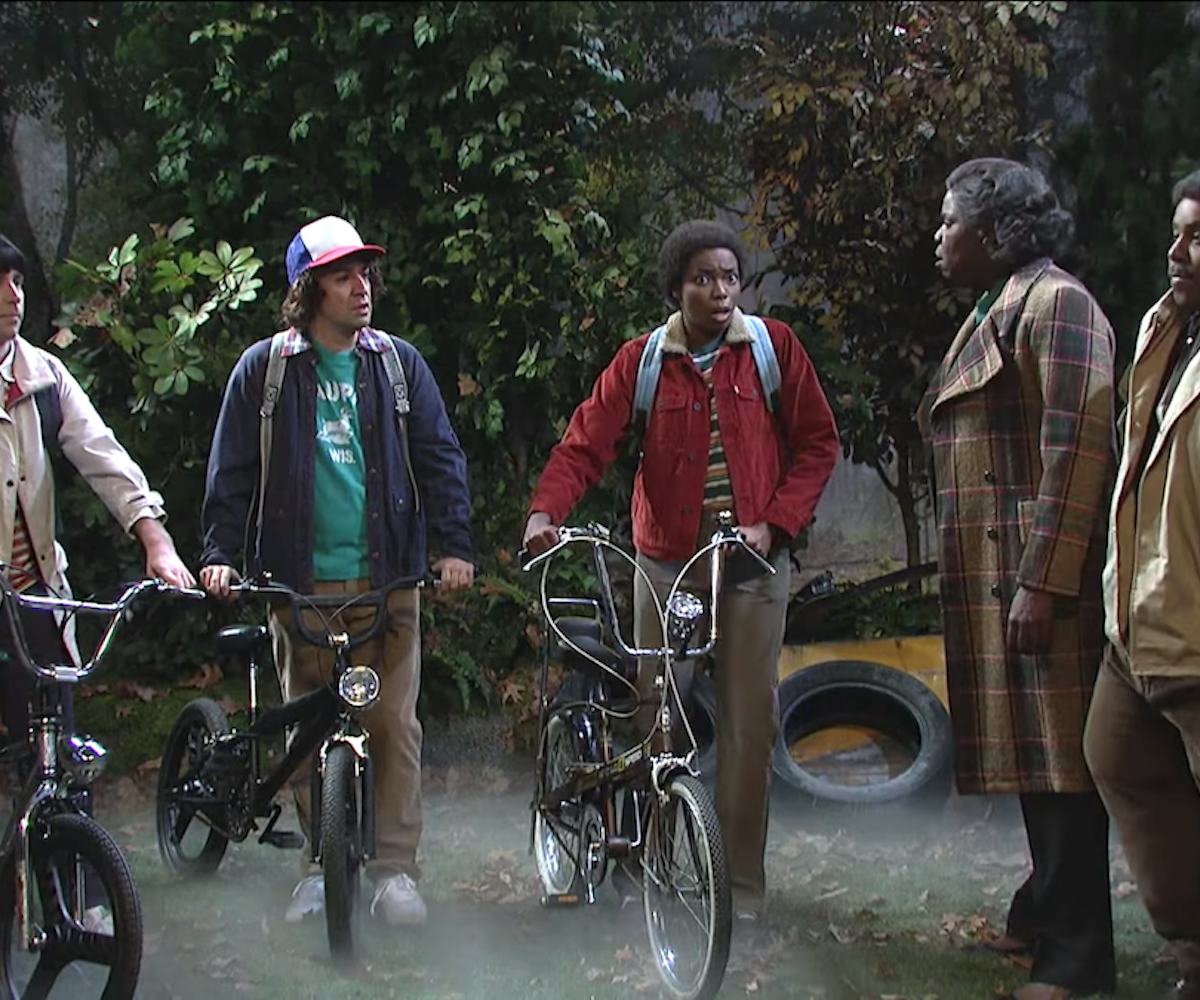 Photo via NBC/YouTube
Kate McKinnon Nails Yet Another Perfect Impression As Eleven From 'Stranger Things'
Hillary, Bieber, now Eleven
In last night's SNL, dressed in an iridescent, hot pink pantsuit, Kate McKinnon as Hillary Clinton chugs champagne while celebrating her imminent win after Donald Trump's latest abhorrent comments. McKinnon then transitions seamlessly into Trump's campaign manager Kellyanne Conway during a sketch called "Day Off," where Conway attempts to enjoy her day off, but is frequently interrupted by calls from CNN asking her to defend the latest asinine comments her candidate has made. Next, she transforms into everyone's favorite Eggo-eating superhuman from Stranger Things, Eleven, and nails yet another impression perfectly. 
In the sketch, SNL writers use the fact that the creators of Stranger Things, brothers Matt and Ross Duffer, never introduced viewers to the family of Lucas, one of the only black characters on the show, as a way to talk about race in America. Sasheer Zamata plays Lucas, and we meet his parents, played by Leslie Jones and Kenan Thompson. When trying to wrap her head around "The Upside Down," a place Zamata explains is "like the normal world, but scarier, and there's danger at every turn," Jones then says, "People who look like us already live in The Upside Down." 
When Lucas' dad tries to take him home, Eleven shows up to stop him with her powers. McKinnon, in a short wig and with fake blood dripping from her nose, nails her impression of the teenage superhero. "Who is the creepy little wood dude?" Jones asks as McKinnon shakes, staring wide-eyed in their direction. When Jones threatens to take her "five fingers across your scary ass," Eleven backs down. Jones and Thompson aren't scared of Eleven, a Demogorgon, or The Upside Down, but when the police chief shows up, they raise their hands in fear. Once Eleven starts scarfing down frozen waffles, that's their cue to go. "These white people is crazy," Thompson says before taking his wife and son out of there. 
Check out the full sketch below: