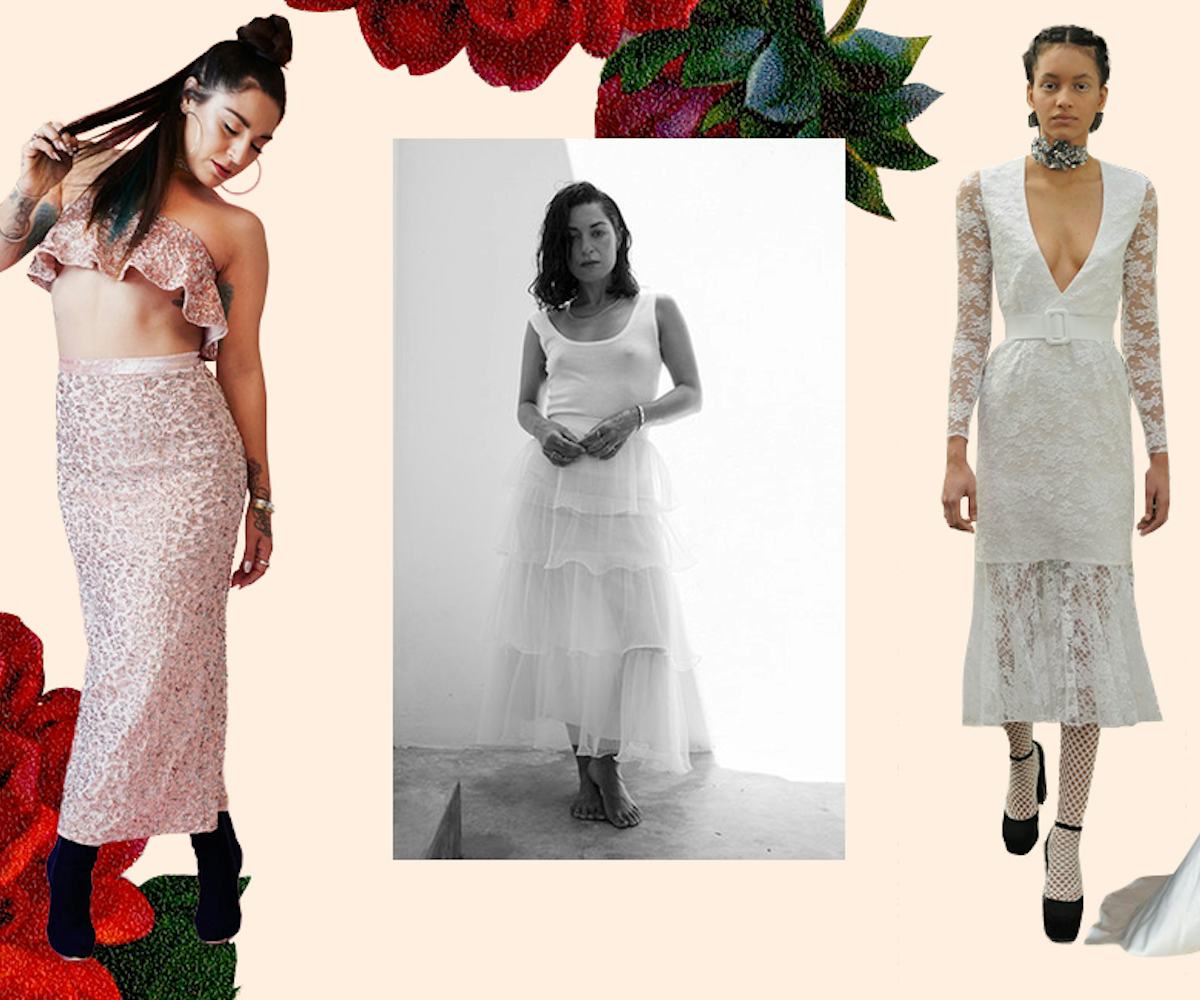 What I Learned From Starting (And Closing) A Bridal Brand
From Houghton designer Katharine Polk
Katharine Polk is the designer behind bridal line Houghton.
In 2011 I had an idea for a brand. I naively dove headfirst into what would be seven years of hard work—and some major life lessons learned. I designed 22 collections as the sole designer, opened over 65 wholesale stores in over 12 countries, and dressed thousands of brides for their weddings. In January 2018, we decided to close the Houghton NYC atelier, sample room, and office indefinitely and pause the business. By no means did I build this alone, and I've had some amazing people on my team, but I personally learned a lot by figuring it out as we went along. And while I am by no means a business expert, I had some hands-on experience that I would have never learned in business school. Here are some tips, insight, and the things no one told me when I launched a company.
You need a partner that supports you: When you start a brand, you cannot be just one thing. This means you cannot just do your job and have blinders on to everything else. That goes for the founder, designer, and the entire team. Everyone who joins your team better be ready to roll up their sleeves. Because this type of all-hands-on-deck mentality contradicts the way so many people envision start-ups, many creatives and founders find themselves getting stuck and find their businesses plateauing. This is also why it is so crucial to have a partner with whom you see eye to eye, someone who understands your weaknesses and can support the business where you are not as strong.
It's very hard to be a boss and the creative: As creatives, we pour our heart and soul into our work, and that makes for ups and downs and a need for personal time. We need to recharge our batteries after we have given all our energy to the collection, photo shoots, and our creative process. We drain ourselves and need someone to lean on to keep the team and staff on point. As The Boss, you need to always be on your toes and manage your team. I personally found it to be a struggle and quite draining, like I was constantly compromising both jobs, boss and designer. 
In order to grow and scale your company, you need to do both of those very well, and I think a creative truly needs time to focus on creating. When you start your company, as I did, in my apartment, you're doing everything. There comes a point when you go from operating to owning, and you have to relinquish and delegate responsibilities in order to run a well-functioning and scalable company.
You have to be your authentic self: I found my voice in 2016 when I wrote a personal essay for Harper's Bazaar where I opened up about my lifelong struggle with eating disorders. I crossed a line where I merged my personal life with my business. I divulged everything about my struggle with anorexia and bulimia, and what I found was that, by being my authentic self and telling my own story, I had tapped into my real creativity. I realized that there were women who were just like me. And yet I had been suppressing my own voice and my own creativity. I had been faking it all this time. 
Once I opened up, I realized I wanted to design beautiful gowns for all these perfectly imperfect women who are just like me. I had been designing for this perfect woman who doesn't exist; she's in so many designers' bios—the strong, independent, fashion-forward, affluent, confident, sexy woman with a great body. But I don't know her. My woman is flawed, has been through war and has battle scars, and, because of that, she's beautiful, courageous, opinionated, and free-spirited. I design clothes that represent her attitude and journey. My woman is not daddy's little girl, and she doesn't want that traditional sweetheart/mermaid wedding gown experience. She's also not the minority anymore. The one thing I'm most proud of, not only during my time at Houghton but in my career, is this article and then the Houghton Girl film. Once I made that film, I had to rethink how I was going run the business
Keeping up the façade is physically and mentally exhausting: Don't let anyone tell you how to brand yourself except you. If you haven't already seen Zac Posen's Netflix doc, please check it out. The energy and time that went into building the brand façade, both for Houghton and myself, was physically and mentally draining and exhausting. Maintaining a luxury brand and the sacrifices that come with it are huge. 
There are bad apples: Protect yourself. Do the homework first and make sure you are set up for success and protected. You are a boss and not there to be friends. Remember that you have something people want and, as quickly as you can have success, things can turn.
Simplify and be really good at one thing: My goal with Houghton in 2017 was to be really great at one thing. I wanted to streamline the business and take our five years of collections and simplify them to one amazing bridal collection that offered our best-sellers. We had been offering hundreds of bridal styles from collections going back to my first season. This was hurting production, as we didn't want to say no to anyone. We wanted to take any and all orders, but it got to the point that it was not cost-efficient when we had 150 styles in production and none of them had quantity. The goal was to offer a tighter selection and increase the quantities. Sometimes you have to say no to stores and brides for the sake of your business. Every store will want an exclusive or to customize your best-seller, and, before you know it, you will have eight versions of the same gown. 
I wish we had simplified from day one. At the end of the day, the simple idea and the first gown I ever sketched for Houghton in 2011 is what has carried the brand to 2018 and continued to be our best-selling gown. Twenty-two collections later, ready-to-wear, fashion shows, and a lot of noise could have been done without. That said, it's easy to say now. When I launched Houghton, no one understood that a bride would wear a ready-to-wear gown or a white suit. When we approached RTW stores, they had no place to sell it, so we ventured into more RTW collections so that we could get floor space. The industry is a different place now, and fashion and tech have merged. You don't need wholesale accounts anymore, and every major fast fashion brand has a wedding shop. Bridal is cool now.
People want something they have never seen, but they don't understand what they have never seen before: The industry wants something new that they haven't seen before. But, when you show them something new, they are scared to buy it until someone else does. By the time your idea is accepted and hits "mainstream," you've poured so much money into the business to prove you have a sustainable product that isn't niche, the rest of the industry has caught up. This was exhausting for me, to constantly prove and feel like we were fighting an uphill battle to explain why there was a market for non-traditional bridal. I found myself constantly having to create the next trend while not being able to capitalize on the one we had created three seasons past, because it had been copied and watered down by other brands. We set the trends but weren't able to sell to the masses because we were caught up in the day-to-day and looking so far ahead.
My lesson learned here was that we created something great and paved the way for a lot of other brands. I feel that we made a splash in the bridal industry and shook things up. Part of your job is not just creating that innovation but seeing it through to completion, which means branding and making sure those salespeople represent your brand on the sales floor in every country. I don't think our small staff could fully support our stores in every state and country to educate them correctly on our brand and still grow and scale internally. I believe this is where the shift in the market today would have benefited us back then. Speaking directly to our customer and educating our bride through direct retail would be a better choice, so we aren't diluting our brand message.
Getting ripped off costs you money, and it's not as easy as looking the other way and creating the next big idea: I got into the routine of looking the other way and accepting that we were getting copied and ripped off every season, that it was the norm. We weren't an LVMH with a team of 25 lawyers to fight frivolous copies with lawsuits we knew we weren't going to win, but would file to prove a point. I do believe in my heart that this hurt the brand. We became known for setting trends, but it has become widely accepted and okay to be "inspired" by another brand and just loosely copy a look the following season. I know you can't copyright a creative design, but there has to start being some level of integrity among designers. You are getting paid to design, and when it comes to bridal and evening, it is just not that hard to do your job. Taking a bodice from one designer and skirt from another and calling it your own does not constitute originality or design. I think people have lost track of what "inspiration" is. Screenshotting a look from another designer has become so normal to share and say, "I want this," that people lose track of whose work it was originally and start to take ownership of it. 
I cannot excuse these big brands who have enough money to buy and sell brands like mine and just blatantly take our styles, copy them, and sell them for $350. That will be the end of your brand when we are in an age that the consumer just doesn't care that much about quality. I wish these big brands would hire us to design for them and let me give them the real thing rather than just steal our ideas.
You need to learn how to truly maximize time: I always thought I was maximizing my time. I was using every minute and every hour of every day. I was booked up with meetings, interviews, and appointments every single day and so busy I didn't have time to think. I was so into the hustle and routine that I just kept going. I was busy but busy doing all the wrong things. I think that, in order to be successful, you have to truly think about how are you getting the best value of your time and the most out of your day: "As the owner and creative force of the company and brand, is what I am doing a good use of my time and money? Can someone else do what I'm doing, and can I use my time more efficiently to be moving the company forward?" I'm incredibly hands-on and OCD, so I want to do everything, but I need to delegate and trust the team to support. 
I also needed to prioritize creative time. I always put creativity at the bottom of my list because I didn't see it as busy time. It was spending time at a museum or reading, and I felt guilty. In reality, that was the time I needed the most and what was the most important for the company. That was hard for me. Maximizing my time, for me, also means making sure I feel balanced mentally, so I am performing at my best self to bring my best creative game to the table. This means having a balanced work and personal life and not burning out. This means not feeling guilty for taking a vacation or leaving work to go to the gym or eat lunch away from your desk. This means not having to justify normal life to create balance.
Sometimes, you need to stop and recalibrate: I'm taking this time to recalibrate my life. I feel like I just came out of a whirlwind. I kept saying, "Okay, after this, I'll take a break" and then it was five years later. At some point, you have to stop living the start-up life and figure out what you want. I had goals set for Houghton as a much larger company at this point in our plan, and am disappointed we didn't get there. We had huge success, and I know we could have had more. We were making it work and had a big operation that weighed heavily on me. I didn't take the decision to close the business lightly, because I knew I had a staff and felt the responsibility that comes with that. But still, it felt like the right time to take a pause. It feels somewhat selfish, but I know it's not. It's the right thing to do. We are open to selling the company to the right strategic partners who have the same long-term vision for the brand.
Now, I need to recalibrate my life and figure out what's next. I already feel so much more balanced and healthier without the stress eating at me every day. I feel a space that has opened up for creativity and am excited to be able to create again. I'm excited to work with other companies and collaborate on collections and projects and float until I land somewhere that feels right. I'm still digesting what has just happened, but I am just excited for the future!