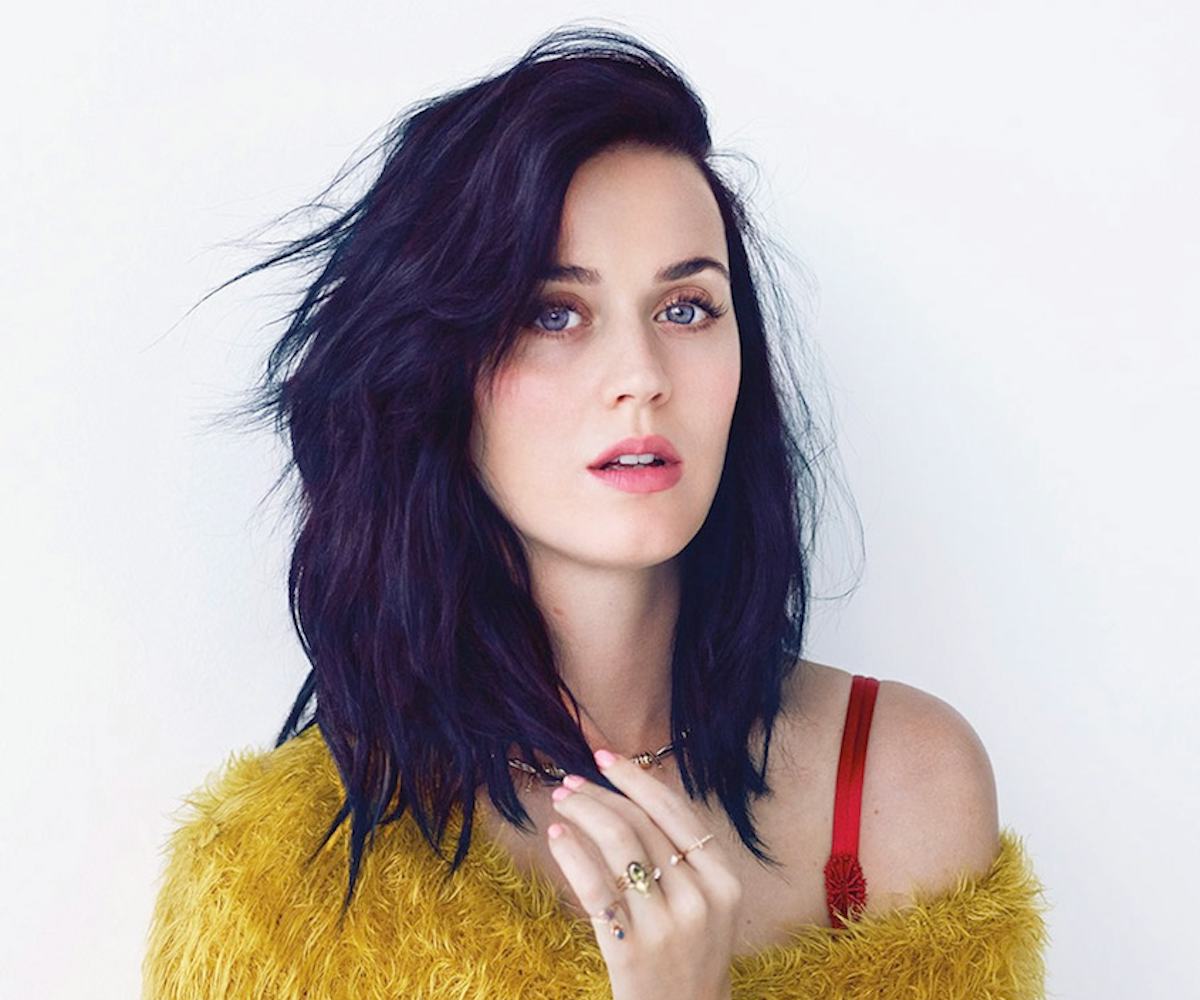 photo by cass bird
The return of the '90s fuzzy sweater is nigh, and you have Katy Perry to thank for it. In the promotional images for her latest album, Prism, dropping today, Perry wears the coziest mustard yellow sweater that is giving us dreams of Lizzie McGuire, old Delia's catalogues, and Courtney Love raging on stage with Hole. All excellent inspirations to get from a sweater, right?
Whether you're a grunge girl or are just trying to stay toasty on cold days, an eyelash sweater (that's the, ahem, technical term for the soft fabric you came to know and love in the '90s) can find a place in your wardrobe because styles available today range from cropped printed sweaters to oversized knit dresses. If you're willing to dish out a little more dough, angora blend options will make you feel like a bougie Liv Tyler in Empire Records, or you can always grab a rainbow knit one that is literally called a "Furby" sweater. 
We can guarantee that you'll find a a sweater to love in our roundup, and if you don't believe us, you should at least believe Spongebob. 
Glamorous Leopard Intarsia Sweater -- $97.89
Topshop Pale Blue Fuzzy Sweater -- $76
3.1 Phillip Lim Bubble Knit Sweater -- $550
Asos Cropped Sweater -- $49.83
Motel Verona Daisy Crop Sweater -- $100
Forever 21 Je T'aime Sweater -- $27.80
Chloe Sevingy for Opening Ceremony Sweater -- $250
By Corpus Tiger Sweater -- $79
Nasty Gal Soft Star Sweater -- $52
Asos Metallic Yarn Sweater -- $62.29
Carven Angora Blend Sweater -- $466
Forever 21 Bat Sweater -- $27.80
Asos Alphabet Sweater -- $35.60
House of Holland "Not In Front of the Kids Sweater" -- $213.58
Topshop Cropped Sweater -- $72
Michael Kors Angora Pullover -- $1,505
Topshop Cropped Cardigan -- $76
Asos Oversized Sweater -- $80.09
J. W. Anderson Angora Blend Sweater -- $855
Topshop Knit Lurex Cardigan -- $90
Billabong Striped Sweater -- $59.50