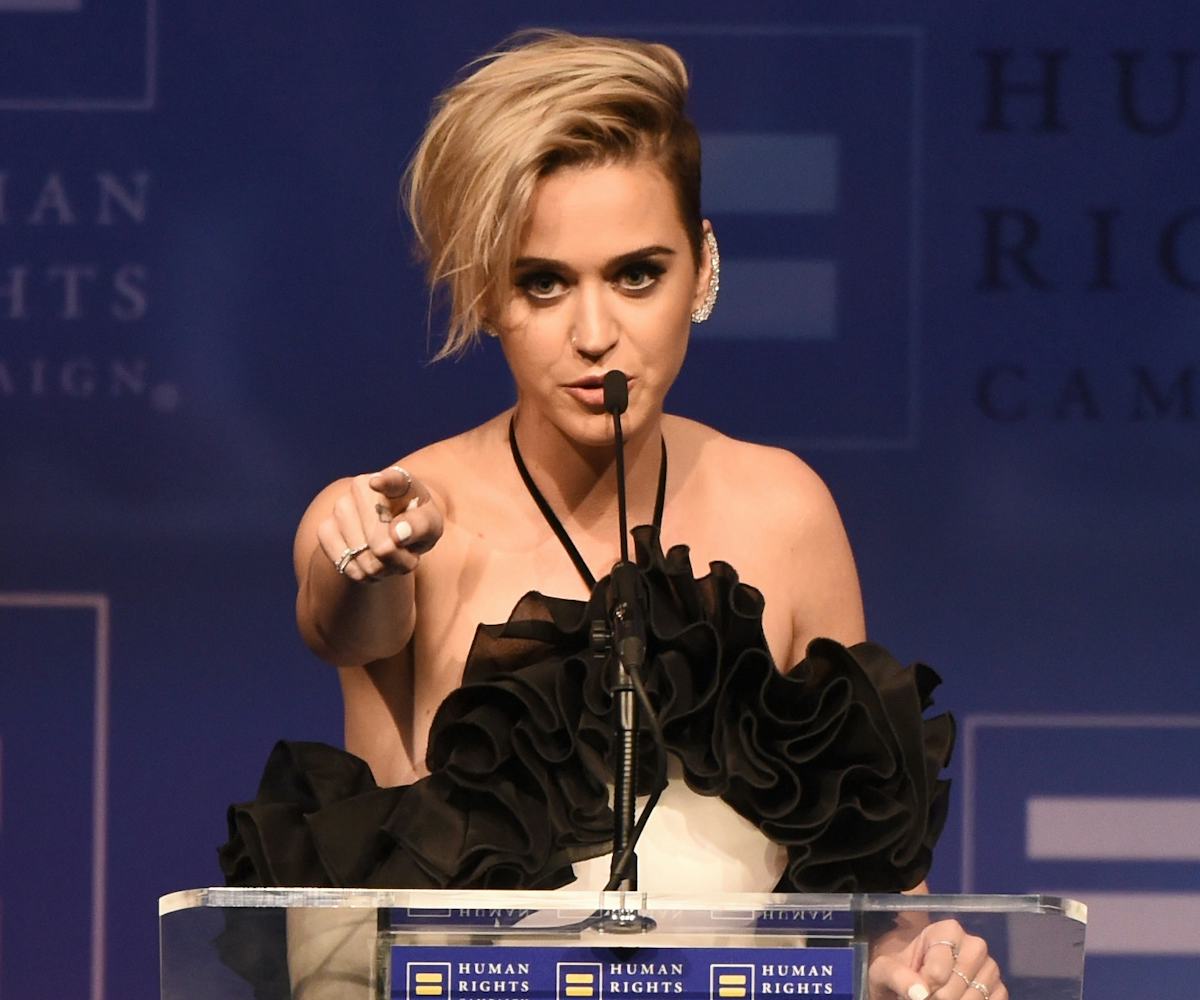 Photo by Emma McIntyre/Getty Images for Human Rights Campaign
Katy Perry's HRC Speech Proves Personal Change Is Possible
With a little help from your friends
Katy Perry divides the LGBTQ+ community just as much as she unites it. It's the latter part, though, that helped make her the fitting recipient of the Human Rights Campaign (HRC)'s National Equality Award during the March 18 HRC gala dinner in Los Angeles. Because really, Katy Perry has been a voice and advocate for the LGBTQ+ community despite the latent homophobia of her earlier career.
Our first proper introduction to Perry came with 2008's "I Kissed A Girl," when homosexuality was still very much a taboo subject across all media platforms including radio. The single proudly walked all over that taboo with its coded winks to lesbian sex (cherry chapstick). "When that song came out, I knew that I started a conversation that a lot of world was curious enough to sing along to," Perry says during her HRC acceptance speech. Indeed, "I Kissed A Girl" brought homosexual curiosity and experimentation into conservative and highly religious homes, cars, and parties. The homophobia written between the lyrics of "I hope my boyfriend don't mind it" and "It don't mean I'm in love tonight" can be read as Perry's pop version of "no homo," but hey, at least those lyrics weren't as overt as, say, literally every line in Perry's other 2008 single, "Ur So Gay."
Anyway, what's the use in picking apart a nearly decade-old song when Perry, herself, owns up to her mistakes and oversights, thanking the LGBTQ+ community for keeping her in check and letting their magic rub off on her? "Without them, I would be half of the person I am today," she says, citing her past experience growing up in youth groups that were pro-LGBTQ+ conversion therapy and how "homosexuality was synonymous with abomination." "I hope I stand here as real evidence for all that no matter where you came from, it's about where you are going and that real change, real evolution, and real perception shift can happen if we open our minds and soften our hearts."
Within the past year or so, Perry has had undergone a change in attitude. She campaigned hard for Hillary Clinton during the 2016 presidential race and further embraced being an outspoken advocate for queer and transgender rights. "It would have been easier just to stay the whipped-cream-tits-spraying-poppy-light-fluffy-fun-anthems-by-the-way-of-animal-totems singing girl who was basically somewhat neutral in stance and just that, 'more hugs could save the world' [mentality]," she says. "No way. No longer can I sit in silence. I have to stand for what I know is true and that is equality and justice for all period." 
You think you've heard Perry roar? Think again. She's just getting started.