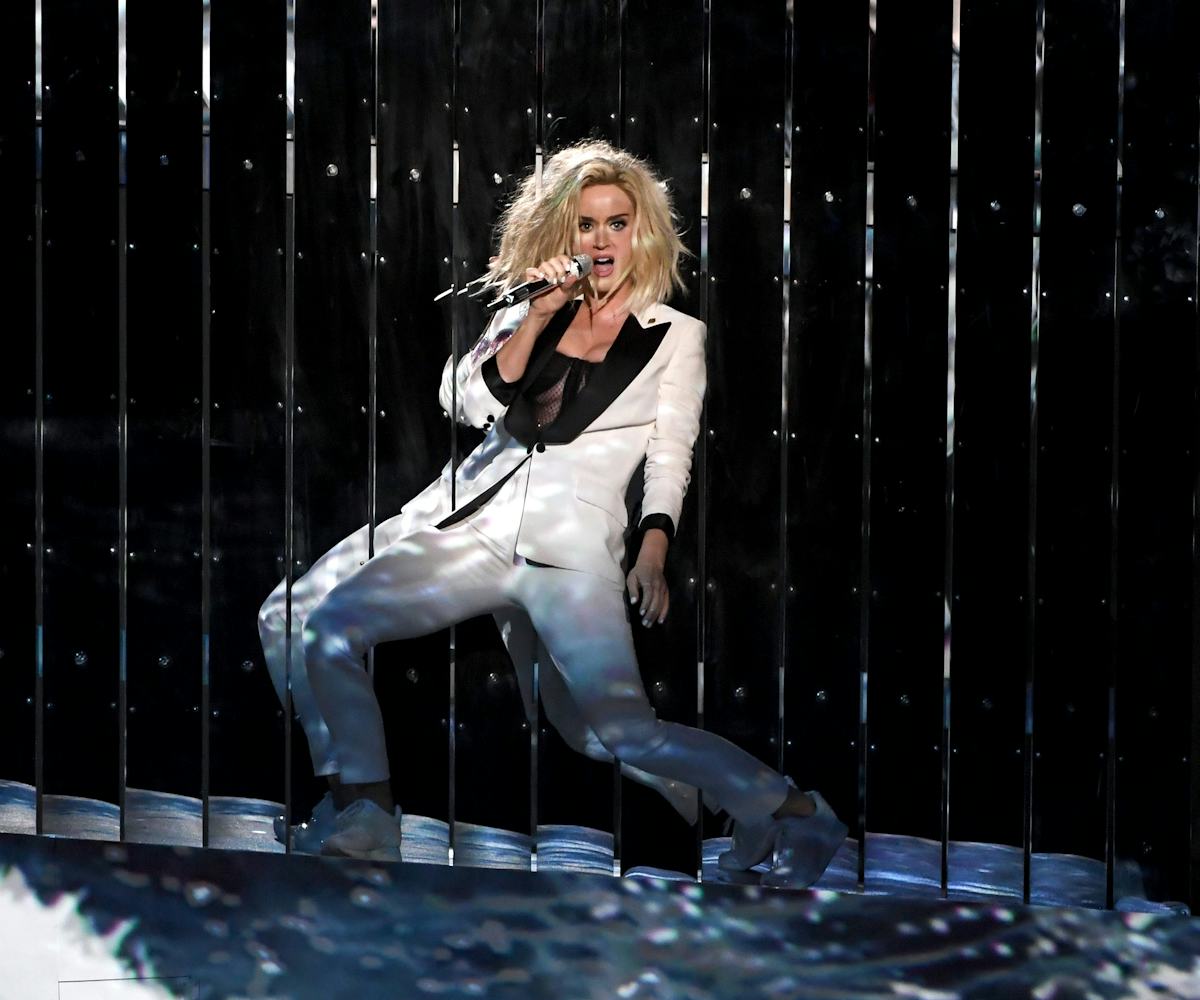 Photo by Kevin Winter/Getty Images
Katy Perry Goes Political For Her Grammy Performance
Katy Perry, donning her new blonde 'do, took to the 59th Annual Grammy Awards stage tonight to perform the lead single off of her new album, "Chained to the Rhythm." The rollout for Perry's new single has been a little bumpy. A promotional stunt didn't go as planned, and the song has not been attracting as much attention as a hit machine like Perry would have hoped for. So tonight's performance mattered, and Perry, who was joined by Skip Marley, made sure to give people something to talk about.
A lot of talk leading up to tonight's ceremony centered around politics, and whether or not performers and presenters would take their time on stage to speak out against Donald Trump. It was almost a given that Katy Perry, one of Hillary Clinton's most ardent supporters, would make some kind of statement, and she did just that. Wearing an armband that read "Persist"—a reference to the Twitter movement that began after Elizabeth Warren was recently silenced in the Senate for trying to read a letter by Coretta Scott King—Perry began the performance in a white pantsuit (a nod to Hillary?) and singing behind a white picket fence. Eventually, a large image of the Constitution appeared behind her which was hardly subtle, but got her point across, especially when she ended the performance by shouting "No hate!"
Earlier on the red carpet, Perry told Ryan Seacrest that her new album would include a song called "Bon Appetit," which she described as "pretty sexual." She also described her upcoming, still untitled album as a "new era" for her. "I call it an era of purposeful pop," she said. "People are loving it. They're dancing to it. They're reading the lyrics. They're ingesting it. They're being revived. Maybe they're waking up a little bit. Otherwise, they're dancing to the big fat beat." 
Check out her performance above.