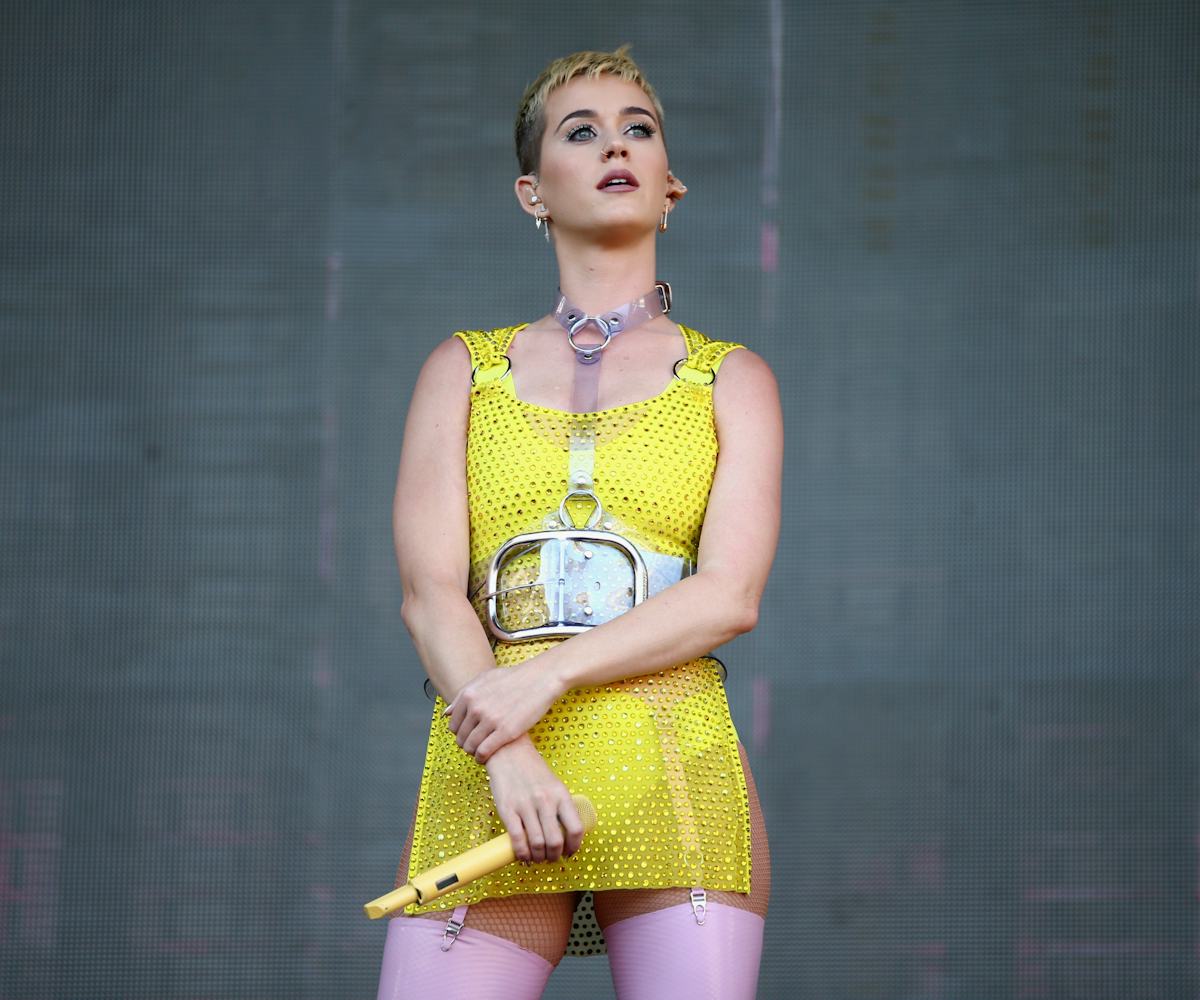 Photo By Rich Fury/ Getty Images.
Katy Perry Is Struggling To Stay Relevant—And It Shows
The 'Witness' era is a confusing time
"When did Katy Perry become so insufferable?" It's a question my friend posed to me a couple of weeks back, maybe around the release of "Bon Appetit," and it's one I revisited during Perry's now-viral SNL performance of the same song. We've all seen the clip by now. She's dancing on top of a table with Quavo, Offset, and Takeoff and, at one point, she starts miming the universal sign for money, dramatically lip-synchs, and attempts a half-hearted dab. It's like a bad car accident, it hurts to look, but we strain our necks for a better view anyway. If Vine were still around, it would be six-second loop gold (instead, it's GIF gold). It's the kind of video for which the "oh no baby! what is you doing?" meme was invented. And it's a perfect example of what's come to be known as Witness-era Katy, a persona which has people like my friend—and many others—wondering, Why she is doing this?
Before we get into Perry's current antics, let's take a look back, starting with One of the Boys-era Katy (the singer did release an album prior to this, titled Katy Hudson, but that isn't the Katy we're here to discuss). "I Kissed A Girl" and "Ur So Gay" were her first hits in the pop sphere. And her most controversial, if you were paying attention. When writing about Perry's Super Bowl halftime performance from two years ago, where she performed "I Kissed A Girl" with Lenny Kravitz, NYLON's Gabrielle Korn said, "Lyrics like 'It don't mean I'm in love tonight' were a sugarcoated, female version of 'no homo,' making a pop anthem out of the view that same-gender experimentation is cool and fine as long as you have a boyfriend who doesn't care, and as long as you don't have feelings for the other person. That would be so gay."
It's quite a move, starting off your career with wildly offensive lyrics and blatant homophobia. But Perry was able to get away with it (perhaps, in part, because the takedown capabilities of social media weren't established yet), by distracting the public with her professed LGBTQIA+ allyship and her continued pushing of her quirky, innocent pinup girl persona. 
Then we enter into Teenage Dream-era Katy, her most notable and successful time as a pop artist. The album was a blockbuster hit, with synth-pop singles laced with euphoric vibes. "California Girls," "Last Friday Night," and "Teenage Dream," are the types of songs you seek out during drunken karaoke nights only to find out you already know all of the words. They're happy! And carefree! And fun! And people responded to it. Perry became the first woman and second overall artist, second only to Michael Jackson, to have five songs from a single album reach No. 1 on the Billboard charts. That aforementioned quirky and innocent pinup girl persona? It shifted to include louder outfits, an IDGAF beauty mentality, and a drag queen-inspired aesthetic. 
This over-the-top, almost cartoonish aesthetic was one a lot of other artists were pushing at the time, too, notably, Lady Gaga, Nicki Minaj, and Miley Cyrus. The all-eyes-on-me way of operating was present not just in their style choices, but also in their music, their videos, and their public appearances. The biggest difference between Gaga, Minaj, and Cyrus and Perry, though, is that, over the years, the former three have evolved from this phase. They've reinvented themselves. Outside of a new hairstyle, Perry seemingly hasn't. 
Maybe that's due to her hiatus from music. It's been four years since Prism (a largely forgettable album) was released—and you can tell. It's almost like, in an attempt to catch up, she's overcompensating by trying to do everything and be everyone at once. She's trying to appeal to black culture by throwing Migos and Minaj on mediocre tracks. And then, oh, having beef with fellow artists is cool again? Let me stir up some dated drama. It all feels very contrived. And her one recent action that seemed genuine, her backing of Hillary Clinton for president, started to feel questionable once it seemed that Perry was using her political wokeness to transition into her new professional phase as a purveyor of "purposeful pop." Things felt murky, because while pop and politics can go hand in hand, trying to pass off uninspired lyrics like "Living our lives through a lens/ Trapped in our white-picket fence/ Like ornaments/ So comfortable, we live in a bubble, a bubble," as an example of a song that's intended to "start conversations," makes Perry's message less believable. But hey! Who cares about authenticity when your name's in everyone's mouth?
Witness comes out tomorrow. Consequence of Sound has already described it as "perfectly competent, but by the second listen, your finger might be itching for the skip button," a sentiment which seems to also apply to this phase of Perry's career. Because what it looks like we're actually bearing witness to now, more than anything, is an artist grasping for relevance, and coming up short.