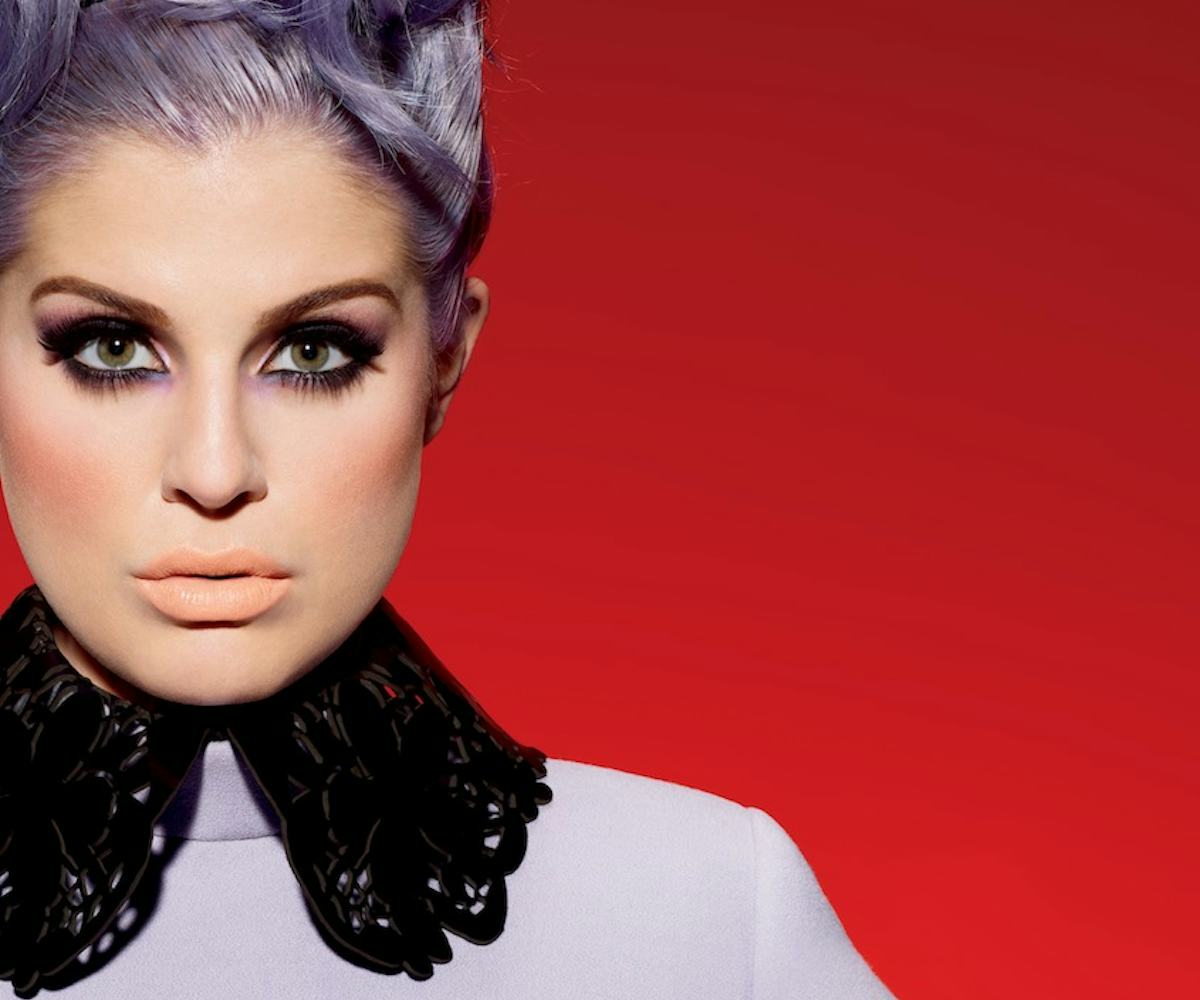 the insider: kelly osbourne
we chat with the princess of darkness about her mac makeup collection, mental institutions, and her lavender hair!
One of the many highlights in our jam-packed (pun intended) June/July '14 Music Issue--with Haim gracing the cover--is our exclusive interview with Kelly and Sharon Osbourne on their M.A.C Cosmetics collaboration. Considering I've been such a huge fan of both ladies for years (since The Osbournes reality TV show, to be exact), I was a bit nervous to chat with the mother-daughter duo--but as I suspected, they were some of the loviest, funniest, and weirdest people I've ever interviewed. And yes, my love for them has grown exponentially stronger since. Read my full interview with Kelly below, and stay tuned for tomorrow's full interview with Sharon! And don't forget to tweet us (@nylonmag) and let us know what your favorite product from the collection is.
How exactly did this collab with M.A.C come about? Who approached who?
It's really been going back and forth for ten years with John Demsey at M.A.C. But I was too young and it wasn't the right timing. Originally, I was going to do something with Liza, but then they wanted to do it only with Liza. And then it was it was going to be me and my mom, but then it was just only my mom. And then it was going to be me. And it's really nice to see that I really put my trust in this company and I listened to them and I said, "Okay, you let me know when the right time is." And they did. And they came back and we went back and forth a million times and finally agreed upon how it was all going to be done and how we were going to do it. I'm just very grateful that John never forgot about me.
Obviously your neon pink lip is a staple beauty look for you, and you have your Kelly Yum Yum lipstick based off of M.A.C's Candy Yum Yum lipstick. What's the difference between yours and the original, and why did you decide to revamp that color?
Well it's my favorite lip color M.A.C has ever made, and the problem I had with it was when I'd wear it on TV--in lights and it's hot--it would be a little bit dry on me and it would turn chalky. So what I did was I changed it and took down the percent of chalk in it, so it goes on smoother, but I wanted to keep the blue and the pink because that's what I loved about it.
What are some of the other things that inspired the colors and pigments and names in your collection?
Well I wanted it to represent me, but also I have to understand that my taste isn't for everyone, so I have to kind of reign myself in a little. It's just really exciting to do all of that and learn about what goes actually in to what we put on on our lips everyday, because we eat that. And to me, I wanted to show my personality, but I tried all of the colors on different skin tones to make sure. But I don't like the word "nude." I think that it's insulting because nude is usually Caucasian-colored. And that's not nude—everybody has a different nude. So I was really sick of seeing a nude not being made for black girls. It's not fair. They put it on their mouth and it looks like chocolate. So I realized if you put a higher, more peach in the color, everyone can wear it.
Interesting.
I tested it on all of my friends—guys, girls, everything. And the colors that didn't look good on all skin tones, I didn't end up going with and I changed the pigments a little bit as a result of it.
If you had to choose, what's your favorite product in your collection?
Oh that's so tough! I really love my brushes because a trick I learned from drag queens and makeup artists is if you use an old school shaving brush to buff on your foundation, it goes on smoother and you don't have to put on as much, so I put that into my collection and I'm really proud of that. And I cannot pick one thing! But I would say my lipsticks. They're so bright even though they're not—you can all completely change your outfit just by changing the color of your lips.
What would be your favorite in Sharon's if you had to chose?
Oh, ahh, I love Ruby, which is one of her lip-liner sticks that really, really are amazing. But what's so great about my mom's collection is that I've started becoming a little bit more obsessed like, "Oh, damn! Your blush is better than mine!" [Laughs] And depending on certain days, I'm wearing hers or my collection, but it's all we're wearing right now because we're so fascinated with how well it came out.
So the packaging for your collection is based off your hair color?
Yes, I just am crazy about my packaging. I couldn't find the right color lavender because it started to make it look kind of cheap. And then all of a sudden I was like, "Wait, what if we make it more metallic-y?" then it will take out that shine and plastic-ness of it and make it look more expensive and chic. The packaging started to look more like a pocket-rocket than a lipstick, and then I got worried that it would be like, "Oh, Kelly Osbourne and her dildo lipstick."
Would you and Sharon ever Freaky-Friday and swap hair colors?
Actually when my mom had cancer, she had shared wigs with me because I'd make her all these wigs because she lost her hair from the chemo. But after the last move, we found all of the wigs again, and I put them on to make my mom laugh because she wasn't feeling very well.
Aww.
So I know what I look like with my mom's hair. And it's too weird—we look too much alike for it. I would look like my mom's mini-me with my dad's jaw.
What's the one hair color you've always wanted but never had?
I don't really have one, I've done them all really. Actually no, green. I really wanted to do a light pastel green for a long time. It was a Chanel bag, a mint green one, I bought it and I wanted to dye my hair to match it.
Do you think you'll ever change your lavender hair?
I think it's become me, and it's become who I am. I don't have any intention of changing it. It's not a fad to me.
What is the best and the worst beauty advice your mom has ever given you?
When she tells me to change my hair, she pisses me off. I'm very lucky that my mother is very open to me being as experimental as I was in my youth and as I still am. They just look at me like I'm insane and giggle when I've done something. Like I walk in the other day and I shave my head and she's like, "Oh that's lovely." Because nothing phases her and I'm very lucky in that way because it allows me to try different things and experiment and become who I am. And a lot of the time, as young people, we sit there fighting ourselves because we realize we are turning into our parents and we don't want to be our parents. But once you accept that you are your parents, your parents made you, but now it's up to you how to take what you've learned from them and then how you manifest it. I'm lucky that I have cool parents.
Yeah, the coolest!
Everybody sucks sometimes, but when you really think about it in the grand scheme of things, I am very lucky.
Totally.
I am very lucky that my parents are, yes, they're insane, and I am as a result of them. But I wouldn't want any other parents. They let me be me and accepted me for all of my flaws and have helped me grow into the person I am today.
What is the best piece of beauty advice that you could pass on to our NYLON readers?
No matter how much you pray, no matter how hard you try, you will never wake up and be anybody else than yourself. It's a fear and I've learned to like it because it is never going to change. And it consumed me for a very long time. I stopped to look in the mirror and my friend said to me, "Do you ever look at yourself in the mirror?" And I was like, "No! I do not." And she goes, "Well why don't you give it a try?" And I was like, "No I cant! It's weird!" And so I stood in front of the mirror and she made me start looking at things like, "What do you like?", and I was like, "Nothing. I'm fat and gross and I hate my face." And she goes, "Well you know what? You're the only girl I know in this town who hasn't had a nose job." And I was like, "Yeah you're right. I guess my nose is okay then." And then she goes, "And you've got the longest bottom eyelashes I've ever seen." I'm like, "Oh yeah, they are pretty long." And you start realizing things that you have that other people don't and you start really small. Take baby steps and put the work in. It's not an impossible thing. I thought it was an impossible thing to love myself. And not in the egotistical sense--because I am not perfect!
That's really good advice.
And don't be like everyone else. Go be whoever you want to be as long as you're not trying to be somebody that you're not.
You've been a beauty icon for girls for years. How does that feel? And who are some of your beauty icons?
Wait, you just saying that, like that I'm beauty icon, like ahh!
You totally are!
I just think that I'm different. I'm not like other girls because I don't want to be perfect. I don't want to be the prettiest girl in the room or the smartest girl in the room or the funniest. I just want to be me. And a lot of people don't like me, so I have to fight to be me, and I like that fight. And once you can fight the good fight in that and fight for yourself, it's the best fight you can ever be in. I had to fight to keep my hair. I had to fight to dress the way I want to dress. It's not easy. Really. I get in trouble all the time just for being myself, and it's sucks. But I'd rather be me than anyone else. Weird is amazing! Weird is wonderful. I love the freaks and geeks of this world. To me, they're individuals and beautiful. I don't like the carbon cookie-cutter girls in Beverly Hills. Beverly Hills kids have the biggest attitudes. Do you know what I mean? I never want to be like that.
Who are some of your all time beauty icons?
I don't want to go with the typical clichés but, Audrey Hepburn--and Marilyn Monroe is a fashion staple for every woman. I love the Josephine Bakers and the Boy Georges of the world that really make you double take and think about what you were looking at. I get a lot of inspiration from movies like Cry Baby, Grease, and Rocky Horror Picture Show, a lot of my references come from that.
Is that what inspires the creative process for your hair and makeup looks?
Well, I did just shave my head because I was looking up photos from the early 19th century.
Did you just say you shaved your head?
Yes.
Are you serious?!
Not all of it, just the sides! The reason I did it was because I saw this picture on the Internet when I was looking for this photographer, and he used to go around in the early nineteenth century and take pictures of people in mental institutions. Everybody who had electric shock treatment had a certain type of haircut, and I thought the haircuts were really cool. So I was like, "Can you kind of do that?" and my hairdresser was like, "Are you sure?" and I'm like, "Yep. Do it." and he's like, "Okay!" And he gets all excited and he starts doing his thing and I'm like, "Nope. More. More. Shave it more. It's not quite enough." And I even shaved some of my hairline out so it changed the shape of my face. A lot of people don't realize if you want to change the shape of your face, it's all about the eyebrows—and they don't have to match, they just have to compliment each other—because nobody is perfectly symmetrical.
M.A.C Cosmetics x Kelly Osbourne Powder Blush in Cheeky Bugger
M.A.C Cosmetics x Kelly Osbourne 183SE Flat Buffer Brush
M.A.C Cosmetics x Kelly Osbourne 219SE Pencil Brush
M.A.C Cosmetics x Kelly Osbourne Eye Kohl in Smolder
M.A.C Cosmetics x Kelly Osbourne Bloody Brilliant Eye Shadow x4
M.A.C Cosmetics x Kelly Osbourne Brow Duo/Morning Mister Magpie
M.A.C Cosmetics x Kelly Osbourne Jumbo Penultimate
M.A.C Cosmetics x Kelly Osbourne Lip Pencil in Synch
M.A.C Cosmetics x Kelly Osbourne Lipstick in Dodgy Girl
M.A.C Cosmetics x Kelly Osbourne Lipstick in Kelly Yum Yum
M.A.C Cosmetics x Kelly Osbourne Lipstick in Riot House
M.A.C Cosmetics x Kelly Osbourne Lipstick in Strip Poker
M.A.C Cosmetics x Kelly Osbourne Mineralize Skinfinish Duo in Jolly Good