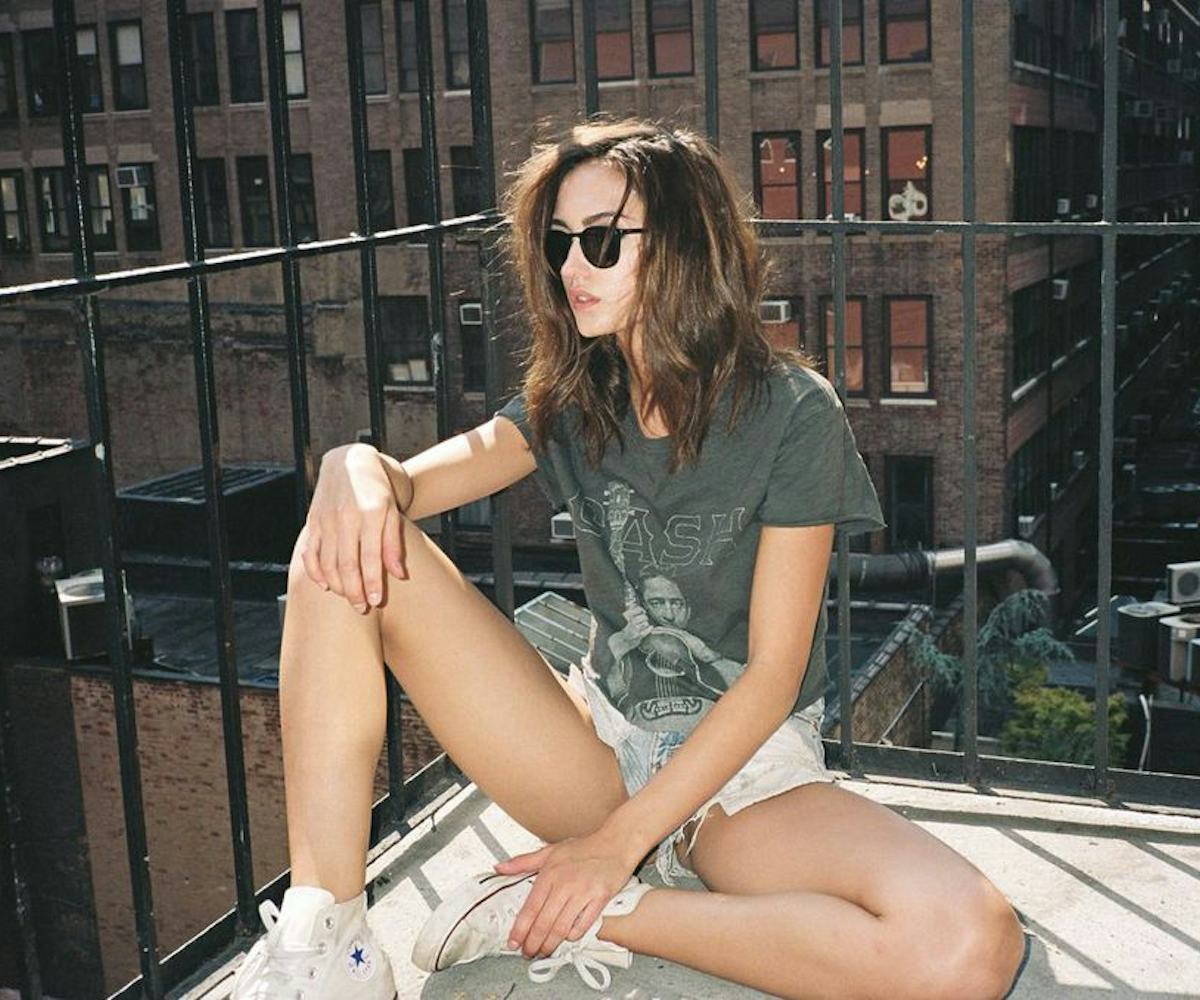 all photos by michael dumler/onabbotkinney.com
model citizen: kelsey rogers
oscar de la renta and thom browne love her…you will, too.
You've seen their faces on the runway, campaigns, and all over the internet. Now get to know the models behind the clothes in this new weekly feature. 
Kelsey Rogers' Nebaskra upbringing may have been that of a tomboy, but these days you can find the New Yorker walking the runway for everyone from Oscar de la Renta to Katie Gallagher.Get the lowdown on how Rogers was discovered, her skincare secrets, and the best model-off-duty wardrobe staples in our pop quiz below! Then, see her in action in our exclusive photoshoot.
Name: Kelsey Rogers 
Agency: Marilyn Agency
How did you end up modeling? Were you always in front of the camera?
Let's just say I was in the right place at the right time. The hotel I was staying in was hosting a scouting event for models, someone saw me and from there everything happened so fast. As a kid I always stayed busy playing sports; was definitely a tomboy. I don't remember ever thriving on being in front of the camera, but with a mother who was always taking photos, I never really had a choice.
What are your thoughts on branding. How do you consistently stand out amongst a sea of beautiful people? What do you do in order to establish your name, rather than simply your face?
Branding yourself as a model is definitely a part of this complicated business not many people know is so important. I am always learning about this part. To me, it is all about personality. If a model can hold a conversation with anyone, is easily relatable, and is easy to work with people will learn to love you for that as well as your face.
Many people think modeling is easy. They don't understand the athletic approach to it. What does a day consist of for you as far as working out? What is your favorite way to exercise?
Luckily, I grew up around sports so the athletic side comes pretty natural. It was definitely an adjustment when I had to start going to the gym and doing my own workouts though. I like to hire a new trainer every once in a while to switch things up and keep my workouts different and interesting. My workouts usually consist of various types of intense cardio and small weights. If I had it my way I would be involved in some kind of sporting activity anytime I worked out, but if I can't do that my favorite thing to do is run outside alongside the water.
I sometimes meet girls who were scouted with such little interest in fashion that they don't know or care how they dress. How would you describe your overall style?
I have to confess I used to be one of those girls. As a tomboy, the last thing I cared about when I woke up was what I was going to wear for the day. It wasn't until I started modeling that I learned to really appreciate fashion. My style is usually determined by the many different factors of life. A few of them include mood, weather, and daily setting. I try to dress according to the occasion, which can be anything from a T-shirt and jeans to a sophisticated cocktail dress. I guess you could call my style "effortlessly chic." 
Do you have any pre-shoot rituals?
The number one thing is definitely a good night's sleep. If I have a job where I will be shooting lingerie or bikinis I make sure to get in a good workout the day or night before.
This industry is full of ups and downs, constant surprises, and constant rejection. What makes the good parts worth enduring the bad?
It is very true that this industry is not as always as glamorous as people make it out to be. Models quickly learn that having thick skin is key. There are both ups and downs of just about any job I think. For me, the best part about being a model is the fact that every day is different. I am constantly meeting new people. Also being able to experience different cultures and see parts of the world I couldn't have ever imagined is truly a blessing.
Do you want to model as your end goal of a career? If so, how will you ensure that happens? What is your dream job as a model?
Modeling is not the end goal of a career for myself, but there are things I want to prove I can accomplish before I am ready to move on to the next thing. It is a great job to make connections, travel, and explore many different interests without the pressure to decide too quickly what I want to do for the remaining years of my life. 
Have you made any good friends through modeling? When you aren't working.. what do you do for fun? What type of friend are you in your group?
There are many people who have come and gone from my life that I've met through modeling. It isn't always easy to make and let alone KEEP good friends in a business that consists of so much traveling. I definitely have my group of close friends that I wouldn't trade for the world. When I have time away from work, hanging with my friends is my favorite thing to do. I would say in my group I am the kind of friend to just "go with the flow." I cherish the little time I get to spend with them, so I am always down for anything we do, as long as we are together.
Give us your top secret skincare regimen. What products are you into right now?
I know it has been said before by every interviewed model, but it's water, water, water! If replaced for the usual sugary drink, you wouldn't believe the glow it gives to your skin. When it comes to products, less is more! I try to use mostly products only containing organic ingredients and the least amount of harsh chemicals. My newest favorite skincare secret can actually be found on shelves at Whole Foods: manuka honey. It differs from other types of honey because of its high concentration of antibacterial and anti-inflammatory properties.You can read more about it here. 
If you could only walk or shoot with one designer/photog for the rest of your life, who would it be?
That is a very difficult question for me to answer because there are so many talented and creative designers and photographers in this industry. With that being said, this will be the only question I won't answer completely. As I already mentioned my favorite thing about this job is that every day is different. If I was told I had to work with the same people and designer for the rest of my career, that would be the end for me. 
How do you dress for castings? Any advice for girls who are starting out? How can they stand out in a pair of black jeans and a black tank?
I never wear anything to castings that looks as if I am trying too hard. Sometimes I think it is important to dress in a similar style to that of the client/designer you will be seeing. If you are unsure of who the designer or potential client is, do a little research on the internet. They want to see that you could possibly be a good fit and could sell their brand. Its always safe to keep it simple with a black tank and black jeans. All you have to do is add some nice, yet not too distracting jewelry pieces and nice pair of heels. Always remember: confidence is key! 
What type of music do you listen to? During a shoot, what song would you blast on repeat if you had creative control?
I can honestly say I listen to just about everything from hip-hop to country to oldies. It depends on my setting and mood I suppose. I prefer to listen to music over watching TV any day. When shooting, I just like anything that's upbeat and I would be dancing along to if I wasn't working. My two favorite songs that I have had on repeat the past couple days are: "Chandelier" by Sia and "Hurricane" by MS MR. 
The no makeup makeup was clearly invented by a supermodel. Any favorite products or tips for a girl who wants to look her best, but also wants to look makeup free?
My go-to "natural yet fresh" tip would have to be a tinted moisturizer. My favorite is by Laura Mercier. It's an amazing noncomedogenic and matte moisturizer with just enough tint to make skin flawless, but still seem effortless. I naturally have dark and long eyelashes so I try to keep mascara to a minimum if at all. I think if you have light-colored or small lashes, accentuating them a tiny bit will help bring out your eyes.
I know modeling makes it so you can't really change much about your look. If you could make some wild change to your hair, piercings, tattoos..what would you do?
I already have more piercings than the average model probably does, but if I could change anything I'd love to try switching my hair to the opposite of my natural color. I've been a brunette my entire life and would have to say I've had a lot of fun, but would like to see if it remains true: "Do blondes really have more fun?" 
Models don't get much sympathy from the world because they are "perfect." It is not cocky to agree-- in fact many girls experience this and it's just as painful as being made fun of. What is your experience with bullying or not fitting in?
I first experienced this in high school. I was discovered at the age of 16 and word got around in a small town in Nebraska that I had been to New York during the summer to start modeling. When I came back to school in the fall, people started to treat me different. I didn't realize at the time it was because of nothing else: jealousy. As a teenager though, I took it quite hard. I didn't understand why, my once good friends, never wanted to hang out anymore. That was the first of many lessons I learned that would come with being a model. There will always be people who judge, stereotype, and assume all the wrong things just because of the way you look. After many years of this though, I see right through those people. I only keep the ones who truly care about the real me and my personality the closest to my heart. Anyone with those jealousy issues have their own insecurities to deal with.
Give some aspiring models some genuine advice! Things you've learned, mistakes you've made, lessons passed onto you, etc.
Modeling is a very cutthroat, and an extremely competitive industry. The faster you develop that thick skin, the better off you will be. It's so easy to take what people say to heart. At the end of the day it is all business. If you didn't get a job you really wanted, it may have come down to something out of your control such as your hair or eye color. Trust me there will different and even better opportunities to come. I am still young and hope to do a little more in the near future, but once you get settled and established in one place it makes it a lot more difficult to do so. Always be professional and kind to those you work with. As big as this city and industry in general is, someone always knows someone important. If you are a diva, word will travel fast! Stay humble!
Clothing: Converse, Garett Leight, Levis, Victoria Secret, TopShop. Hair and make up: Kai Stamps; Photography: Michael Dumler