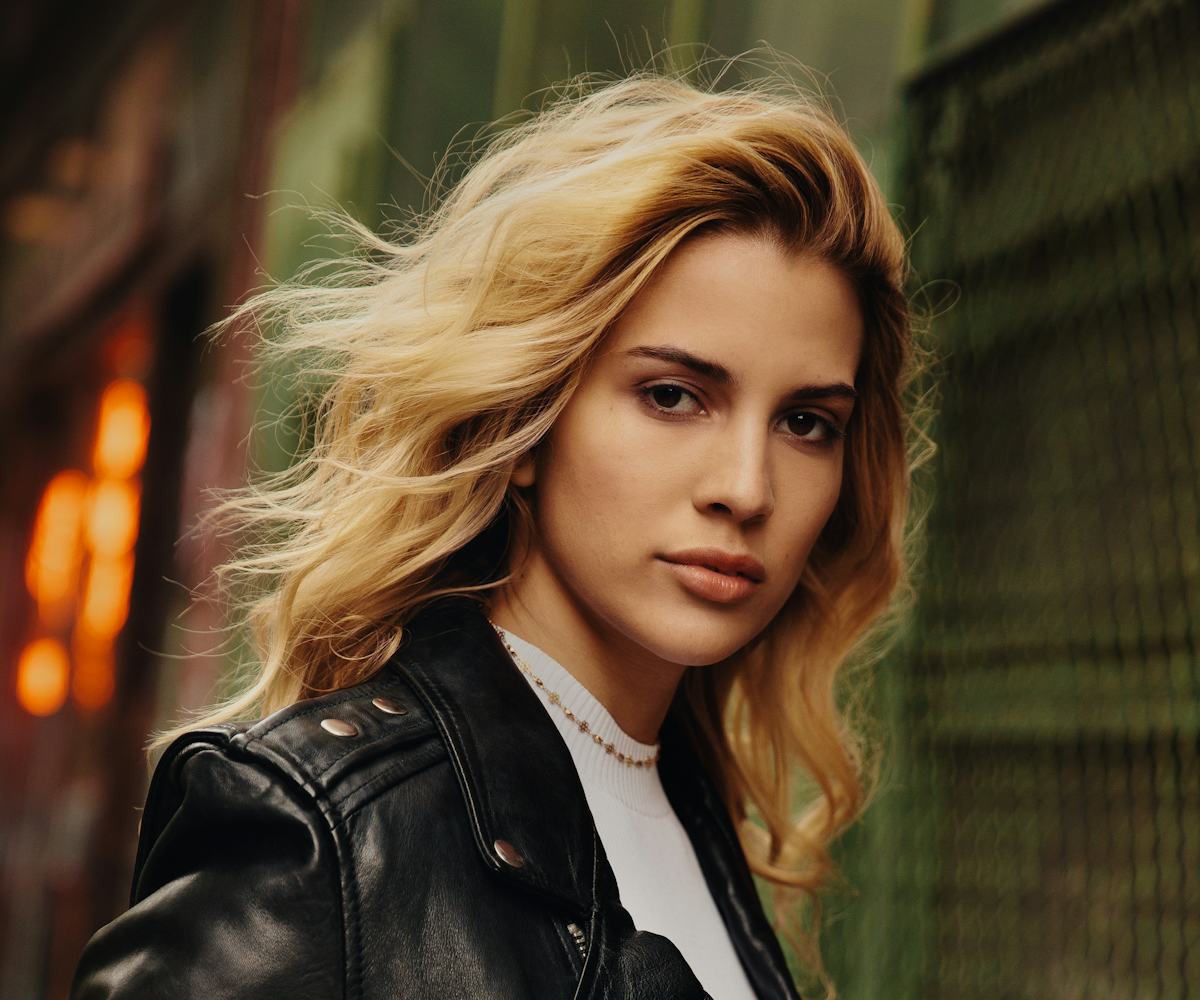 Photographed by David Urbanke.
Get Ready To Fall In Love With Kenya Kinski-Jones
The rising model also advocates for animal rights
The following feature appears in the August 2016 issue of NYLON.
Bruce Weber has shot some of the most iconic images of legends like Yoko Ono, David Bowie, and Naomi Campbell, but few can say that the renowned photographer helped launch their careers. This is an honor reserved for the likes of Kenya Kinski-Jones. 
When she was a teenager, her mom, actress Nastassja Kinski, organized a mother-daughter shoot with Weber in Santa Monica. In between setups, he turned the camera on Kenya and the two began shooting "just for fun." A couple of months later, he recruited her for an editorial in Vogue España. "At that age, you're kind of awkward and shy," the now-23-year-old explains as we take a seat at a tiny café in SoHo, Manhattan. "But that experience sparked a real interest. I'm so grateful; it changed everything for me."
Even though she grew up in Los Angeles, a place where photo shoots with luminaries like Weber aren't an entirely uncommon occurrence, Kinski-Jones seems untainted by all of the drama, vanity, and inflated egos that can come with any sort of spotlight. "Honestly, it was super normal for me," she says of her childhood. "It wasn't glitzy; I grew up riding horses, and I was at the barn every day, dirty, sunup to sundown. That's what I thought I was going to do with my life: be a professional horseback rider."
And while both of her parents are certainly notables—her mother has worked with Wim Wenders, Francis Ford Coppola, and Wolfgang Petersen; her father is famed producer, conductor, and composer Quincy Jones—it wasn't the name-drop-worthy stars in her family's circle that left an impression, but rather the work ethic that she regularly witnessed at home. "My parents were just my parents," she says, glancing down at her menu. "My dad was doing what he loves to do, he genuinely doesn't care about anything else. And that was great to look up to when I was growing up."
Kinski-Jones browses the café's offerings, getting unabashedly giddy over the extensive tea selection. She has a very genuine energy, a vibe that surely helped her land a gig as one of the faces of Stella McCartney's Pop fragrance. Handpicked by McCartney herself as a young woman who represents the importance of individuality, free-spiritedness, and authenticity, Kinski-Jones joined Amandla Stenberg, Grimes, and Lourdes Leon for the campaign, which sought to celebrate these young women as empowering role models. Last year, she also starred in Calvin Klein Jeans's steamy sexting-themed billboards alongside her real-life boyfriend, actor Will Peltz. "The Stella campaign is about the idea of an independent woman, being in a community of girls that support each other for life, and the Calvin ad is about finding your own personal sexuality in modern times," she says. "Not only are those my dream brands to be involved in, but they also have a message of their own."
One of Kinski-Jones's personal messages is the fight for animal rights and environmental conservation. She recently teamed up with Last Chance for Animals—a nonprofit that works to eliminate harmful practices like fur farming, animal testing, and vivisection—to bring attention to the dangers facing endangered gorillas in Africa's Virunga National Park due to poaching, political instability, and deforestation. "It's so easy to act like things aren't going on and ignore it all, but you can't afford to not [acknowledge it]," she says. "Even in small waves, it makes such a difference if people collectively stick together."
Kinski-Jones is continually looking for more new ways to express her creativity. Last year, she graduated with a journalism degree from Loyola Marymount University in Los Angeles, and has designs to try photography next. "Modeling has been redefined because it blends into other jobs," she says, citing Cameron Russell and Karlie Kloss as examples of models who have branched out into other endeavors. "Time goes by so fast, too—the older I get, the more I notice that. Even if you make a fool of yourself, it's so important to go after what you want, or at least entertain your interests. I want to try as many things as possible."
Hair: Eloise Cheung at Kate Ryan Inc. using Oribe. Makeup: Colleen Runne at Kate Ryan Inc. using Dior Addict.