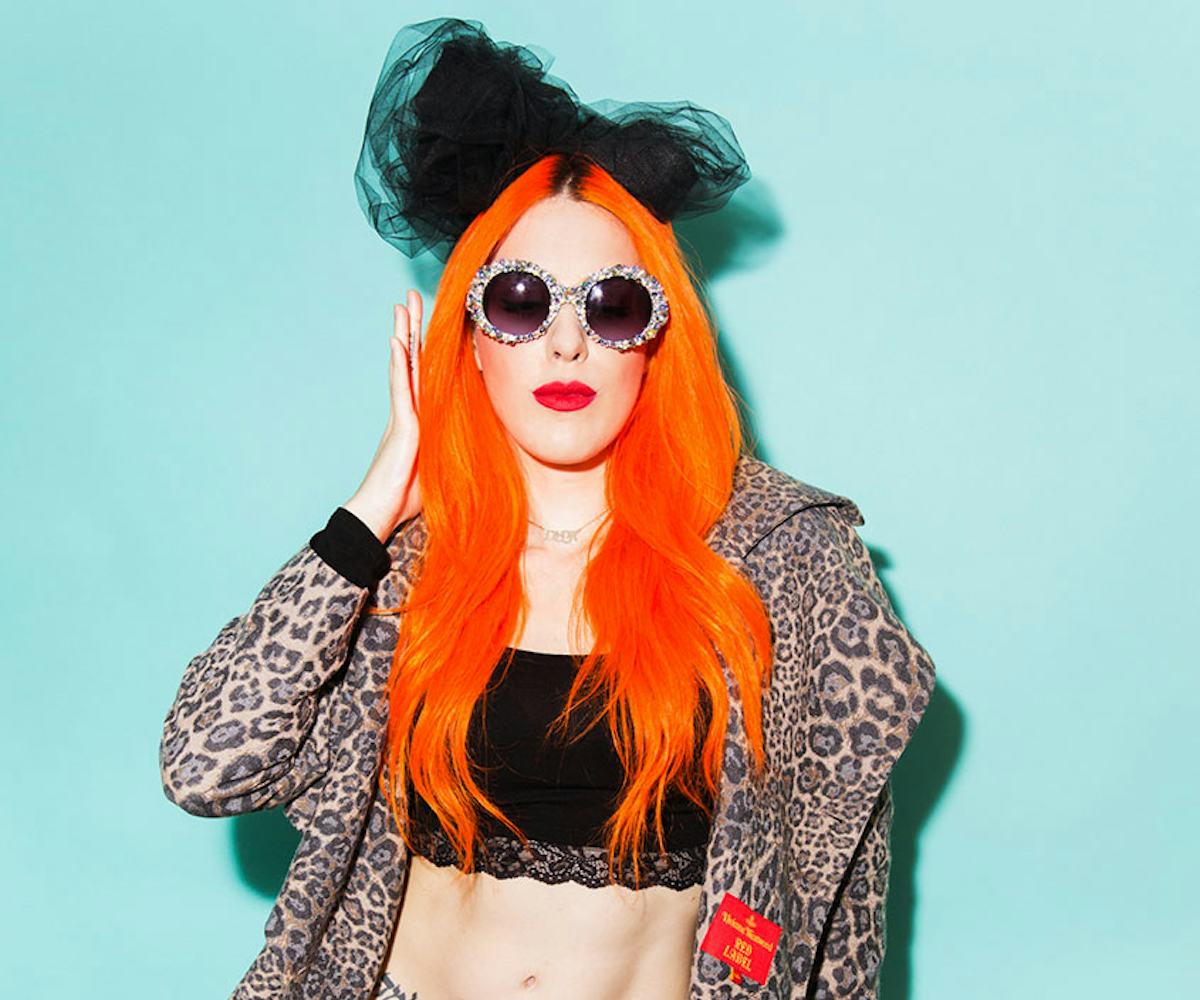 Photographed by Kate Owen
Kerin Rose Gold, Our New Columnist, Explains How To Make A Wild Hair Color Truly Yours
Kerin Rose's Guide To Bedazzling Your Life
NYLON readers, I am so excited and incredibly honored to be one of your newest columnists. I'm Kerin Rose Gold and I'm an eyewear designer, artist, costumer, and professional bedazzler (yes). I founded my eyewear line A-Morir in 2008, and I'm the one responsible for flowers, chains, and crystals on eyewear in the 21st Century. I'm only 32, but I've had some special life experiences, from starting a business to losing an organ, being an international campaign model for a hair-care line, and working with rockstars at record labels in college. I've got a lot of stories. I've also done a lot of work on my "inner self" (or something equally Kumbaya), have learned a lot, and look forward to splattering some word vomit on your screens twice a month. Try not to get it on your shoes.
I've been dying my hair for half of my life. What started off as L'Oreal box-dye jobs of Feria copper and blue-black in high school morphed into Tumblr-worthy My Little Pony rainbow hair in 2003, cloud white and cotton candy pink in 2006, and a copper hue in 2008 that eventually morphed into Home-Depot-traffic-cone-correctional-facility neon orange, circa 2011. I've gotta be honest: I've got good genes. My parents are in their 60s (secret's out, mom and dad!) and have beautiful, luscious, thick-ass heads of hair. Yet, I've still fucked mine to the point where half of it broke off at the root due to over-processing until I amassed the giant hunk of knowledge and wisdom you'll find written below. Yes, yes, y'all, I've managed to solve the mane mystery. Call me Sher-locks Holmes, and read on.
A QUICK NOTE FOR DYE VIRGINS:
Do you have a hankering to try out a blue hue but are worried it won't work with your look? Pining for pink, but have no idea how it will look with your complexion? Before plunking down a chunk of change on a permanent change, do yourself a favor and go to a wig shop. Drop a few shekels on a wig cap, try on a few colors, and take a few selfies. You'll get a gauge for the final result and get a sneak peek at how a mane makeover will affect both your look and your mood.
IN THE SALON:
Schoolhouse Rock was right when they told us that "Knowledge is Power." So do your homework and get your hair done by a professional who went to an accredited school and knows what he or she is doing. Going to a great stylist or a great salon can get expensive for a reason, so if you're on a budget, check and see if they need hair models for training or seminars. The first time I understood that you get what you pay for with colorists was when I had Aura Friedman fix a two-toned dye job for me—she's been winning national awards for her coloring skills since 2000 and with good reason. And once my friend Jeanine Jarman opened a New York outpost of her amazing Los Angeles Hairroin Salon and I started working with the director Luis Payne, the quality of my hair got infinitely better, and I was able to maintain a thicker mane and longer length.
Learning is cool; when you're going to a good stylist, ask questions about what he or she is using on your head, and you might learn something. When I asked Luis to explain what he was using on me, I had what Oprah would call an "A-ha moment." Developer is bleach mixed with hydrogen peroxide and is what lightens your hair; 10 being the least and 40 being the most powerful—and the most damaging. Previously, my stylists had used 40 to lift my dark-brown roots and Luis blew my fucking mind by using a 10 on most of my head to do the same thing. I've had other stylists tell me that it wouldn't lighten my hair enough, and let me tell you; they wrong. It just takes a few minutes longer and is so much kinder to my hair.
Something else that Luis does is he adds the Olaplex Bond Multiplier to my developer, which is another likely reason my hair is noticeably thicker now. Olaplex is a new ingredient that was invented by chemists that "multiplies, bonds, and cross-fixes broken bonds" in your hair. (Blah, blah blah, science, you guys.) This shit works as well as every celebrity and all of the top stylists say it does. Sure, those at-home "split-end repair" drugstore brands make your hair feel great after you use them, but this is the difference between filling a crack in the sidewalk with cement or filling that same crack with toothpaste.
So now it's time to get to the good part: C-O-L-O-R. Everyone asks how I can have hair this bright if its been so processed, but little known fact: It's a single process. Little- to medium-known fact: Most of the "crazy color" hair dyes are vegetable-based, which means that your hair doesn't need to suffer from any more processing once you bleach. This also means that once the color gets put on, you can leave it on for an hour while you catch up on some reading, and nothing bad will happen to your hair. The "big three" dyes are the salon staple Pravana, Special Effects, and my hard-to-find brand of choice and punk-rock staple, Manic Panic. My salon carries every Pravana color, but I find the Special Effects to be a better and brighter orange, so I bring it in myself. If there's a color that you're into, don't hesitate to bring it to your stylist or ask them to order it for you. If this is your first time, do what most women in the late '90s did—bring your stylist a photo of Jennifer Aniston and ask for "The Rachel," except you're bringing in a photo of Nicole Richie, Hayley Williams, or Kelly Osbourne, and saying "THISSSS!"
AFTER THE SALON:
Two questions I get asked almost daily are: How do I keep my color so fresh?, and, Is having dyed hair hard to maintain? This is the MOST IMPORTANT PART OF COLOR MAINTENANCE, in the most all-caps-bold-font kind of a way. This is the secret, and if you take nothing else away from anything I ever type to you, please take this:
Mix your hair dye with your conditioner and use it every time you wash your hair.
One more time for the cheap seats: MIX YOUR HAIR DYE WITH YOUR CONDITIONER AND USE IT EVERY TIME YOU WASH YOUR HAIR.
You can ask your stylist to do this for you (if you're  a pastel, this is your best option for maintaining a light-yet-bright hue), or, if you're like me, you can mix the dye and conditioner directly in your palm just before you apply. My roots are a solid inch long right now and the ends of my hair are so bright, I don't have to mess with the saturation feature when I'm posting an Instagram selfie. 
Here's a winding road of a story with a point: I fell in love with a dog name Cashew (Cashew, you guys!). Somehow, I friended Cashew and her mom, Janice, at the health food store by my apartment, and she asked me about my hair. We chatted a bit and she asked what products I use. I mentioned that I love Moroccanoil but I hadn't bought any in a few months. GUESS WHAT: She works for Moroccanoil and brought me a full bottle AND a hair mask. My hair did a complete 360 after one application, and, no exaggeration, went from feeling like straw to silk. The moral of this story is two-fold: Make friends with your neighbors and moisturize your hair. You know how the number-one trick to beautiful skin is drinking lots of water and moisturizing? Same thing goes for the stuff that grows out of it. Moroccanoil is just fancy Argan oil, and it's my personal favorite; I find it works the best for me. I will also put coconut oil on my hair, but really in and on ANYTHING. Keep the oil away from your roots, and you can apply as much of the stuff as you want. It will be a bit greasy for a few hours, but your hair will eat that shit up and you will thank me for it. It also makes for an excellent alternative with a dual purpose when rocking a sleek, shiny bun. Bonus: It smells DELICIOUS. You can brush the oil through using your normal brush—I have a $12 Sonia Kashuk for Target version of a Maison Pearson brush—which I would put on a birthday or holiday wish list if I were you, because it is the only hairbrush I would ever pay $120 for.
A FINAL THOUGHT:
Unnatural hair color is definitely having a moment. For some of you this piece will hopefully help take your high-octane hair to the next level, and for others it will give you that last little push toward a new pigment. And, of course, there is a huge segment of blonde to black-haired babes who love their "born-this-way" look, have the type of career that doesn't lend itself to unnatural hair, or don't want something so permanent, and that's where a weekend wig comes in handy (I have a black Pulp Fiction bob and some "Turn Back Time"-era Cher hair in my closet). But if blue is for you, if you want to think pink, or go orange (which can't be coupled with a kicky rhyme, but definitely kicks ass on a head of hair), then use all of my secrets to actualize a vibrant and more vivacious you! See you in two weeks!