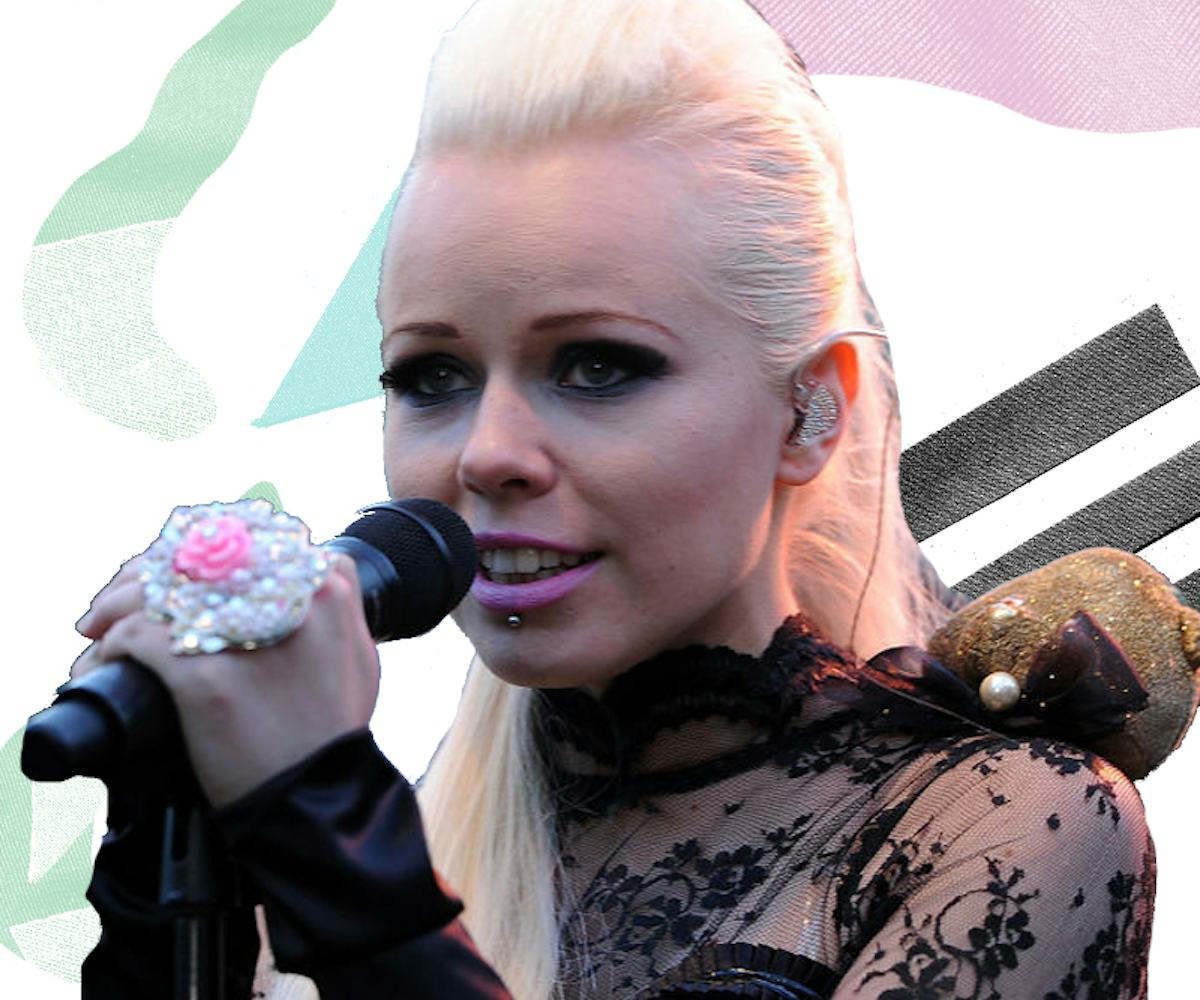 Photo by Frazer Harrison/Getty Images
Get To Know Kerli's Feral Heart
Where nature and art intersect
About 30 seconds into Kerli's stunning "Feral Hearts" video, the Estonian singer takes over the screen wearing a glittery white gown of her own design and antlers she made out of toilet paper and wire. The image is ethereal, alien–like, and not at all a departure from how the singer dresses in daily life. For Kerli, there's absolutely no distinction between her performing persona and her real one.
"I don't have time off," she says at New York's Cupping Room Cafe, raising a wine glass to her silver-painted lips and kicking 14-inch (!) platform creepers. "It's not like I am making art; it's like the art is making me. I'm completely consumed by what I do."
This is a great entrance into Kerli's worldview, where life, work, wardrobe, and artistic creation blur into one. Following her stream of consciousness for a few minutes—not a difficult task, as she invites everyone around her to participate—reveals a truly next-level dedication to passionate and otherworldly living. She basically DIYs everything around her. Last year, Kerli's spirituality called her to the woods of Estonia, where she spent nine months in a cabin alone, recording her new album sans label. The product is due out this fall.
Here, we speak with Kerli about her upcoming music, fashion, herbalism, and her role as Estonia's Ambassador of Untouched Nature.
What pieces of art do you find the most inspiring in your daily life?
Imogen Heap's Speak For Yourself album completely saved my life. And, any incredible woman or girl-power activists.
What drew you back to Estonia?
I left home when I was 16 years old, and I've been living all around the world honing my craft. I lived in L.A. for eight years, then Stockholm, London, and New York. About a year ago, I started feeling a really strong call back to nature. I felt like I had been consumed by the urban, modern rat race. I couldn't find myself in the person I was becoming; so I retreated. I gave up my apartment. I fired everybody. I was like, "I'm done." I was lacking a deep spirituality in my life, so I just quit it. I moved to the forest with two suitcases and lived there for nine months, by myself.
How did living in the wilderness affect your art?
With "Feral Heart" and my next few singles, I had a cleanse. I really found my voice again. It stripped away the false layers. When we live in loud environments, we get blasted with 2,000 advertisements a day and social media and all of these people closing in on you. You start melting. I wanted to get rid of all of that and get in touch with who I actually was. At first it was really, really scary—like a soul death. I was feeling so guilty and worthless and afraid living my life for others. After a few months in the wilderness, I started feeling really, really happy again, because I only had nature and myself. I got rid of my tendency to seek approval from my label and others. Now, my music is more beautiful and more spiritual.
What is it like moving away from a label to total artistic independence? Were there any drawbacks?
Creatively, it's incredible. These days, you can't make art in your basement and think you can feed yourself. You need to be so well-rounded to survive. I think it's great that you can't just be an artist; you also have to push yourself to be a songwriter, a businesswoman, and a producer. In the forest, I recorded and produced all my own stuff and wound up with a finished product. That's the place that I'm at now, and it's really exciting for me because I feel separate from fame culture. I'm testing my resilience and commitment to my creation.
You've been an artist since you were very young. Have you always been so headstrong about your music?
Always. My mom always tells me about this memory of me sitting on the stairs, heartbroken, because I was wondering about death and human relationships. People were like, "What's wrong with you?" And I answered, "Oh, I'm just mentally preparing myself for this hard life that I've chosen as an artist." I knew I'd go to America. That was never a question. When I went to the forest at 28 years old, it was the first time in my life that I was seriously debating whether my dream was my dream. I realized my spirit couldn't exist in the big corporate music business. But I'll always be a musician.
Could you see yourself exploring another passion?
I'm already doing many things: I design my costumes, film video, write... I could do anything. I love food. I really want to go to school for herbalism. Healing plants—that's a really big passion for me.
How did you get so interested in nature and herbalism?
It was through feeling plants and realizing that they are as much alive as human beings are. I noticed that all of them have their own personalities and traits. I really like mugwort. It's a witch plant and a purifier of energy. It's considered to be very important and powerful in the Celtic and Scandinavian tradition. I harvest it for summer. To an urban person, I'm a real herb fanatic. I'm now the Ambassador of Untouched Nature of Estonia, which I take very seriously. Humans take, take, and take from nature and think they don't have to give anything back. It's tragic, really.
What lessons and habits have you taken back with you now that you've returned to the city?
If anything is bothering you, it's just in your fucking head, and it's your job to fix it. All of these petty fears come from failure and not reaching these pre-programmed ideas of achievement. Why are you a failure, because you're following your dreams and not conforming to societal expectations? I've learned to get rid of that mindset and to cleanse my head of that. Also, I don't force anything anymore. I know that my energy falls and rises with the phases of the moon. I rest in the winter. I wake up at my own pace and I blossom in the summer. Life is supposed to be a natural process.