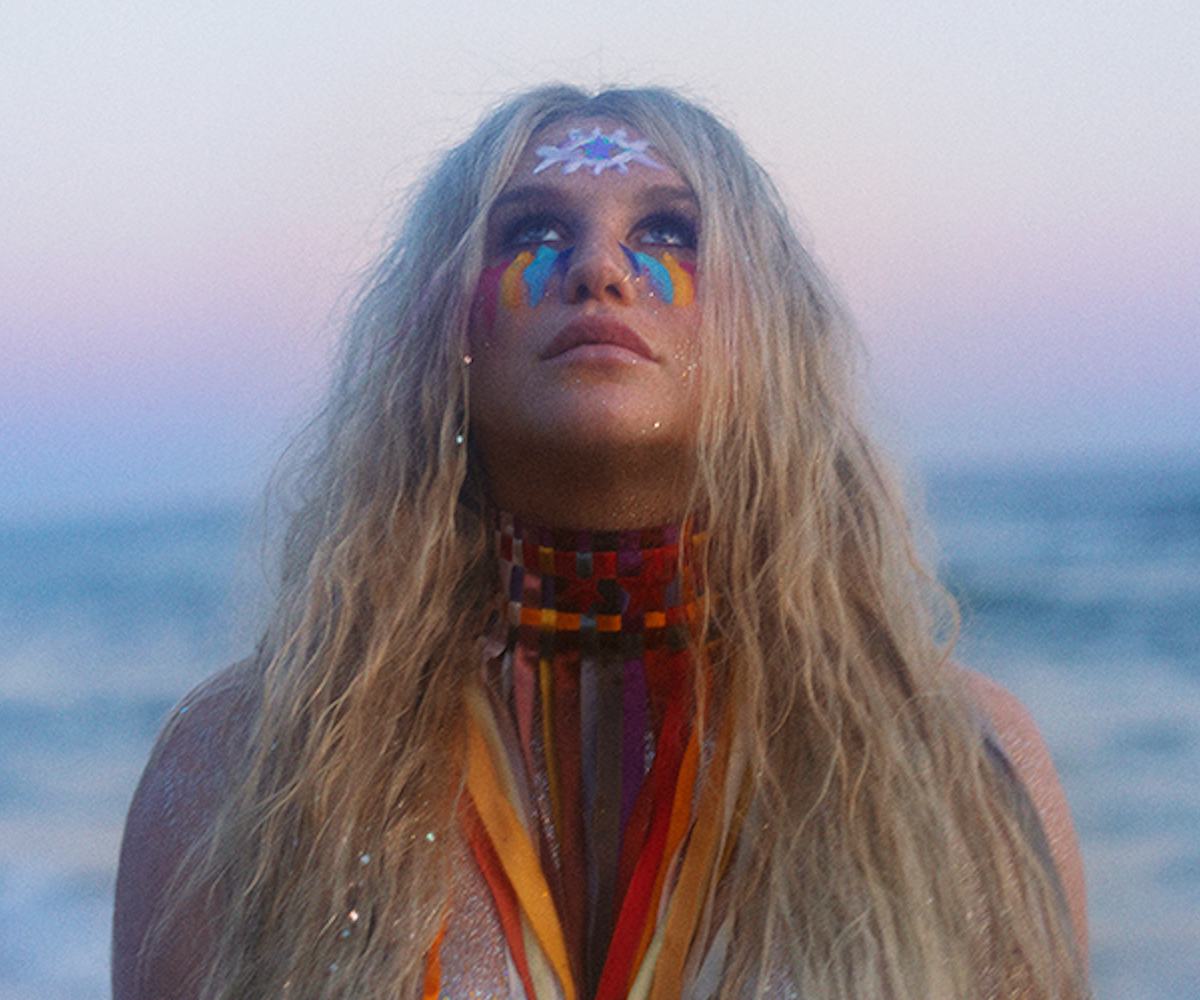 Photo by Olivia Bee
Why Kesha's Live Performances Are Her "Favorite Thing In The World"
"I don't know where anything is ever going to lead"
Kesha is present. After a remarkable year of redemption and a number one album, Kesha's exactly where she needs to be. The chart success of Rainbow is simply the icing on a cake of personal triumphs. "I would not have made it through the last few years without my Animals," Kesha tells us. "I didn't know how people would react, because I wasn't trying to write hits this time around, but I have been overwhelmed at the response, and it just encourages me to double down on this organic and honest style of making music."
Now, Kesha views herself as a "totally new artist," one she's eternally grateful her fans have embraced. Her "most raw and real form" is the Kesha we see today, shutting down Grammy stages and officiating weddings. It's the Kesha that's always been there, of course. It just took time and hard truths to tell (and show!) all. "I'm done with worrying about genres or labels or anyone's expectations other than mine, and it's very liberating," she says. That means continuing to see her vulnerabilities as a source of strength rather than a weakness. She knows that by living that example, her Animals can find the silver lining in their own lives.
Come June 6, she'll be hitting the road with Macklemore for a joint tour called The Adventures of Kesha and Macklemore. "Live performances have become my favorite thing in the world," Kesha says. "The nerves, in my opinion, are a good thing because it reminds me how much I care about every single performance. When my fans and I are singing together, it's a spiritual moment for me." As for new music, Kesha says her main focus right now is celebrating with gratitude. "I don't know where anything is ever going to lead," she adds. "I just can't wait to celebrate with my fans. I can't wait to see where it goes."
Tickets for The Adventures of Kesha and Macklemore are available at LiveNation.com. One dollar from every ticket sold will be donated; Kesha is donating her proceeds to Rape, Abuse & Incest National Network, and Macklemore is donating his to PLUS 1, which advances racial and social justice through the M&RL Equity Fund.