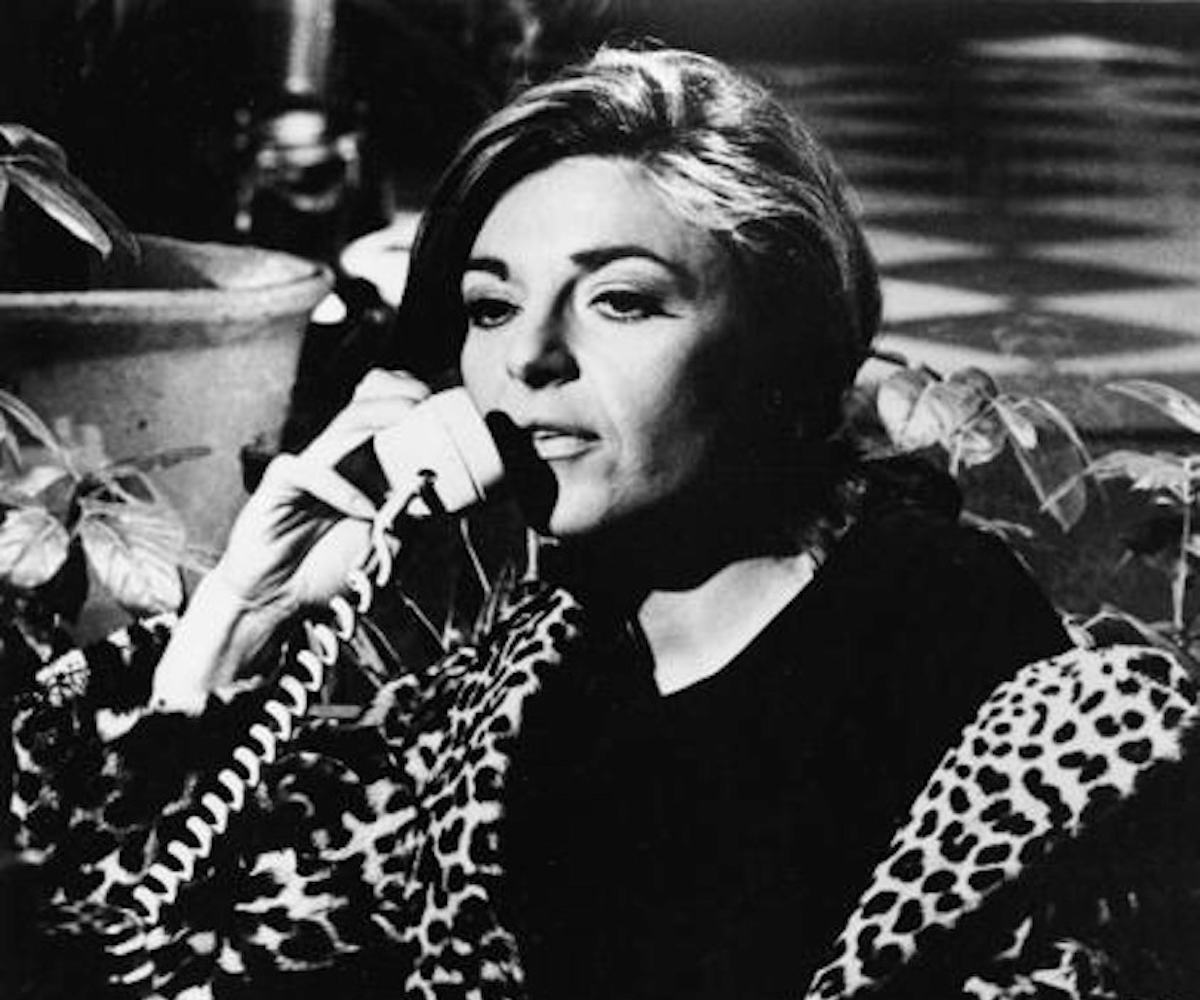 photo via Getty Images
kickin' it old school
respect your elders…and their fashion sense.
As the daily trials and tribulations of life take toll, hearing and collagen dissipate, but style does not. At least not for these of-age gals. Young ones, take a cue.
Maude, Harold and Maude
If you're searching for your waify, depressed soulmate, look no further than your local funeral. Only don't forget your knit turtleneck, vest-skirt combo and oversized yellow coat. Cause nothing says sexy like a confused ensemble, a cheery disposition, and a milkmaid braid.
Mrs. Robinson, The Graduate
Mrs. Robinson wasn't just a ... let's just say "professor-of sorts" to poor little Ben Braddock — she's a style and ethics role model for us all. Here's just some of what she taught us: 
1.) It's okay if your spirit animal is a skunk. In fact, you should embrace this with 
at least
one casual blonde streak.
2.) Be casual—in attitude and in looks. And nothing screams "casual" more than a leopard coat and matching pillbox hat.
3.) As long as you have cat eyeliner and a lacy bra on, you're fully dressed.
4.) Tights are overrated. Wear sheer thigh-highs instead.
5.) As long as you're wearing a gold and chiffon mini dress, it's okay to seduce your daughter's suitor. Well, we're not exactly sure that we completely condone this, but who are we to judge?
Lucille Bluth, Arrested Development
Cheers to the lady who refused to let go of her embellished patterned blazers, broaches, drink, and some good old fashioned lesson-giving. Wink...
Joan Crawford, Mommie Dearest
Contrary to recent revelations, it is possible for a starlet to maintain a high level of aesthetic upkeep while mentally and physically deteriorating. Just start your day off with a light jog through Beverly Hills and an ice bath. Make sure to always keep your walk-in closet stocked with high-waisted flare pants, leather belts and knits that conceal your clavicle. Never be afraid to scrub the bathroom floor in a deep slit gown. And never, ever use wire hangers.
Constance Langdon, American Horror Story
Moral of the story: When dealing with the possessed house next door, you must have patterned shift dresses, silk slips, a cigarette, and a fierce attitude. Because the only thing that 
should be crazier than your backstory should be your out-of-control style.
Maude
Nasty Gal Sun Showers Jacket, $168
Becki Long Sleeved Printed Shift Dress with Collar in Yellow
Topshop Turtle Rib Top in Camel, $30
Mrs. Robinson
Nasty Gal BB Dakota Hazel Coat, $89.60
For Love and Lemons Bat Your Eyelash Bra, $118
EYEKO Skinny Liquid Eyeliner, $16
Zara Lace Pencil Skirt, $79.90
Lucille Bluth
Missguided Annora Yellow Premium Boyfriend Fit Blazer, $62.98
YAZBUKEY Fortune Teller Collection Pin, $116
Zara Dress with Ruffle at the End, $49.90
Joan Crawford
Anastasia Beverly Hills Brow Wiz, $21
Splendid High Slit Maxi Dress, $148
Worth & Worth Provence in Natural, $185
Constance Langdon
Native Rose Patchwork 3/4-Sleeve Shift Dress, $115
KG Kurt Geiger BAILEY Blue High Heel Court Shoes, $185