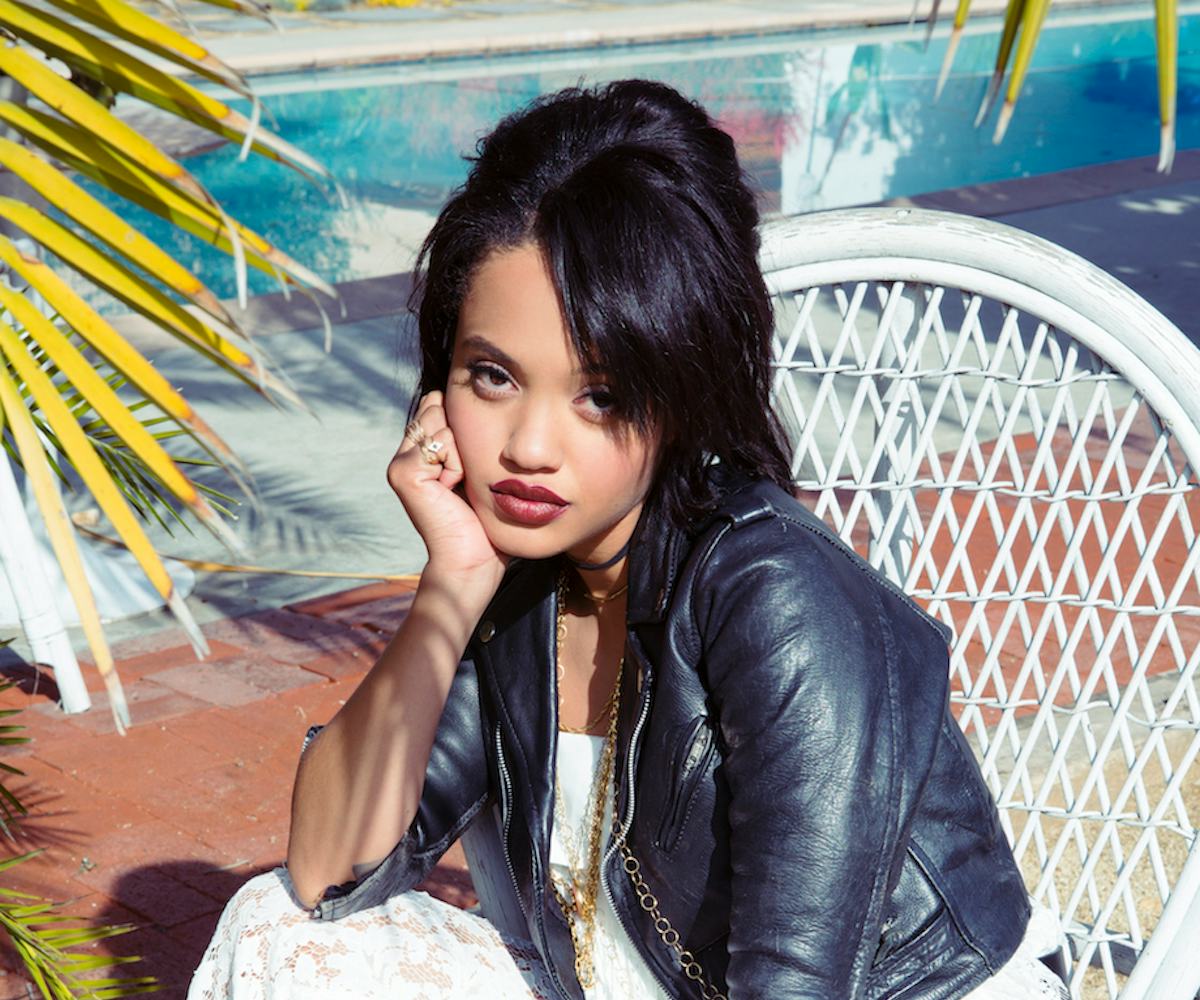 Photographed by Ted Emmons, styled by Sami Miro
How The World Works With Kiersey Clemons
the neighbors 2 actress on learning to love herself, friendship, and valentine's day
Kiersey Clemons enjoys a good laugh. The 22-year-old actress takes her work very seriously, but isn't afraid to pepper most topics with a good belly laugh, be it her current favorite book and dream role (both of which she discovered thanks to a 15%-off sale), slate of recent of genre-gobbling performances (Dope, Transparent, Extant, Neighbors 2, Little Bitches—and those are just the ones she can talk about right now), and views on love, Valentine's Day, and candy (spoiler alert: she's pro). Even when the photo shoot stylist playfully teases her about giving herself a trim the night before the shoot ("It's a weave," she explains, "I just missed my short hair."), she accepts the ribbing with a light-hearted giggle. Sure, life is serious business. But that doesn't mean it shouldn't be taken in good humor.
"I'm not good at buttoning my sentences," she announces to the styling team after a particularly insightful run of thoughts about her love of Target. "I'm so used to people giving me my words. When I start talking, there's literally no rhyme or reason. There's no point—I'm just telling you the thoughts that go through my head."
Cue the laughter. Here's another funny thing about Clemons' good mood: Try as you might, you can't help but join in.
You've done so many different projects, no one can pigeonhole you.
I can do anything! [laughs]
Do you have a dream role?
Looking For Alaska. I really really like it. I'm reading it because I'm hoping I can manifest playing Alaska. Even though she's apparently white, that's okay. It doesn't matter. There was a book that was made into a movie, and one of the people was supposed to be black, but they straight-up made her white. Why can't we do it the other way around if that's what we're doing now? I'm from Florida. I read the book and I feel this. I know the environment; I know what they're talking about.
When you decide what projects you're going to take on, do you pick things that you instantly know you're going to knock out of the park? Or do you try to choose things that scare you a little bit?
I want to feel like I can do whatever the director asks of me. And the definitely there are roles that I loved them and I loved the script, but sometimes you just don't feel like it's for you. That's okay. For a little bit I would let it get me down. I would feel like, 'Oh God! Why can't I do this?' Sometimes it's just not meant to be. It just doesn't…go.
How did you learn not to kick yourself when these situations arise?
You're always going to have insecurities. It's just part of being a human being. We all have them. I think that's what makes it feel better. At least I'm not by myself! At least I'm not the only person who hates myself! [laughs] I have insecurities. I always second-guess myself. I'm a person. People think that because you're an actor you must be so comfortable. You must have figured it all out. Mm, definitely not!
How did you become a cyborg for Extant? I'm seeing a lot of human personality in front of me.
She doesn't make her own choices. Someone else is making them for her. I kind of just stopped thinking and took direction. It was almost like bad acting. But because I'm playing a robot, it makes sense. When I'm acting I have to think thoughts, but she didn't have any thoughts. I just didn't think anything. I'm just saying my minds because that's what she's doing, she's saying things she's been told to say. As the season went on she started learning, so she started to have her own opinion and personality, and that's when I started picking words to make a little more human. One moment she's almost human, the next moment she's heartless. You fall in love with her and then it's, 'Oh God, what's happening?'
Sounds almost like playing a child.
Yes, basically. I've played a lot teenagers and they're not fully formed. [laughs] Which is also cool. I'm young; I'm not fully formed. Are we ever really fully formed?
Last year you were in Lady Gaga's college campus rape PSA "Till it Happens to You." Do you look for social awareness projects?
I did something yesterday for Planned Parenthood. I like that by doing my job I'm able to do things that are bigger than just me. I feel like that's why actors get sad. They turn to drugs and alcohol. A lot of them have depression. They aren't doing anything, they're just entertaining people. It's like, do I have any depth? I'm just a fucking doll for people. I'd rather use that platform to do other things. It's a bigger purpose.
Of course on the other end of the spectrum is your new film Neighbors 2.
I always have to follow whatever I do in that moment with something different. In life, I'm like I have to move. I need a change. Or, I need to cut my bangs. Or I need to get out of this relationship or I need to travel. You just have these urges. It's because we go through cycles. I definitely feel that way. After I did neighbors, I was like, okay, I need in a break. I want to film in LA, I want to be home, because I was in Atlanta. I had been away all year. I want to work on something smaller, because Neighbors was so big. It was amazing, but I let it overwhelm me. I just really get into whatever it is I'm making. We were supposed to be in a sorority. It was a bunch of girls having sleepovers every night. I was just tired! [laughs] Getting no sleep.
After it was like, okay, I think I should calm down for a second. Not in a bad way. It was just, okay, I don't want to keep doing that. I need to take a little break. I'm just going through a cycle. So I did an independent. I just finished it. It's a high school film called Little Bitches.
Did you have a traditional high school experience?
Kind of. I went to high school my freshman and sophomore year. And then I was homes cool my junior and senior year. I went to prom twice. Both times I was fucking bored. And it was stupid. I could so do without prom. Why waste money on dresses? It was just not fun. The first one, it wasn't my prom, so I don't know anybody. So that was a bummer. The second one, everybody was just on drugs! There's no way for me to sugar coat that. I was like, 'what is happening right now? I thought we were looking cute.' It was ridiculous. I was so confused. I remember feeling like I was in the twilight zone. I was like, 'alright, I'm going to leave now.'
I'm so excited about Little Bitches. It's so great. The director called me when I was finishing Neighbors. I read the script and fell in love a little bit. I normally avoid scripts like that. About girls in high school. The mean girls. I just always think those scripts are so cheesy. But he nailed this one on the head. It's so raw and great. We talk about everything from masturbation to uncircumcised penises. It's so great. We're asking all the questions that my seventeen-year-old sister asks me.
Do you keep in touch with your friends from elementary/middle/high school?
I'm always in touch. I don't have many friends from then, so the few friends I do have now I'm constantly speaking to. I do Taco Tuesdays, and I always have the same five people. One day I was really excited about Taco Tuesday. I ran into a couple of people that day and invited them all to Taco Tuesday. They were all at my house and I was sitting in the corner thinking, 'I can't do this!' I get incredibly overwhelmed. I always think about everything I say right after I say it. Fuck, why did I say that? I just like to be comfortable with four people. Safe and not have to second-guess myself. It's nothing personal. I don't want other people to take offence to it. Those are my problems, not yours.
When you look at everything you're doing right now, what's making you the happiest?
Maybe Hollywood is changing or something, and I just have good timing, but I used to feel like the projects that I wanted, I didn't know if they could see me doing it the way I saw myself doing it. After we filmed Dope I felt differently about that. They believed in me, so maybe other people can see me doing these things. I just kind of did my thing. All I can really do is do my thing. People eventually hop on the train. They get with it. People eventually see it. I don't know, I don't know how the world works dude! [laughs]
What's your favorite Valentine's Day candy?
I like the little hearts. The ones that say cute things on them like "be mine."
If you could create your own line of personal Valentine's Day heart candies, what would be written on them?
"Be mine or else!"
If you consult your Magic 8 Ball about this year's Valentine's Day, what will it say?
I would hope it said "ask again later" because I'm always waiting for a surprise on Valentine's Day.
What romantic heroine would you want to give advice to? What would you tell him/her?
I would tell Carrie Bradshaw to stick with her friends because Mr. Big is going to let you down, but make up for it tomorrow like he always does.
What is the second most romantic day of the year?
I think New Year's can be incredibly romantic if you have the right someone to kiss at midnight.
What drew you to BNKR & their Australian brands?
I don't know if I believe in love at first sight, but it did feel like lust! I love the way BNKR clothing falls on the shape of my body.
C/MEO Collective Shine On Long Sleeve Top in 'Gold,' $165, available at Fashion Bunker; C/MEO Collective Shine On Short in 'Gold,' $165, available at Fashion Bunker; Jaggar Transcendence Heel in 'Natural,' $215, available 2/15/2016 at Fashion Bunker; Jacket, socks, and jewelry, stylist's own.
Photographed by Ted Emmons, styled by Sami Miro
C/MEO Collective Perfect Lie Dress in 'Pink,' $190, available at Fashion Bunker; C/MEO Collective Crossing Paths Pant in 'Mosaic,' $200, available at Fashion Bunker; Jaggar Memory Heel in 'Mustard,' $210, available 2/15/2016 at Fashion Bunker; Jewelry, stylist's own.
Photographed by Ted Emmons, styled by Sami Miro
Keepsake Dreamland Bodysuit in 'Ruby,' $129.95, available 2/15/2016 at Fashion Bunker; Finders Keepers High Sea Pant in 'Burnt Orange,' $150, available at Fashion Bunker; Jaggar Responsive Heel in 'Mustard,' $195, available 2/15/2016 at Fashion Bunker; Jacket, jewelry, and glasses, stylist's own.
Photographed by Ted Emmons, styled by Sami Miro
C/MEO On The Way Halter Knit in 'Grey Marle,' $200, available 2/15/2016 at Fashion Bunker; Keepsake In Motion Skirt in 'Embroidery/Pale Grey,' $200, available 2/15/2016 at Fashion Bunker; Keepsake Heirloom Coat in 'Pale Grey,' $350, available 2/15/2016 at Fashion Bunker; Shoes, jewelry, stylist's own.
Photographed by Ted Emmons, styled by Sami Miro
Keepsake Stand Still Lace Top in 'Ivory,' $160, available 2/15/2016 at Fashion Bunker; Keepsake Stand Still Lace Pant in 'Ivory,' $180, available 2/15/2016 at Fashion Bunker; Jaggar Altered Block Heel in 'Black,' $201, available 2/15/2016 at Fashion Bunker; Jacket, jewelry, belt, stylist's own.
Photographed by Ted Emmons, styled by Sami Miro