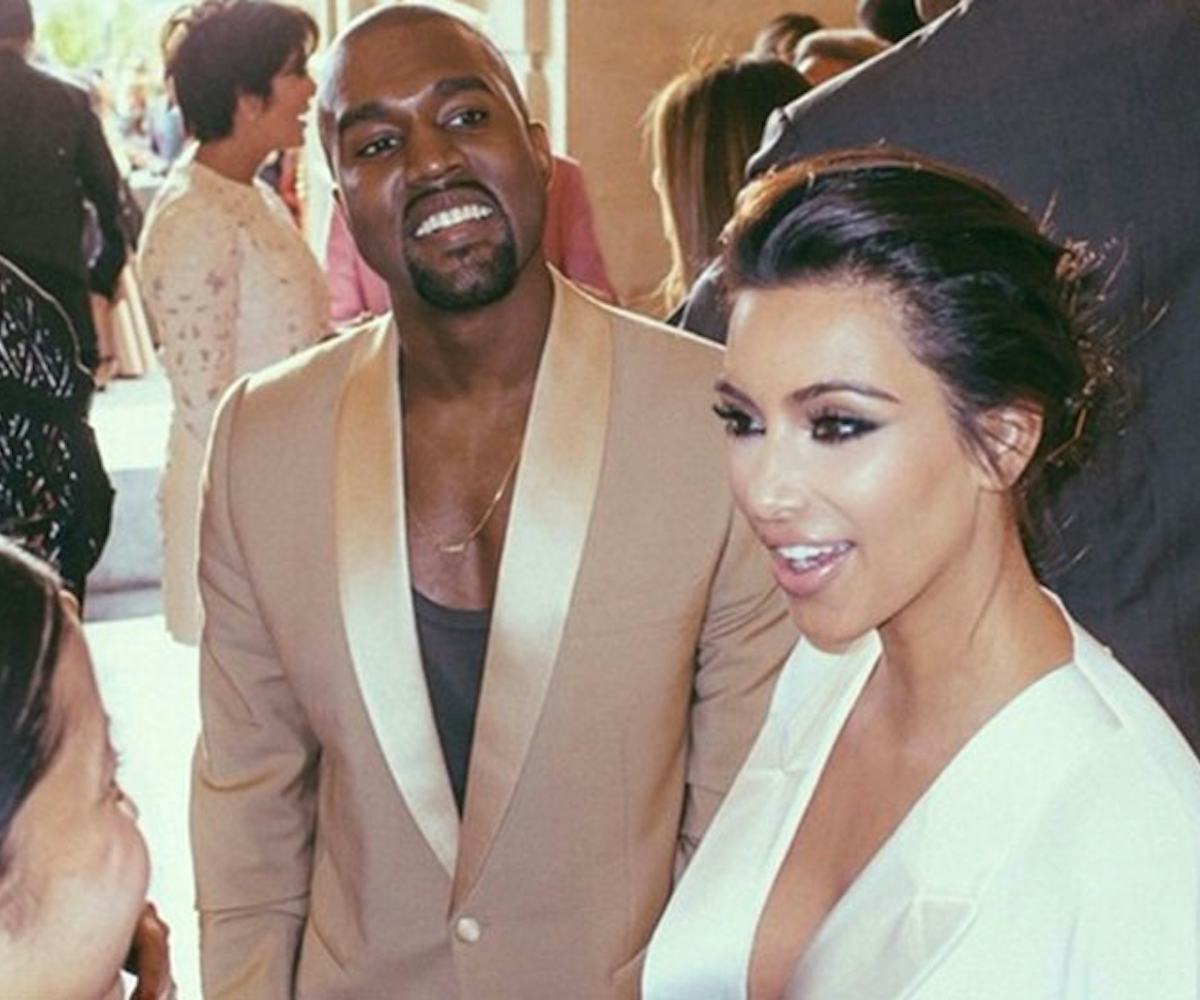 photo via @kimkardashian
kim kardashian shares never-before-seen wedding photos
kimye is officially one year old
Today marks the one-year anniversary since Kim Kardashian and Kanye West tied the knot in Italy at Forte di Belvedere. Kim went wild on social media last night making it hard for us to forget the epic occasion. On Twitter and Instagram, she posted a number of never-before-seen photos from the rehearsal dinner at the Versailles Palace. We're experiencing some serious FOMO looking at the pictures of her with Lana Del Rey, Valentino and, of course, her then soon-to-be hubby Kanye.
Rumor has it we may have more Parisian pictures soon. Us Weekly revealed that Kimye will renew their vows at the Eiffel Tower, which apparently West rented out as well as the 58 Tour Eiffel restaurant. What can't this guy get for his bride? We're just waiting for him to purchase a country and name it "The United States of Kim." (Selfies would totally be on the currency.)
So, if you're not having your own fancy holiday getaway, you can at least live vicariously. Thanks for the memories, Kim!
"Then we danced all night in the rain"
"Fairytale"
"Kisses"
"Bae in Paris"
"Welcoming speech! #Versailles #OneYearAgo #WeddingWeek"
"Lana"
"Happy"
"Group shot! #WeddingWeek #1YearAgo #BestWeekOfMyLife"
"Pulling up to Versailles a year ago"
"Memories from Versailles"
"Seriously! @realmrvalentino @francasozanni1"
"Stepping into Versailles both in Margiela"
"Just a little stroll thru Valentino's garden #WeddingWeek #1YearAgo"
"The day before our wedding @andrelalley @privategg and @RealMrValentino threw us the most amazing brunch to celebrate & we are forever grateful for these memories! This was the best week of my life!"
We had to include two throwbacks from Kim's Instagram…
Never, ever forget this moment.