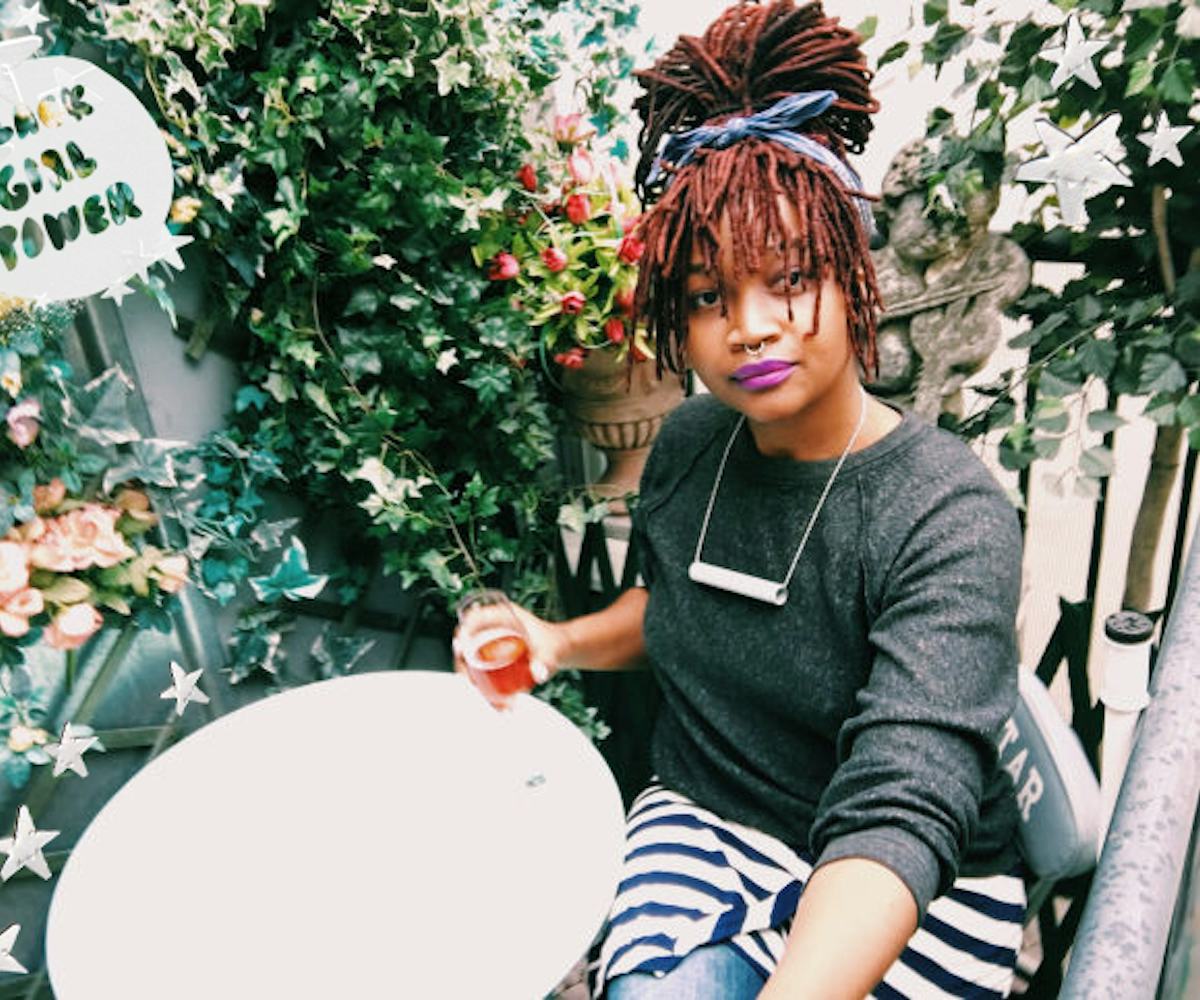 Photographed by Kimberly Drew
Kimberly Drew Is Saving The Black Contemporary Art World
while working at the metropolitan museum of art
In celebration of Black History Month, NYLON is running a spotlight series called Black Girl Power... The Future Is Bright. Every day, phenomenal black women from different industries will be featured to tell their stories—revealing how they became who they are, showing what they have accomplished, and pinpointing how they navigated their careers. Black women deserve to be celebrated 365 days of the year, and we hope that this series will inspire everyone to believe in the power of #blackgirlmagic. 
Kimberly Drew holds the honorary title of associate online community producer at The Metropolitan Museum of Art. She's also the founder of Black Contemporary Art on Tumblr, and recently launched a hybrid research project with The New York Times journalist Jenna Wortham called Black Futures. Through this juncture, the two are essentially "documenting contemporary blackness in the post-digital age." 
When she was an undergraduate student at Smith College, Drew started her Black Contemporary Art blog. "Through my work on the blog, I was able to establish my own digital institution," she says. "By the time I started my first fellowship, I already had a core set of professional skills and had carved out a voice for myself."
Drew has managed to accomplish all of this in the art world, and she's only 25. That said, this is only the beginning of Drew's venture. Every day, she continues to build her platforms in the digital space and connect with more creatives on the Internet. Learn more about this tech-savvy creative in the interview, below.
How do you maneuver your industry as a black woman?
Charting a viable career path in the art world can be a daunting task, especially for people of color. I think within any industry, in our post-digital world, young people will find the most success employing technology to realize the things that they'd like to see in the world.
Growing up, where did you look for inspiration? Who or what inspires you now?
Kelis has been my hero for most of my young adult life. Growing up as 'the weird kid,' I found solace in Kelis' music and have been so inspired by her since then. Now, my peers inspire me. I'm lucky to have friends that are all so wonderful. I know doulas, dancers, filmmakers, archivists, and others who are all trying to make the world a better place.
Could you describe a moment where you felt like you defied the odds or broke a barrier?
Luckily, I have not had many moments where I feel that I've defied the odds. In my field, my peers and I inherited the art world from a number of diligent people of color, the great majority [of them] women, who kicked down a lot of doors for us. There is a lot of work to be done on the path towards equity and representation, but I feel like I'm receiving the torch more so than lighting one myself. It's a unique gift that I cherish every day.
How did you grow into your black identity?
Blackness, like the heart or brain, is a muscle. Being black in America is all about finesse, flexibility, and endurance. As an independent researcher, I am always giving my blackness a rigorous workout. I work to find new information that can strengthen my knowledge and understanding of black history. My blackness is always in a state of maturation.