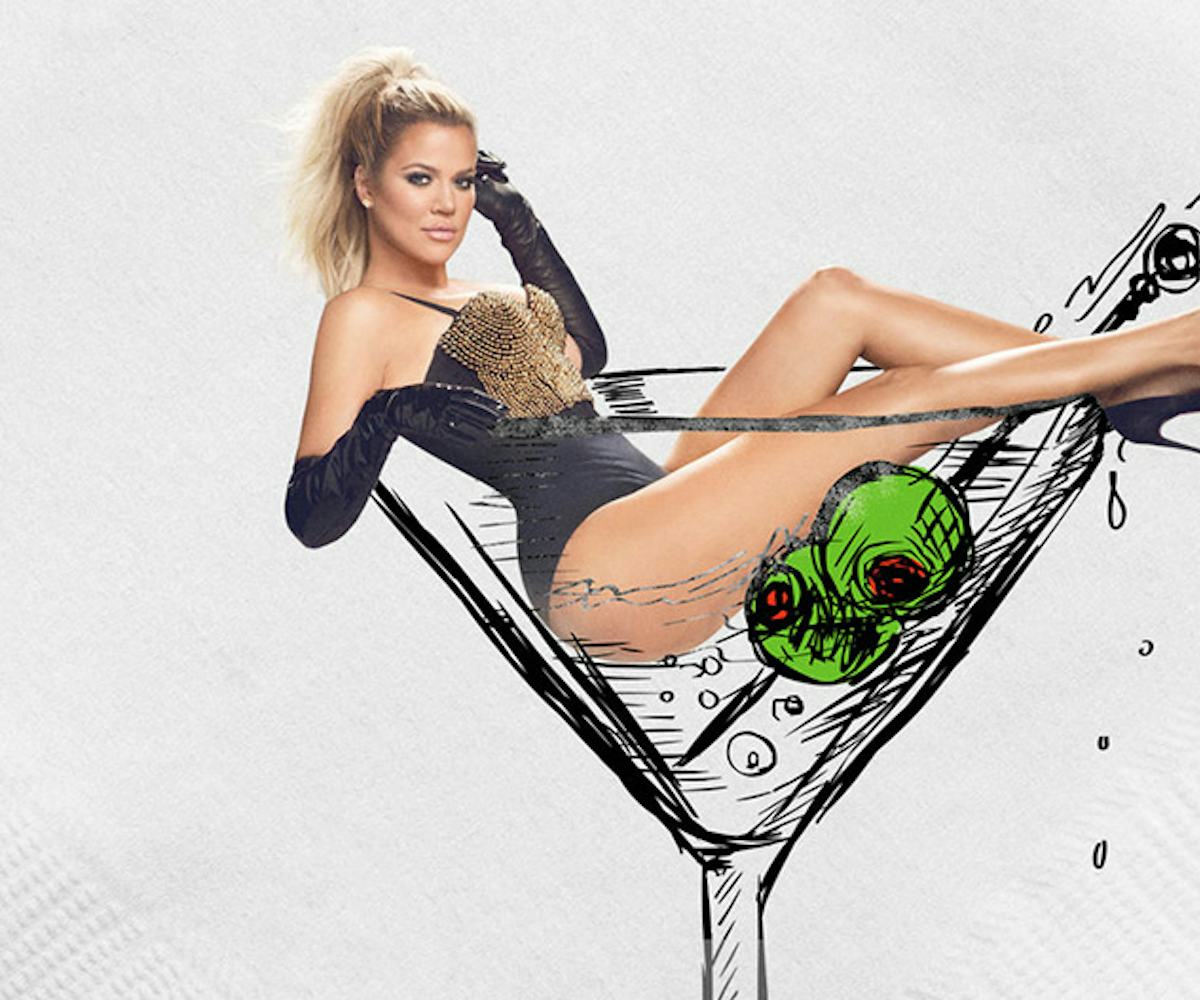 Photo courtesy of FYI.
Did Khloé Kardashian Accidentally Make The Best Show On Television?
'kocktails with khloé' is fascinating
Khloé Kardashian is thriving. Her new show, Kocktails With Khloé, was FYI's most watched premiere to date. Its premise is simple: Khloé invites her famous friends over to her "house" for cocktails and conversation. It sounds so prosaic, but after watching it for the first time last night, things do get exciting. 
Where KUWTK and its various spinoffs feel scripted, KWK feels relatively unhinged. Sure, the guests aren't called-up on the spot, but what happens after they set foot into Khloé's "living room" and are handed a cocktail from a nice-looking man is anyone's guess. Just last night, Khloé managed to discuss Kylie Jenner's future babies, Nicole 'Snooki' Polizzi's "tiny" genitals, Kourtney Kardashian's foray into vibrating underwear, Caitlyn Jenner's transition, Wiz-Kanye beef, David Bowie, and interning for Puff Daddy. Like Kim's book of selfies, nothing ever dips below surface level fodder. The anticipation that one of her guests might let slip something a little taboo, however, is what fuels the show. It plays into our collective society's outrageous want to be among the glitzy and famous while simultaneously pining for some sort of atrophy. That will never happen, though, because the Kris Jenner Machine is impenetrable when it comes to PR nightmares. 
Still, Kocktails With Khloé is a riot. Like her recipe for what is essentially a vodka soda that she so fascinatingly outlined in her book, or Kourtney's six tips for eating a Kit-Kat bar, it's modern day pop art. What's the difference between watching Khloé & Ko. sip alcoholic beverages (or Coke, if you're Kylie or Kendall) on TV and watching Andy Warhol eat Burger King for four minutes? It's the one famous person party we're all invited to. Calamity or not, Khloé's found a formula worth sticking around for. We'll cheers to that.