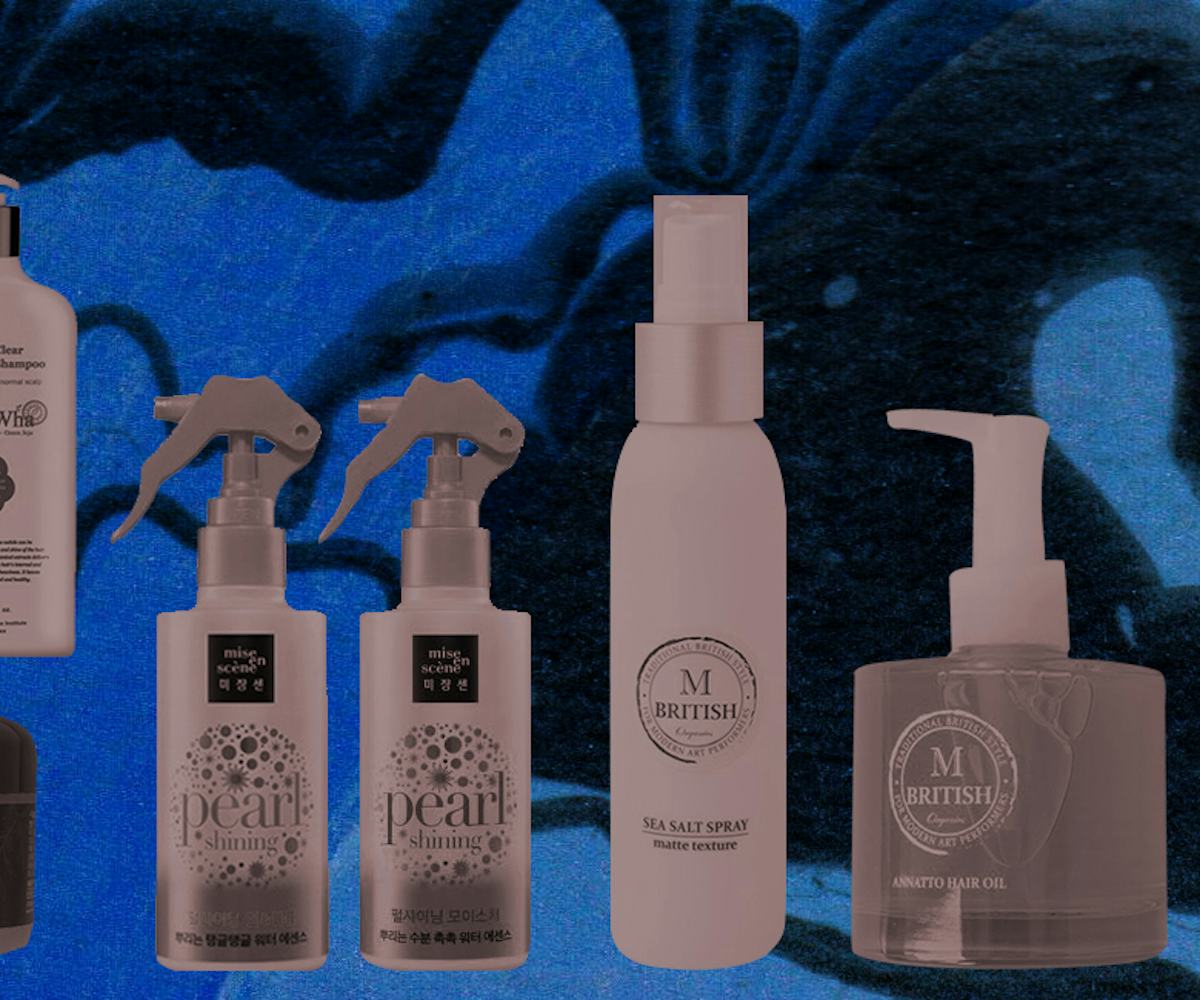 What You Need To Know About Korean Hair Care
Spoiler: The approach is very similar to skin care
When we think of Korean beauty, the focus is typically on the sheet mask and essence innovations coming out of the country. But, now that K-beauty products are pretty much a staple in the cosmetic world—and stocked everywhere from CVS to Sephora in the U.S.—it might be time to extend our interest into another area of beauty that the country does really well: hair care.
"Korean women's approach to hair care is similar to how they take care of their skin. Every step they incorporate into their routine is purposeful and effective," Charlotte Cho, founder of Soko Glam, says. The market is mostly untapped as of now, but Cho believes it has the potential for real growth—especially given the unique approach. 
We've preached the importance of paying attention to the health of your scalp before, but Korean hair care makes it a focal point. "Hair styling products are less of a priority as it's all about scalp health, which is why when you go to a salon, the first thing they do is give you a scalp massage. Scalp massages are an expected service, not an add-on," Sarah Lee, co-founder of Glow Recipe, says. "The idea behind this is that if you have a clean, healthy scalp, your hair will be healthier and shinier, as well." It's important to start off with a clean foundation. "If your skin looks good, your makeup will look better, and if your scalp is healthy, your hair will look better, too," Lee explains.  
Similar to Korean skin care, hair products focus on hydrating and nourishing the scalp rather than "exfoliating" or stripping it of moisture, Sheryll Donerson of The Wanderlust Project explains. One way they do that is through oil cleansing. She outlines:
Some women like to use an oil cleanser for the scalp to remove dirt and buildup product, just like removing makeup with an oil cleanser; then washing hair with a regular shampoo, which acts as the foaming cleanser step; using a conditioner and sometimes a deep conditioner—there are even sheet masks for hair now!—then all of the styling products act as the serums and oils to seal in all the moisture.
Cho reiterates that oils are a big deal in the Korean hair care world. As are hair essences. "Back in 2016, when I was dealing with fried, over-processed hair, every hair stylist I visited in Korea ended up lecturing me after I shared that I didn't use hair oils or hair essences daily," she says. "According to my hair stylist, Korean women use a hair essence or oil every single day, which is why they have such silky, soft, and shiny strands." A personal favorite for Cho is British M's Organics Annatto Hair Oil, while Lee is a fan of the Mise en Scene Pearl Shining Hair Essence. 
Another priority for Korean hair care products are the ingredients, Donerson says. Brands focus on using herbal and floral extracts to promote scalp and hair health, which can be a bit off-putting for us Americans who are used to pleasant scents. But, we're going to guess that most women would be willing to sacrifice scents for enviable hair. Donerson says: 
A lot of Korean products focus on using tons of herbal and floral extracts to promote scalp and hair health. The only somewhat-negative thing I can say about Korean hair care is that the scents aren't particularly pleasing, due to the herbal extracts. Western consumers loooove super floral-, fruity-smelling hair care. 
Also, don't discount the products if your hair isn't straight with little texture like most Korean women, she adds:
I know that most people assume that since most Asian hair types are vaguely the same, the products won't work on a variety of hair types, but I've definitely found success in a number of products. Anything that was labeled hydrating, moisturizing, or really any of the hair masks and hair oils really worked well for me.
Some of her favorites include the Vitabrid Scalp Shampoo, which she describes as "easily the best shampoo I've ever used," as well as the Skinfood Argan Oil Silk Hair Mask and the SanDaWha Camellia Clear Moisturizing Shampoo and Conditioner. "The main ingredient in both products is camellia oil, which is known for being an amazing oil for those with curly, dry, and frizzy hair," she says. 
It's still unclear when or if the Korean hair care market will explode to the extent skin care has. But the potential is there, and so if it does blow up, you'll have a head start on what to buy.