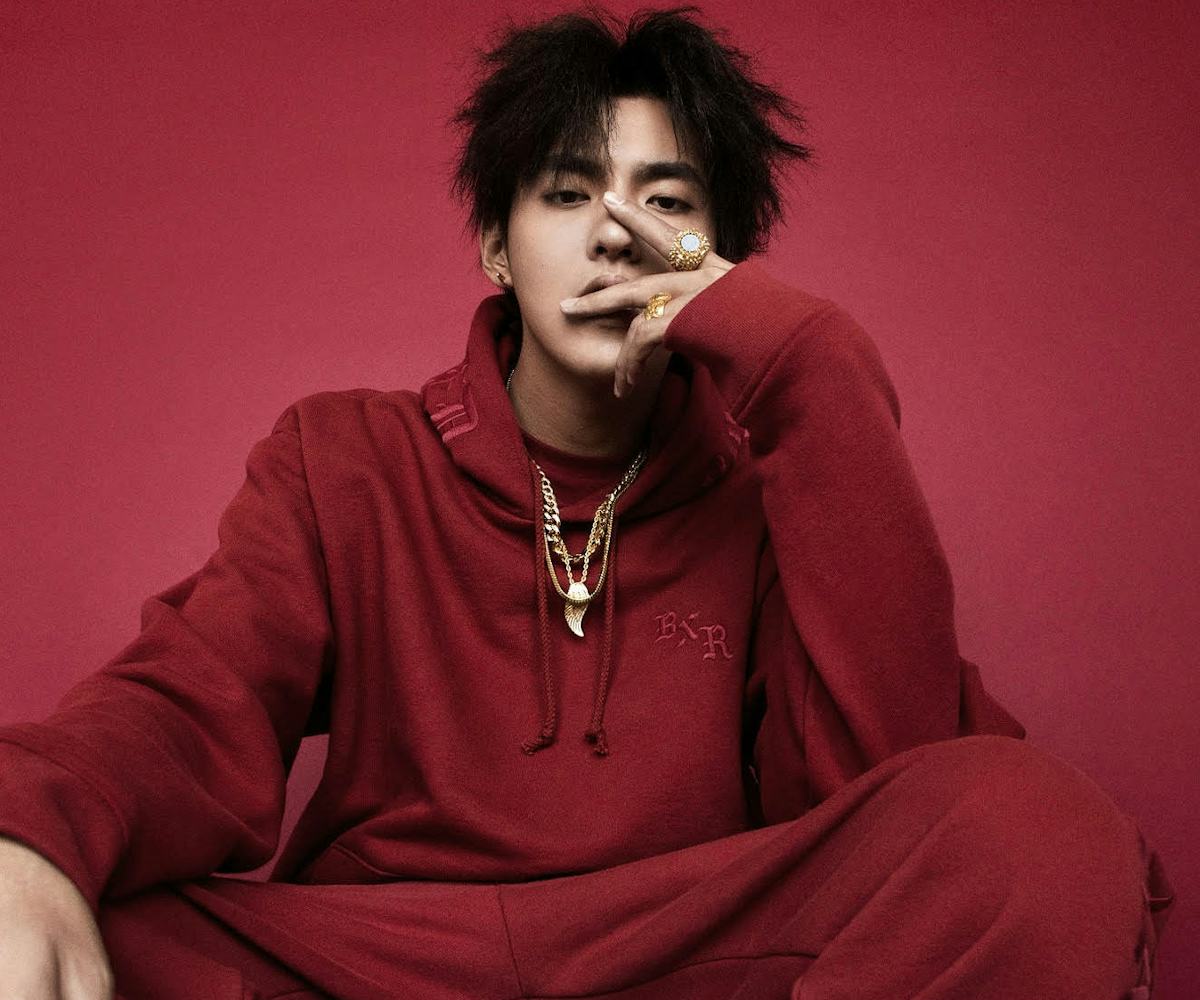 Photograph by Kenneth Cappello.
Kris Wu Wants To Be The "Jackie Chan Of Music"
"I'm trying to bridge the East and West with my music"
Kris Wu wants to prove to the world he's more than just a superstar in China. With a cult-like following, the Chinese-Canadian artist aims to perfect his craft and become a mainstay in the realm of R&B and hip-hop. And he's well on his way: His most recent single "Like That" made him the first Chinese artist to hit the Billboard Hot 100, securing the No. 73 spot.
Being a former member of Chinese-Korean boy band EXO, Wu is no stranger to crooning melodies and flexing his vocals. And, at the end of last year, the 27-year-old became the first Chinese artist to land the No. 1 spot on the U.S. iTunes Chart with his collaborative record with Travis Scott, "Deserve." The crazy part is… he's just getting started.
Below, we talk with Wu about his unique sound, what it was like to work with Pharrell, and how he wants to become the Jackie Chan of music.
For those who don't know, who is Kris Wu?
I'm an artist. I do urban music. I produce. I write. At the same time, I come from China. I'm trying to bridge the East and West with my music.
How would you describe your sound?
I'm very familiar and comfortable, and I get super-creative with melodic-style rapping. That's kind of what I love and enjoy the most. So a lot of my sound is going to be in that alley, like that one that just came out, "Like That," and the one with Travis Scott last year, "Deserve." At the same time, there's going to be some diversity. I have this album coming out that we're planning to drop later this year. On the album, people can expect different types of sound. Still in that alley, but I have a couple songs that I incorporate Chinese [into], whether it's in the melodies or lines in the songs.
You've already worked with some of hip-hop's hottest artists such as La Flame and Trippie Redd. What other features can we expect from your album?
I can't tell you exactly who yet. I can say this though: I didn't want a feature-heavy album, because this is my first official project. So I want to make sure people get to know who I am first, and my sound. For the ones that I've been talking about, like with Pharrell, I do have something coming with him. And he's actually the person who inspired me a lot. He told me to put the songs out in Chinese. He said it'd be really dope.
How'd you link with someone like Pharrell?
We did an event in China together, last year in Shanghai. It was a big event, and we performed together. Basically, he wrote a song for that event, and then he wanted a feature. Someone who's Chinese, that can write and spit in Chinese. And then I just hopped on the track. While we were working on that, he was like, "Oh, do you want to check out some more beats?" I was like, "Of course."
What was that studio session like?!
It was crazy. I still can't believe it. I was nervous! Before I stepped into the room, 100 percent I was really kind of anxious, whether he'd like my music or not. 'Cause obviously he's worked with so many great people, so many great artists. So I was just trying my best to get the best out of me, and hopefully, he likes it.
Can you talk about being a superstar in China? How does the States compare to your hometown?
Culturally, it's very different. I get a lot of attention when I go outside in China, so I tend to just stay at home. Sometimes it can be very chaotic. But it's cool because obviously there are so many people that are supporting me out there. And my face is all over the streets and somewhat everywhere. So I kind of just have to stay low-key. Out here, I get to actually be normal, I guess, and live a normal life. I can drive around and walk around. I just kind of have to avoid areas like Pasadena heavily.
Because of the Asians?!
Mmmhmmm. Yeah. When I'm around these areas [Mid-city], I'm usually fine.
I feel like you're so humble and I really can appreciate that, honestly.
Thank you. Yeah, I just want to keep it real. Because a lot of people, when they talk about hip-hop and this whole industry, everyone wants to kind of show they're dope or whatever. I just keep it real and be myself. I come from a different culture. I didn't grow up on the streets or anything, so just keeping it real. And I think being humble is really one of the greatest parts of Chinese culture. Because my parents growing up, they would tell me to be humble. And everything will work out.
How did you start out?
I started out doing a Korean boy band. And then I moved back to pursue my solo career.
What's been the most difficult part of transitioning from boy band to solo artist?
I would say time. I'm just so busy, schedules and everything, and traveling back and forth. A lot of times, I just have to really make time and really push things aside for my music. And it doesn't happen all the time, because I can't just stop working. Obviously, there's so much stuff going on and people hit me left and right every single day, asking me to go to this event or do this or that. And do this movie and do this TV show. So it's really a matter of figuring out what I have to sacrifice in my schedule to make time for my music.
What do you do for fun?
I love cars. I'm a super car enthusiast.
How many do you have?
I have like 10 cars, in a short amount of time too.
That was one of my questions, what did you do with your first advance? Was it a car?
No, it wasn't! I remember that clearly. When I got my first big paycheck, I went to a high-end fashion store and copped some dope gear for myself. 'Cause I love fashion, too. And cars I kind of got hooked on recently, but I know I had a passion for cars ever since I was a kid.
You've collaborated with a bunch of brands, including Burberry. Can you talk about your fashion sense?
Again, just being myself and just wearing whatever's comfortable for me. And try to look as fly as possible wherever I go. That's all. When I'm casual like this, cause I know we weren't going to go on camera, I just kind of dress super-casual. When I'm on stage or know I'm going to be on camera, or in front of fans, I try to always dress to impress. Because it's the first thing people see. 
What advice do you have for an aspiring Kris Wu?
Put the necessary time and effort into your work. You have to spend a lot of time in the studio to really find your own sound and just be on your platform. Be authentic in your own way. A lot of people ask me, "Why do you want to be this bridge for East and West? What does it mean for you? What do you think people back home are going to think?" 
I always say, first of all, there hasn't really been anyone when you talk about music. Artists from China—you can't really think of anyone. But if you talk about actors, you think about Jackie Chan. I want to be the Jackie Chan of music. And also someone that, in general, his home can look up to. And I feel like I'm kind of doing it already. 'Cause I've been saying this ever since last year, and now you're actually seeing more and more of these Asian artists putting out music globally. Whereas before, they would just keep it in the China market. And I kind of started doing this about two years ago, and now you're seeing more and more. So I feel like, yes, I am doing something to really inspire people, and just keep it going. And I think it's only a matter of time before someone breaks through. And I hope I can do the right thing and be that person. 
Last question, who do you think the best rapper is in the U.S. right now?
Kendrick Lamar.