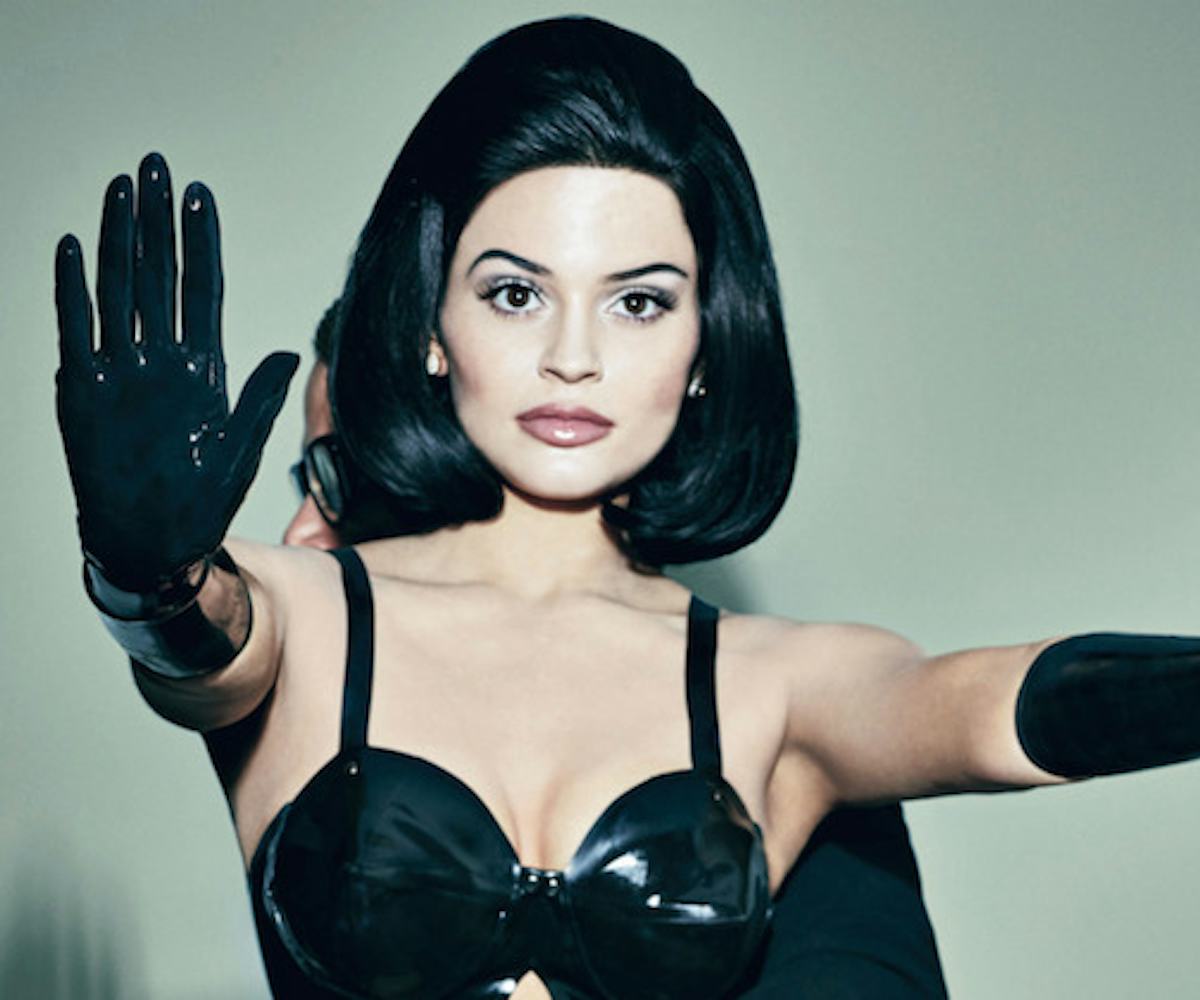 Image via Interview Magazine
Is Kylie Jenner Actually Miserable?
a makeup hater who sells makeup—it just hurts to think about.
Look upon the Photoshopped face of Kylie Jenner in the new Interview magazine spread and know that you're looking at a person at odds with herself and her family. Okay, yes, given that she's a Kardashian spinoff project, there's a little bit of laughing that does (and maybe should) come with the previous sentence. Even with my general dislike of Kris Jenner's entire brood, though, I'm starting to feel for this young woman.
Quite by accident, Kylie Jenner reveals to writer Chris Wallace an 18-year-old at odds with herself, confused (and not in a positive, normal 18-year-old way). I'm starting to get genuinely concerned for her. No, really. 
Just look. Below, the highly contoured face of her own branded cosmetics line gives us this bizarre throwaway statement about her hatred of makeup. When asked what she'd rather be doing with her life, Jenner answers:
"I would probably just never dress up. I would never wear makeup, because I honestly hate wearing makeup. Lately, I've just been so over it. I feel like I'm way too young to wear such heavy makeup all the time. It's just bad for your skin, but I'm always doing photo shoots or red carpets and events, so I just obviously want to look good."
While that sinks in, take a look at this passage further down in the very same interview. "If I could do whatever I wanted," Jenner says, "I would have a successful makeup line, and I would want to hopefully start more businesses, and just be, like, a businesswoman." Emphasis added because what even gives with this?
Further signs of a conflicted young woman who really, really wants out of her life but just doesn't see possibilities beyond the next press event come up throughout the interview. For instance, what's another thing Kylie would like to be doing?  
"And I don't know, I like hiking. I used to do a lot of hiking when I wasn't as busy. I had a lot of anxiety when I was younger, so I would just run to this hill path in the back of my mom's house and listen to Jack Johnson. I would listen to Jack Johnson and stare at the sky until my anxiety went away. When I was 16, I was always outside. We always watched the sunset, the group that I was friends with."
That last sentence is a killer, isn't it? She used to not be "busy." She used to be outside all the time. Now, one would suppose she's zipping around in limos and hopping from one stand-and-turn to the next. Does she sound happy to you? She doesn't sound (or look) happy to me.
Photo: Ilya S. Savenok/Getty Images.
Below, she talks about what else she'd like to do with her life if given the choice and Chris Wallace's…interesting…response.
Jenner: "Hopefully, I'll go off the map. When I'm, like, 30, I want to go off the map, have a family, and live in Malibu with a farm, and just raise my own chickens. [Wallace laughs] My next goal for 2016 is to learn how to garden."                                                    
Wallace: "Not to be cynical, but that's going to be amazing on the app. People will eat that alive."
Jenner: "I know. I'm going to document my journey on the app."
I'm crying inside. Crying! This is a broken person, a lifelong captive who looks out of the windows of her cell with no concept of what freedom (or going "off the map") actually is. Stop laughing.
Perhaps it's the fact that—if my chips had fallen in different places—I could very, very theoretically be the parent of a young woman of Kylie's age, but my heart genuinely goes out to her. With that in mind, I genuinely hope that every one of her various business and publicity initiatives fail. 
This young woman—this girl, really—deserves to be offline and out of the mix long enough to develop a concept of the bizarre life her mother has led her through. Granted, she seems to understand that she is "not normal" and seems grateful for all she has been given. But, damn, if even half of what Kylie says in this interview connects to her actual thinking, Kris Jenner has completely broken her and needs to let her the hell go. For all her gifts and all her privilege, this is an imprisoned person. The only way we can break her out, unfortunately, is by ignoring her and all her mother's various projects.
Do it. Do it for Kylie.