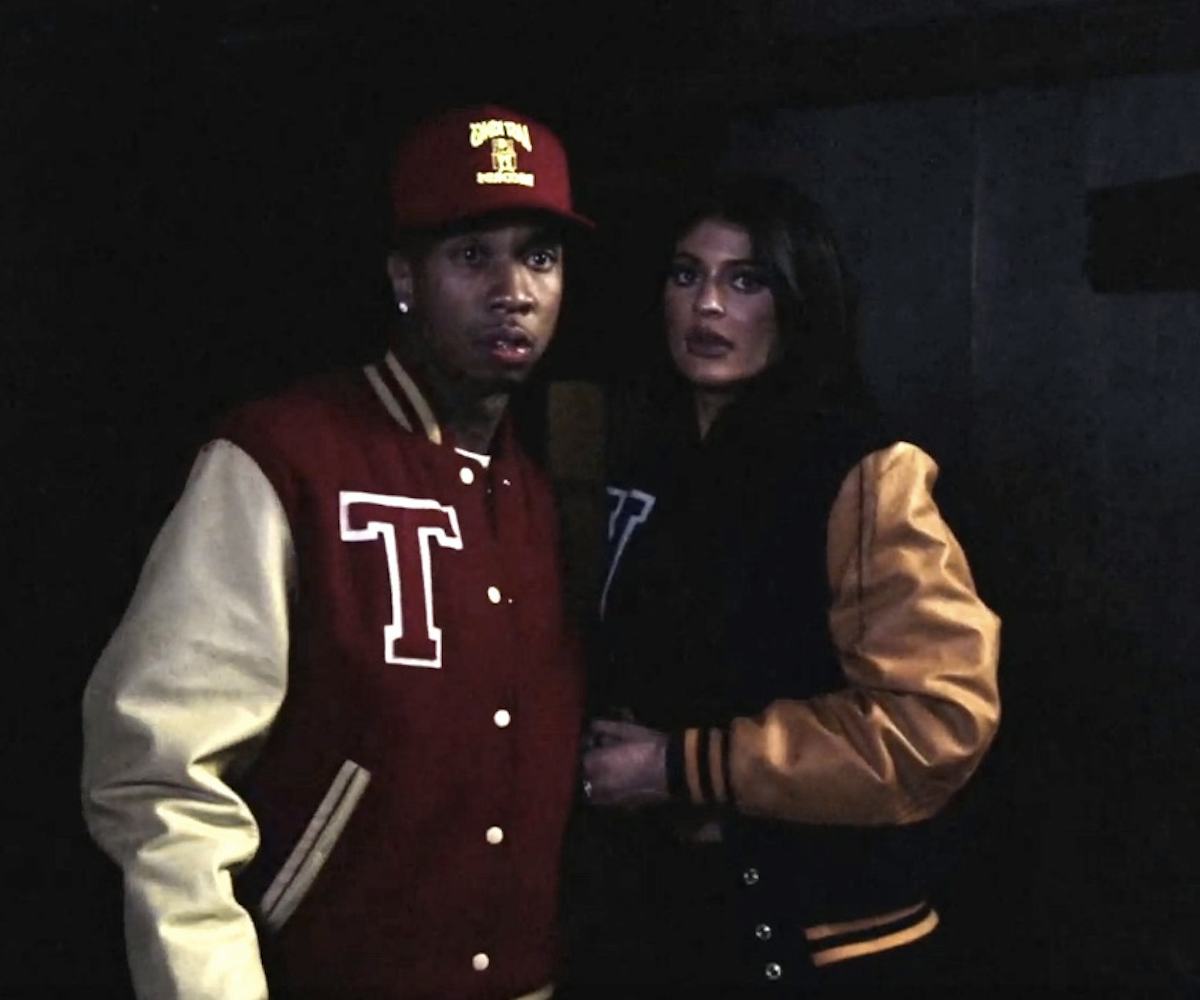 Image via Vevo
Kylie Jenner Stars In Tyga's Halloween-Themed New Video "Dope'd Up"
Woof. So many opinions here. As you can see above, Kylie Jenner Tweeted out Tyga's new video, "Dope'd Up", to her 12.1 million followers last night because, for one, the rapper is her longstanding BF and, for two, she and her lips star in the Halloween-themed mini horror flick. It's totally a thing that happened.
Now, it's entirely possible that you may have strong feelings about Tyga and his once-illegal relationship with one of Time's most influential people. It's also possible that you may have equally strong feelings about his talents as a rapper. Honestly, though, you'd be doing yourself a favor by overlooking or suspending them for the second it would take you to click play because "Dope'd Up" is a necessary masterpiece in the vein of Birdemic and Sharknado. 
Halloween is a time for and creaky, low-budget horror and "Dope'd Up" is pure jolt of exactly that. With a nod to Michael Jackson's "Thriller", it captures America's most TMI couple running through a haunted house full of zombies and ghouls, all of whom seem far more alive than the rapper and the reality star. (Badum-cha!) No hair tattoos, alas.
Whether the producers intended this to be camp or not is totally irrelevant: it is a brilliant trainwreck. Really, if Kylie Jenner can't do camp then, who can? Divine would be proud of her performance and John Waters really, truly needs to see this. If someone out there has his email, ping him now—we've found his new muse. 
Oh, and in case you were wondering, there aren't really references to Tyga and Jenner's relationship in this horrible, beautiful gem. Seems after the backlash to his various comments about their pairing, they're on good, G-rated behavior.
So, play it, play it again, put it on a loop at your Halloween party tonight (with the sound off), and smile.