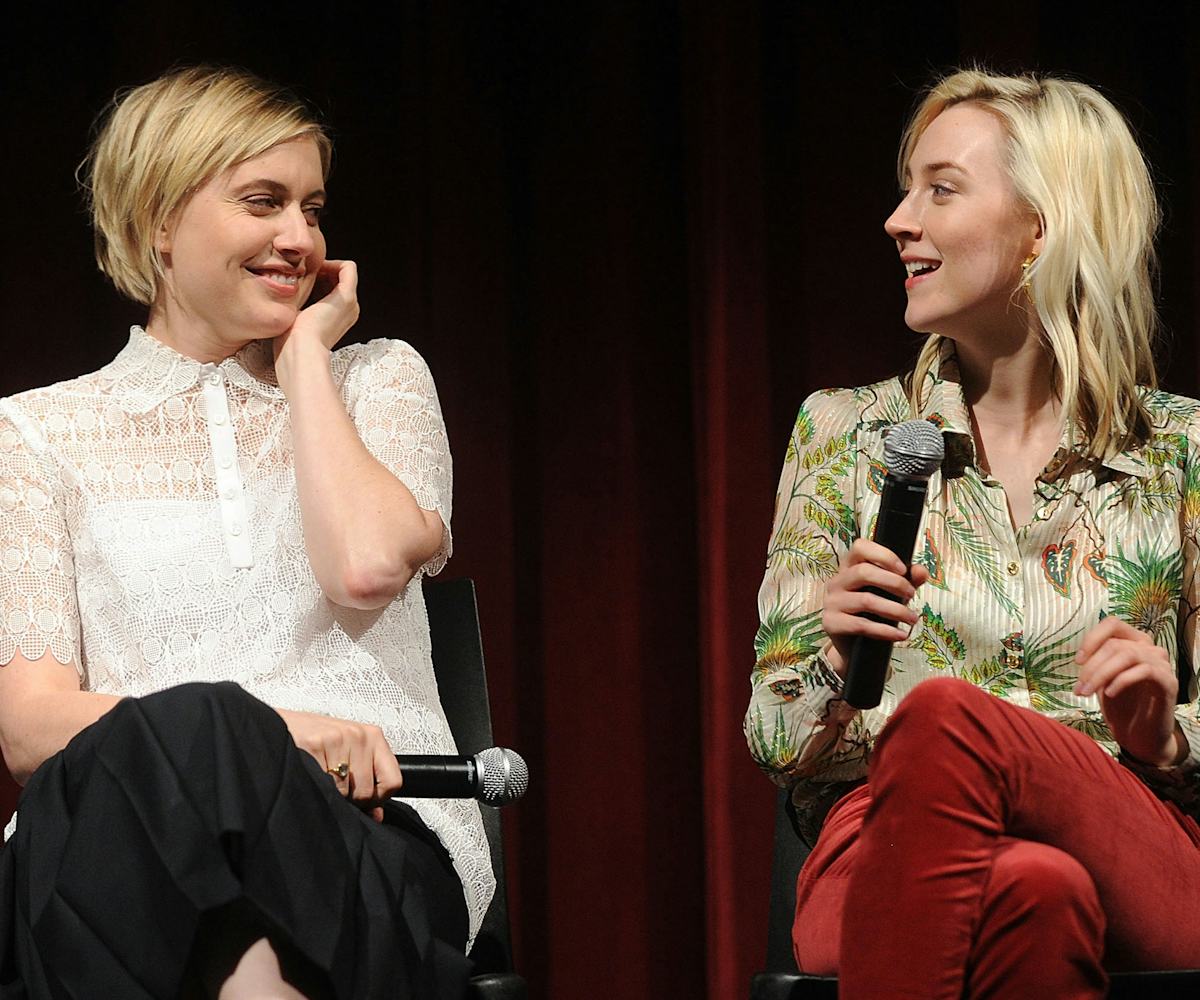 Photo via Getty
'Lady Bird' Is Proof That Stories About Young Women Are Universal
Can we stop using the term "chick flick" now?
Not only has Greta Gerwig's film Lady Bird been voted "Movie Most Likely to Make You Call Your Mom and Tell Her How Much You Love Her" (by us), but it's also beat out Toy Story 2 for Rotten Tomatoes' best-reviewed movie of all time. All time! This milestone means that—contrary to popular Hollywood opinion—people do want to see movies by and about women. 
Never has a film about a young woman coming of age been surrounded with so much attention and acclaim. Just when it was feeling like Hollywood would never stop encouraging Sad Young White Dudes to tell their stories (500 Days of Summer, Manchester by the Sea, Inside Llewyn Davis, Her... we'll stop in the interest of brevity), along comes a movie that not only beautifully focuses on a female coming-of-age story, but draws love from critics and audiences alike. The Rotten Tomatoes score isn't just a sign of a good film, it's a sign that people are starting to realize that female narratives are for everyone.
Naturally, Gerwig's reaction to the news was just as charming as she is:
It's so exciting, you make a movie and you put so much into it... to have it reflected back to you, it's an amazing thing.
It is exciting. Ten years ago (and much more recently, if we're being honest) a movie about a teenage girl going to dances, falling in love, and fighting with her mother would have been quickly slapped with a "chick flick" label. While male-driven movies got to be more nuanced dramas meant for everyone, female-focused ones were considered by and by to be for ladies only. Even the critically acclaimed (and hilarious) Bridesmaids couldn't stand alone as a comedic film and had to contend with being called " a chick flick for guys." (Blech.)
But now the face of Hollywood is changing. (And it's sporting faded pink hair.) While the industry still needs massive overhauls in many ways, the success of Lady Bird should be a heads up that people actually give a damn about the stories women have to tell. Wonder Woman proved that audiences want to see a woman in a bold, powerful role; Lady Bird goes even further, showing that people care about the quiet nuances of being a teenage girl as well.
(Oh, and also: Call your mom.)